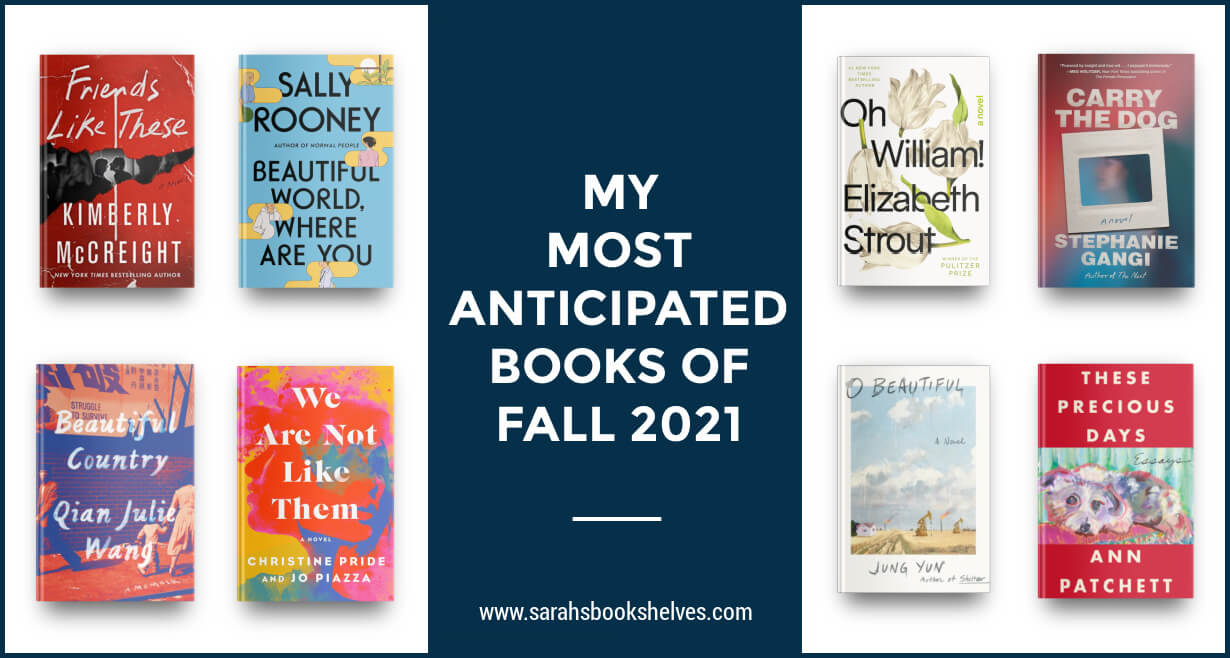 If you missed yesterday's episode of the Sarah's Bookshelves Live podcast (listen above), Catherine from Gilmore Guide to Books and I covered 16 books we're excited about that are coming out this Summer. I'm talking about 5 of them (and 3 I didn't share) again in today's blog post (noted by each book)…but, check out the podcast to hear about the rest! Just click on the time stamp link next to each book and it will take you right to the place in the podcast where we talk about that book.
Additional Fall 2021 Releases I Covered in the Podcast
My Most Anticipated Books of Fall 2021 list is a mix of big, buzzy books and under-the-radar picks. I'm sharing the recommendation source for each book and will specify if that source has or has not read it yet.
I use my "Rock Your Reading" Tracker (available for purchase for $14.99) to keep an ongoing eye on my most trusted recommendation sources…which improved my reading success 42% since I started keeping track!
This post contains affiliate links (plus: here's your Amazon Smile-specific affiliate link
), through which I make a small commission when you make a purchase (at no cost to you!).
My Most Anticipated Books of Fall 2021
September
Friends Like These by Kimberly McCreight (September 7, Harper Books)
Discussed on the podcast [4:58]
Kimberly McCreight is one of my go-to authors for smart mysteries / thrillers. Friends Like These is the kind of story where everyone arrives at the vacation home managing their own secret issues…and the suspense is how will all these come together in the end. I flew through it in 2 days.
In this relentlessly twisty literary thriller from New York Times bestselling author Kimberly McCreight, a desperate intervention brings together a group of college friends 10 years after graduation—a reunion marked by lies, betrayal, and murder.
Recommendation Source(s): Already read and loved by ME and Annie Jones.
Beautiful World, Where Are You? by Sally Rooney (September 7, FSG)
Discussed on the podcast [13:38]
Rooney's previous novel, Normal People, was 5 stars for me and I also really liked her debut, Conversations with Friends. I'm hearing Alice, one of the main characters, is similar to Rooney herself. This one is getting mixed reviews, but I'm hoping it works for me. 
Alice, a novelist, meets Felix, who works in a warehouse, and asks him if he'd like to travel to Rome with her. In Dublin, her best friend, Eileen, is getting over a break-up and slips back into flirting with Simon, a man she has known since childhood. Alice, Felix, Eileen, and Simon are still young—but life is catching up with them. They desire each other, they delude each other, they get together, they break apart. They have sex, they worry about sex, they worry about their friendships and the world they live in. Are they standing in the last lighted room before the darkness, bearing witness to something? Will they find a way to believe in a beautiful world?
Recommendation Source(s): Trusted author and already read and loved by Annie Jones.
Beautiful Country by Qian Julie Wang (September 7, Doubleday Books)
Discussed on the podcast [28:44]
I really appreciated this memoir about a heart-breaking experience, but told in an accessible way. 
An incandescent memoir from an astonishing new talent, Beautiful Country puts readers in the shoes of an undocumented child living in poverty in the richest country in the world.
Recommendation Source(s): Already read and loved by ME!
October
We Are Not Like Them by Jo Piazza and Christine Pride (October 5, Atria Books)
Discussed on the podcast [25:24]
I loved Jo Piazza's previous book, Charlotte Walsh Likes to Win, and the fact that this story of a friendship between a black and white woman is co-written by a black and a white woman.
Told from alternating perspectives, an evocative and riveting novel about the lifelong bond between two women, one Black and one white, whose friendship is indelibly altered by a tragic event—a powerful and poignant exploration of race in America today and its devastating impact on ordinary lives.
Recommendation Source(s): Trusted Author.
Oh William by Elizabeth Strout (October 19, Random House)
Discussed on the podcast [40:25]
This is the third book in the Lucy Barton series (My Name is Lucy Barton and Anything is Possible), which I've been loving. I love Strout's spare writing and life observations.
The Pulitzer Prize-winning, #1 New York Times bestselling author traces the enduring bond between a divorced couple in a poignant novel about love, loss, and the family secrets that can erupt and bewilder us at any point in life.
Recommendation Source(s): Trusted Author.
November
Carry the Dog by Stephanie Gangi (November 2, Algonquin Books)
I don't know much about this book, but the premise sounds really interesting…examining the aftermath of a child being the subject of nude photographs when she was too young to consent (partially inspired by Sally Mann).
Bea Seger has spent a lifetime running from her childhood. The daughter of a famous photographer, she and her brothers were the subjects of an explosive series of images in the 1960s known as the Marx Nudes. Disturbing and provocative, the photographs left a family legacy of grief felt long past the public outcry and media attention.

Now, decades later, both the Museum of Modern Art and Hollywood have come calling, eager to cash in on the enduring interest in these infamous photos. Bea faces a choice: Let the world in—and be financially compensated for the trauma of her childhood—or leave it all locked away in a storage unit forever.
Recommendation Source(s): None.
O Beautiful by Jung Yun (November 9, St. Martin's Press)
Discussed on the podcast [44:30]
Yun's debut novel, Shelter (my review), was one of my top 3 books of 2016 and I've been waiting for her to publish a sophomore novel for years! Her writing is out of this world and she covered serious issues in an unflinching way in Shelter.
Elinor Hanson, a forty-something former model, is struggling to reinvent herself as a freelance writer when she receives an unexpected assignment. Her mentor from grad school offers her a chance to write for a prestigious magazine about the Bakken oil boom in North Dakota. Elinor grew up near the Bakken, raised by an overbearing father and a distant Korean mother who met and married when he was stationed overseas. After decades away from home, Elinor returns to a landscape she hardly recognizes, overrun by tens of thousands of newcomers. Surrounded by roughnecks seeking their fortunes in oil and long-time residents worried about their changing community, Elinor experiences a profound sense of alienation and grief. She rages at the unrelenting male gaze, the locals who still see her as a foreigner, and the memories of her family's estrangement after her mother decided to escape her unhappy marriage, leaving Elinor and her sister behind. The longer she pursues this potentially career-altering assignment, the more her past intertwines with the story she's trying to tell, revealing disturbing new realities that will forever change her and the way she looks at the world.
Recommendation Source(s): Trusted Author.
These Previous Days: Essays by Ann Patchett (November 23, Harper)
Ann Patchett is one of my all-time favorite authors and I'm thrilled for new nonfiction from her (I loved her last essay collection, This is a Story of a Happy Marriage).
The beloved New York Times bestselling author reflects on home, family, friendships and writing in this deeply personal collection of essays.
Recommendation Source(s): Trusted Author.
*All book summaries (in block quotes) are from Goodreads (edited for length).
What Fall 2021 books are you looking forward to?
Pin this post…