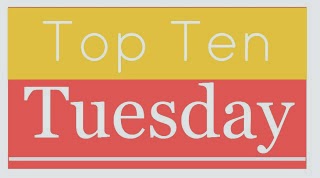 Top Ten Tuesday is a weekly meme hosted by The Broke and the Bookish that asks bloggers to create Top Ten lists on a variety of bookish topics. This week's topic is Beach Reads Week.
Last week, I posted my 2016 Summer Reading Guide, which is chock full of great books for summer, all of which I've already read. Now it's time to focus on the new summer releases I'm looking forward to!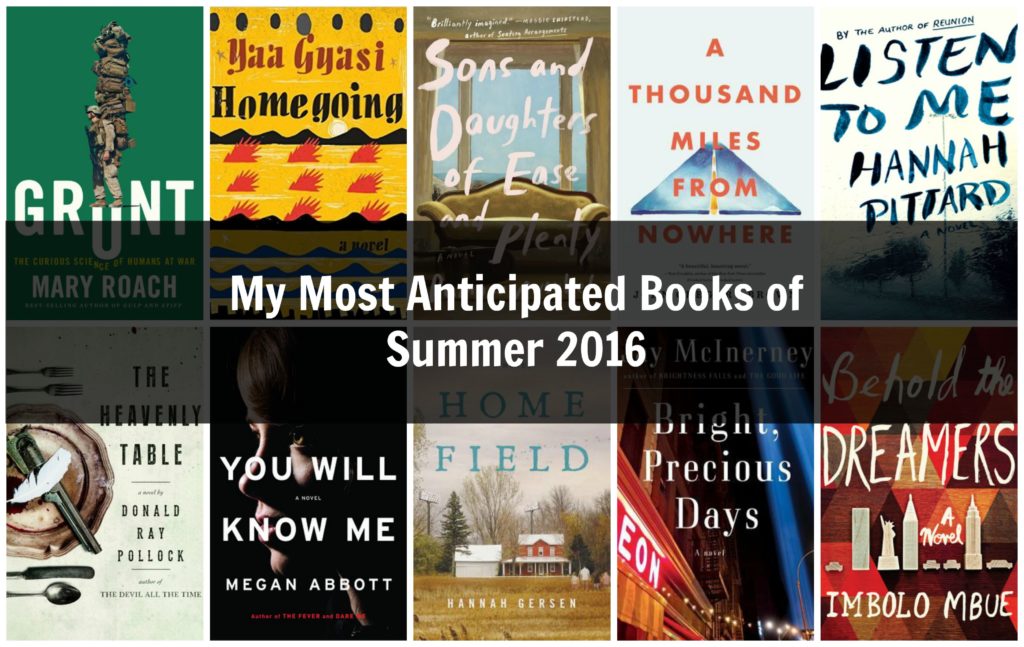 June
Grunt by Mary Roach (June 7, W.W. Norton)
Roach has a totally oddball, yet addictively fascinating style of digging deep into quirky topics (i.e. she explores the fates of human cadavers in Stiff). I've always been interested in the mental aspect of war, so her latest is firmly up my alley!
Grunt tackles the science behind some of a soldier's most challenging adversaries—panic, exhaustion, heat, noise—and introduces us to the scientists who seek to conquer them.
Homegoing by Yaa Gyasi (June 7, Knopf)
Shannon at River City Reading has already raved about this novel.
Two half sisters, Effia and Esi, unknown to each other, are born into different villages in eighteenth-century Ghana. Effia is married off to an Englishman and will live in comfort in the palatial rooms of Cape Coast Castle, […]. Esi, imprisoned beneath Effia in the Castle's women's dungeon and then shipped off on a boat bound for America, will be sold into slavery.
Sons and Daughters of Ease and Plenty by Ramona Ausubel (June 14, Riverhead Books)
Doesn't this sound like a 1960's/70's version of The Nest?! You know I can't resist a novel about wealthy family dysfunction!
An imaginative novel about a wealthy New England family in the 1960s and '70s that suddenly loses its fortune—and its bearings.
A Thousand Miles from Nowhere by John Gregory Brown (June 28, Lee Boudreaux Books)
Doesn't this sound like a 1960's/70's version of The Nest?! You know I can't resist a novel about wealthy family dysfunction!
Fleeing New Orleans as Hurricane Katrina approaches, Henry Garrett is haunted by the ruins of his marriage, a squandered inheritance, and the teaching job he inexplicably quit. He pulls into a small Virginia town after three days on the road, hoping to silence the ceaseless clamor in his head. But this quest for peace and quiet as the only guest at a roadside motel is destroyed when Henry finds himself at the center of a bizarre and violent tragedy.
July
Listen to Me by Hannah Pittard (July 5, Houghton Mifflin Harcourt)
Pittard's irreverent writing in Reunion made it one of my favorite books of 2014, so I'm anxiously awaiting her latest. Plus, it's only 208 pages!
A modern gothic about a marriage and road trip gone hauntingly awry.
The Heavenly Table by Donald Ray Pollock (July 12, Doubleday)
In her 2016 preview post, Rory at Fourth Street Review (my go-to source for dark, gritty fiction) said "absolutely nothing overshadows Donald Ray Pollock's new novel". I have never read this author, but Rory's stamp of approval was enough to convince me to get my hands on this book!
In the gothic tradition of Flannery O'Connor and Cormac McCarthy with a healthy dose of cinematic violence reminiscent of Sam Peckinpah, Quentin Tarantino and the Coen Brothers, the Jewetts and the Fiddlers will find their lives colliding in increasingly dark and horrific ways, placing Donald Ray Pollock firmly in the company of the genre's literary masters.
You Will Know Me by Megan Abbott (July 26, Little Brown)
Megan Abbott is a master at writing demented young girls (i.e. The Fever) and I can't think of a better setting for those types of characters than elite gymnastics. Plus, I'm kind of obsessed with the Olympics.
Katie and Eric Knox have dedicated their lives to their fifteen-year-old daughter Devon, a gymnastics prodigy and Olympic hopeful. But when a violent death rocks their close-knit gymnastics community just weeks before an all-important competition, everything the Knoxes have worked so hard for feels suddenly at risk.
Home Field by Hannah Gersen (July 26, William Morrow Paperbacks)
I have a feeling this debut novel could be either a huge winner or huge bomb for me. But, I obviously have to give it shot if since it's being compared to Friday Night Lights (my favorite TV show of all time).
The heart of Friday Night Lights meets the emotional resonance and nostalgia of My So-Called Life in this utterly moving debut novel about tradition, family, love, and football.
August
Bright, Precious Days by Jay McInerney (August 2, Knopf)
I loved McInerney's first two books about Russell and Corrine Calloway, Brightness Falls and The Good Life.
Russell and Corrine Calloway seem to be living the New York dream […]. Then Corrine's world is turned upside down when the man with whom she'd had an ill-fated affair in the wake of 9/11 suddenly reappears. As the novel unfolds across a period of stupendous change–including Obama's historic election and the global economic collapse he inherited — the Calloways will find themselves and their marriage tested more severely than they ever could have anticipated.
Behold the Dreamers by Imbolo Mbue (August 23, Random House)
The Book Riot girls have been talking about this debut for awhile. Plus, I have a fascination with the 2008 financial crisis, which this book centers around.
For fans of Americanah and The Lowland comes a debut novel about an immigrant couple striving to get ahead as the Great Recession hits home. With profound empathy, keen insight, and sly wit, Imbolo Mbue has written a compulsively readable story about marriage, class, race, and the trapdoors in the American Dream.
*All book summaries (in block quotes) are from Goodreads.