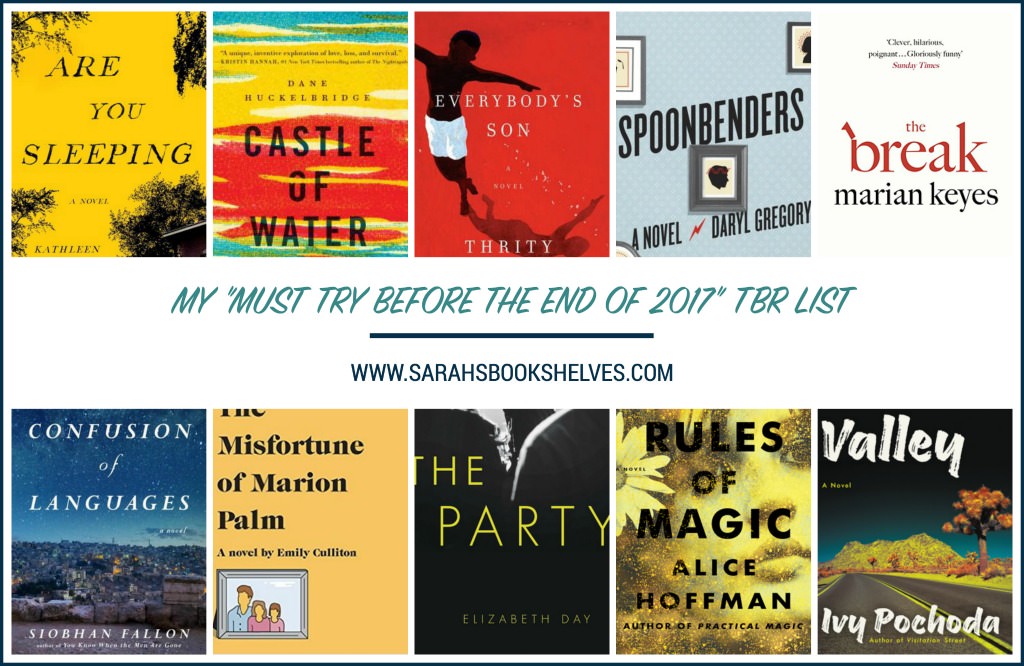 Throughout the year, I keep a running list of all the books I missed right when they came out, but that I want to fit in at some point during the year. I call this my Must Try Before the End of 2017 TBR list.
Some of my best reading this year has come from this list (Beartown, Dead Letters, The Heart's Invisible Furies)…probably because these books had been vetted by multiple readers I trust before I actually read them.
I generally devote mid/late November to mid-December to trying to find at least one more book to sneak into my Best Books of the Year list. We now have about 3 weeks until I share my Best Books of 2017. I obviously can't read all the books on this list in that time (do you think I'm a magician?!), so I want y'alls help.
If you've read any of the books below, tell me which ones you think could be Best Books of the Year candidates! And, which ones I shouldn't waste time on. And, any others you think I'd absolutely love.
This post contains affiliate links (plus: here's your Amazon Smile-specific affiliate link
).
My Must Try Before the End of 2017 TBR List
Are You Sleeping
by Kathleen Barber (August 1, 2017)
Recommended by Off the Shelf's 5 Best Books I Read This Month (November)
Serial meets Ruth Ware's In a Dark, Dark Wood in this inventive and twisty psychological thriller about a mega-hit podcast that reopens a murder case—and threatens to unravel the carefully constructed life of the victim's daughter.
Castle of Water
 by Dane Hucklebridge (April 4, 2017)
Recommended by Renee at It's Book Talk and Susie at Novel Visits
For Sophie Ducel, her honeymoon in French Polynesia was intended as a celebration of life. For Barry Bleecker, the same trip was meant to mark a new beginning. But when their small plane is downed in the middle of the South Pacific, the sole survivors of the wreck are left with one common goal: to survive.
Everybody's Son
by Thrifty Umgar (June 6, 2017)
Recommended by Catherine at Gilmore Guide to Books and Reading & Eating
The bestselling, critically acclaimed author of The Space Between Us and The World We Found deftly explores issues of race, class, privilege, and power and asks us to consider uncomfortable moral questions in this probing, ambitious, emotionally wrenching novel of two families—one black, one white.
Spoonbenders
 by Daryl Gregory (June 27, 2017)
Recommended by Michelle at That's What She Read
A generations-spanning family of psychics–both blessed and burdened by their abilities–must use their powers to save themselves from the CIA, the local mafia, and a skeptic hell-bent on discrediting them in this hilarious, tender, magical novel about the invisible forces that bind us.
The Break
 by Marian Keyes (September 7, 2017)
Recommended by Eva at Paperback Princess
Amy's husband Hugh isn't really leaving her.

At least, that's what he promises. He is just taking a break – from their marriage, their children and, most of all, from their life together. For six-months Hugh will lose himself in south-east Asia, and there is nothing Amy can say or do about it.

But a lot can happen in six-months. When Hugh returns, if he returns, will he be the same man she married? And will Amy be the same woman?
The Confusion of Languages
by Siobhan Fallan (June 27, 2017)
Recommended by The Readerly Podcast
A searing debut novel […] about jealousy, the unpredictable path of friendship, and the secrets kept in marriage, all set within the U.S. expat community of the Middle East during the rise of the Arab Spring.
The Misfortune of Marion Palm
 by Emily Culliton (August 8, 2017)
Recommended by Annie Jones at From the Front Porch Podcast
A wildly entertaining debut about a Brooklyn Heights wife and mother who has embezzled a small fortune from her children's private school and makes a run for it, leaving behind her trust fund poet husband, his maybe-secret lover, her two daughters, and a school board who will do anything to find her. 
The Party
 by Elizabeth Day (August 15, 2017)
Recommended by Michaela at The Ardent Biblio and Born and Read in Chicago
A gripping story of obsession and betrayal, privilege and hypocrisy, set in the unassailable heart of the British establishment.
The Rules of Magic
 by Alice Hoffman (October 10, 2017)
Recommended by Catherine at Gilmore Guide to Books and Susie at Novel Visits
For the Owens family, love is a curse that began in 1620, when Maria Owens was charged with witchery for loving the wrong man.

The Owens children cannot escape love even if they try, just as they cannot escape the pains of the human heart. The two beautiful sisters will grow up to be the revered, and sometimes feared, aunts in Practical Magic, while Vincent, their beloved brother, will leave an unexpected legacy.
Wonder Valley
 by Ivy Pochoda (November 7, 2017)
Recommended by Susie at Novel Visits
When a teen runs away from his father's mysterious commune, he sets in motion a domino effect that will connect six characters desperate for hope and love, set across the sun-bleached canvas of Los Angeles.
Tell me, which ones should I read first?
*All book summaries (in block quotes) are from Goodreads (edited for length).