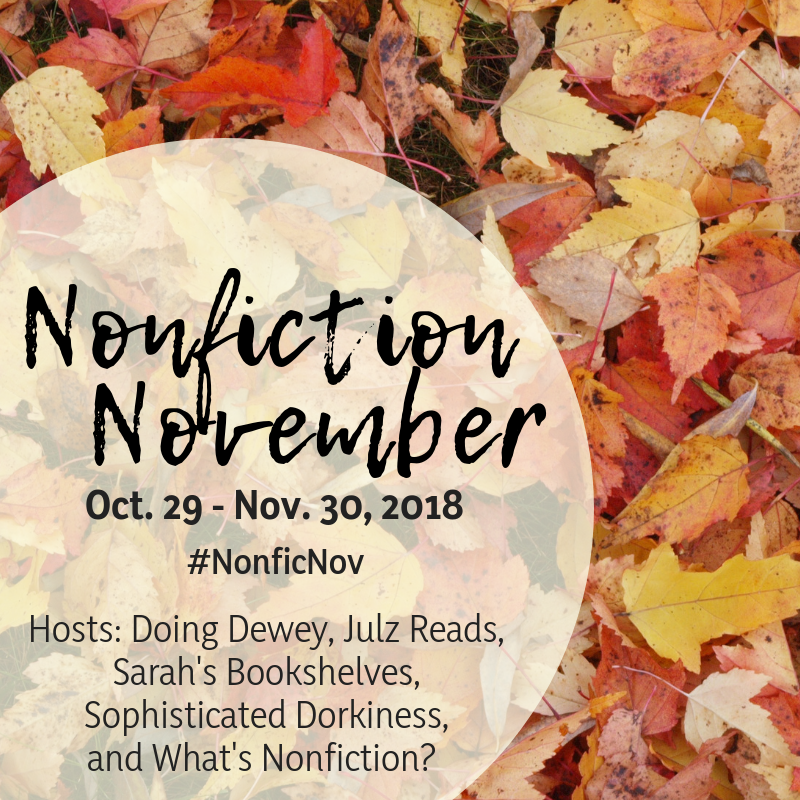 Welcome to Nonfiction November 2018! I'm thrilled to be co-hosting 2018's Nonfiction November with Katie at Doing Dewey, Rennie at What's Nonfiction?, Julie at Julz Reads, and Kim at Sophisticated Dorkiness! Nonfiction November is a month dedicated to celebrating nonfiction…we'll talk about our favorites, trade recommendations, discuss our nonfiction reading habits, and hopefully discover some new book blogs! There will be a link-up for your posts every Monday…go here for the schedule of events and where to find the link-ups. Here's my year of nonfiction so far…
Hop over to Sophisticated Dorkiness to link up your introductory post!
My Year of Nonfiction
So far this year, I've read 27 Nonfiction books (34% of my total books read), 16 of which were audiobooks. This is down 22% from this time last year's 35 Nonfiction books, 27 of which were audiobooks. I didn't realize I hadn't read as much nonfiction this year until I was writing this post!
Diving into the numbers a bit, I realized I'd actually read more nonfiction books / e-books this year and listened to a lot less audiobooks. The decrease in audiobook listening is the reason my overall nonfiction reading has fallen off this year. I've been listening to a lot more podcasts and sometimes took a full month to get through one audiobook. Over the past few months, a bunch of audiobooks came in from the library and I learned there's nothing like a library due date to get me to choose an audiobook over podcasts! So, my audiobook pace has picked back up lately.
Favorite Nonfiction of 2018 So Far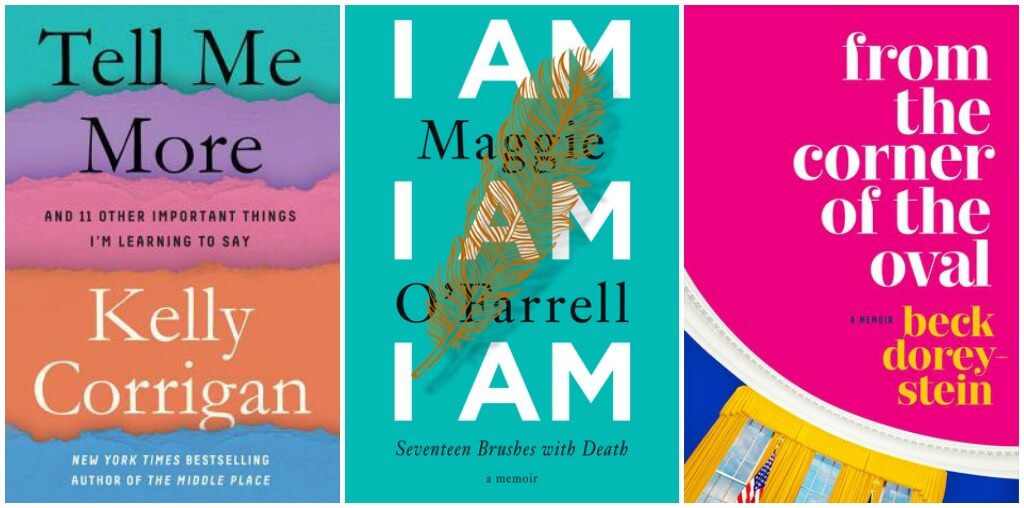 Overall Favorite Nonfiction of 2018
I Am, I Am, I Am by Maggie O'Farrell

Tell Me More

by Kelly Corrigan (my review)
Favorite Nonfiction Audiobook of 2018
From the Corner of the Oval
by Beck Dorey-Stein
Most Recommended Nonfiction of 2018

This year, I've read a lot of…
"Life wisdom" essay collections, mostly written by women.
My go-to authors for these types of books are (check out my "Women Who Get Women" Authors Club post for more of these types of authors):
Ann Patchett

Anna Quindlen

Kelly Corrigan

And, even though I've only read one book by Maggie O'Farrell, I think she could be added to the list.
This year, I haven't read enough…
Investigative Journalism…
But, over half of my Nonfiction November TBR list is investigative journalism, so I'm going to make up for it!
Sports…
I love sports memoirs and general nonfiction and I have one of each on my Nonfiction November TBR list!
What are your favorite Nonfiction books so far this year?