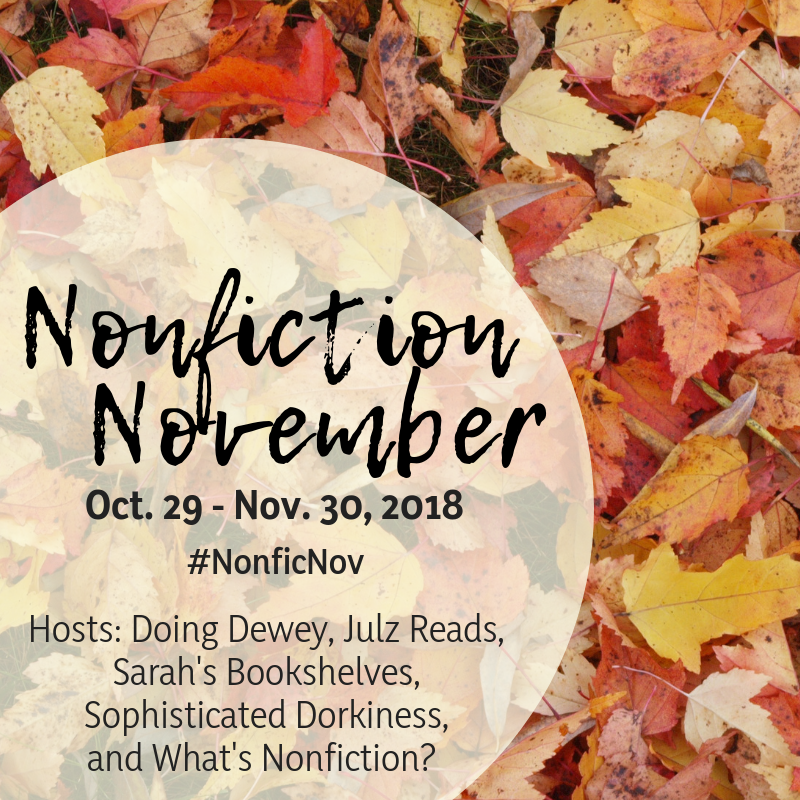 Another Nonfiction November (hosted by Katie at Doing Dewey, Rennie at What's Nonfiction?, Julie at Julz Reads, Kim at Sophisticated Dorkiness, and me) is in the books! And, it was an awesome one. I read/listened to eight books and only one was a stinker. And, my favorite book of Nonfiction November was Dopesick by Beth Macy!
I usually use Nonfiction November to create my Nonfiction TBR for the coming year and I found some great books to get that started!
This post contains affiliate links (plus: here's your Amazon Smile-specific affiliate link
), through which I make a small commission when you make a purchase (at no cost to you!).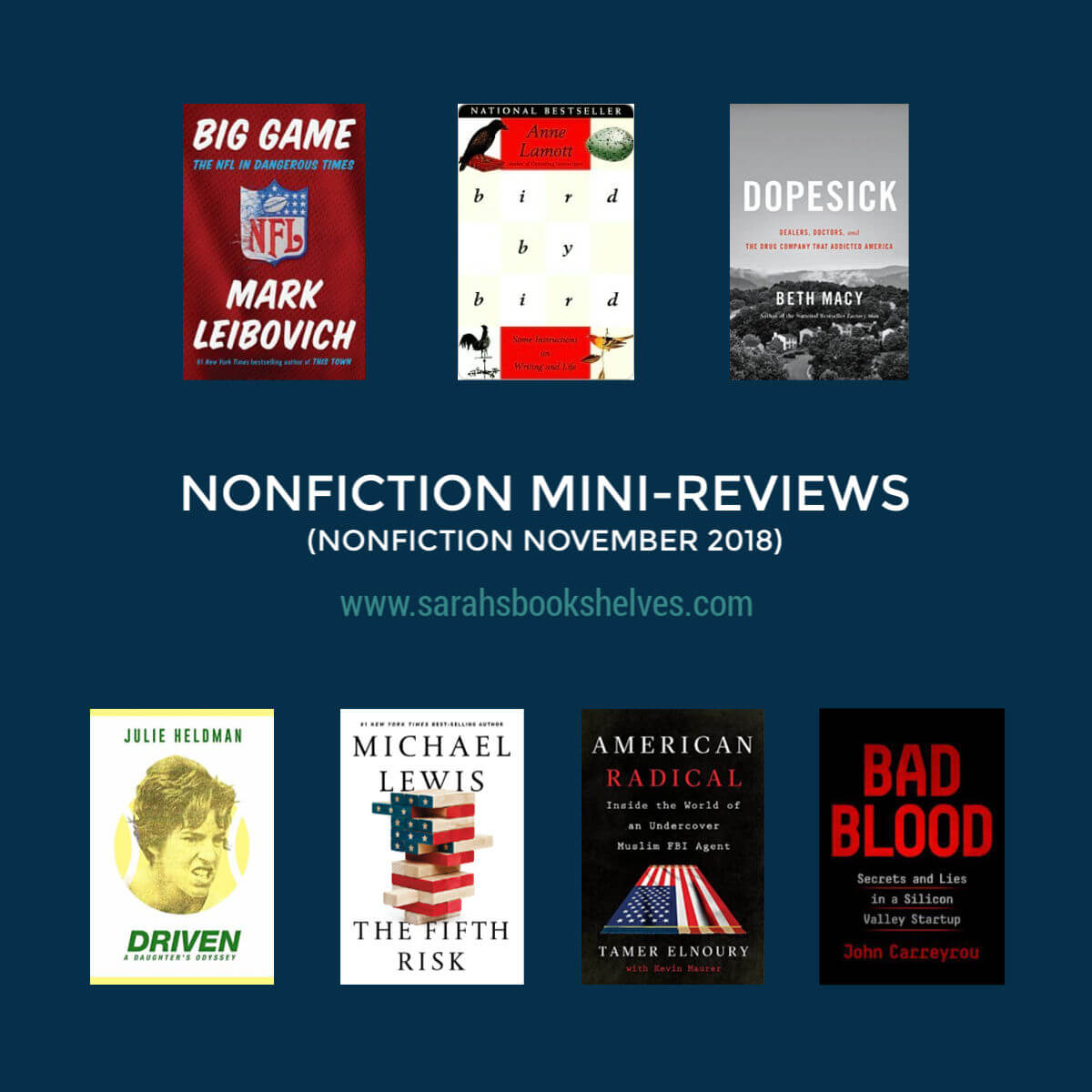 2018 Nonfiction November Mini Reviews
Big Game: The NFL in Dangerous Times
 by Mark Leibovich
Nonfiction – Sports (Released September 4, 2018)
400 Pages
Bottom Line: Read it
Affiliate Link: Buy from Amazon
Source: Library (Publisher: Penguin Press)

Plot Summary: Political writer Leibovich switches gears to go deep inside the NFL…with extensive access to Tom Brady and the Patriots.
My Thoughts: Mark Leibovich is the Chief National Correspondent for The New York Times Magazine focusing on politics and the author of This Town (my review), a look at the cultural landscape in Washington, D.C. I didn't love This Town…but, I did love Leibovich's dry, sarcastic writing style and his propensity to make fun of self-important big-shots. And, he does all that in Big Game
…but, the targets are now self-important NFL owners (and there are some seriously eccentric personalities in this bunch) and Commissioner Roger Goodell. Leibovich covers concussions, Deflategate, owner/player/Commissioner dynamics, and more. It's full of funny anecdotes about all the looney-tune personalities and hoopla surrounding the game…and doesn't dig into the actual X's and O's of football too much, which I appreciated. There's a big focus on the Patriots and my favorite person in the book is Tom Brady's Dad…who seems like a down-to-earth guy who is flummoxed by his son's somewhat woo-woo lifestyle. If you liked Jeanne Marie Laskas' Concussion (my review), you'll like this one!
"You guys are cattle and we're the ranchers," the late Dallas Cowboys president Tex Schramm once told Hall of Fame offensive lineman Gene Upshaw during a collective bargaining negotiation. It is an oft-quoted line that encapsulates the whole setup. Players get prodded, milked for all they're worth, sold off, put out to pasture, and slaughtered. Implicit also here is that the cattle's time is fleeting, like Not for Long football careers. "And ranchers can always get more cattle" is how Schramm's quote concludes.
Bird by Bird: Some Instructions on Writing and Life
 by Anne Lamott
Nonfiction – Memoir (Released January 1, 1994)
237 Pages
Bottom Line: Read it
Affiliate Link: Buy from Amazon
Source: Library (Publisher: Anchor)

Plot Summary: Lamott's guide to writing well and living the writing life…based on writing workshops she taught.
My Thoughts: This was my maiden voyage with Anne Lamott and I had some pre-conceived notions about her because she often writes about faith. I thought she'd be wise and heartfelt…and serious. But, she totally surprised me with that last one! She's relatable and funny…even irreverently funny, which I loved. I don't have any grand writing ambitions, but I suspect this book would be invaluable to anyone who does. And, in her writing advice, I see many of the things I love to see in the books I read. Her overall message is: listen to your characters, they'll show you the way. Sometimes she does get overly philosophical about "art," but I loved it overall and would love to read more by her.
Your work as a writer, when you are giving everything you have to your characters and to your readers, will periodically make you feel like the single parent of a three-year-old, who is, by turns, wonderful, willful, terrible, crazed, and adoring. Toddlers can make you feel as if you have violated some archaic law in their personal Koran and you should die, infidel. Other times they'll reach out and touch you like adoring grandparents on their deathbeds, trying to memorize your face with their fingers.
Dopesick
by Beth Macy
Nonfiction – Investigative Journalism (Released August 7, 2018)
384 Pages
Bottom Line: Read it.
Affiliate Link: Buy from Amazon
Source: Library (Publisher: Little, Brown)

Plot Summary: Beth Macy investigates America's decades long opioid crisis, which is rampant in both rural and suburban areas in Central Appalachia.
My Thoughts: This book scared me sh*tless…there's really no other way to say it. I knew America had an opioid crisis on its hands, but I had no idea how pervasive it was and that many people originally got addicted via doctor-prescribed painkillers. This book opened my eyes…and, as a parent, got me hoping that this trend will die a hard death by the time my children are old enough to encounter this stuff. Macy chronicles the many levels of failure in dealing with the opioid crisis…from drug companies, to law enforcement, to public policy makers, to doctors. It's like the cigarette atrocity of this generation. Dopesick is a must read for parents…along with What Made Maddy Run, Girls & Sex, and Missoula…and is a good companion read for Hillbilly Elegy.
He remembered a dislocated coal miner from Grundy, Virginia, confessing that OxyContin had become more important to him than his family, his church, and his children. "It became my god," the man said.
Driven
by Julie Heldman
Nonfiction – Sports Memoir (Released August 22, 2018)
446 Pages
Bottom Line: Skip it.
Affiliate Link: Buy from Amazon
Source: Author (Self-Published)

Plot Summary: The memoir of Julie Heldman, a top-ranked pro tennis player in the 1960's – 70's and the daughter of Gladys Heldman, a legendary figure behind-the-scenes of the tennis world (she founded World Tennis magazine and was partially responsible for the formation of the Virginia Slims women's tour, the precursor to today's WTA).
My Thoughts: I'm a huge tennis fan, which is why I gave this self-published memoir a shot. There was a ton of fascinating tennis history in this book…the battle for equal treatment of women on the pro tour, the personalities of legendary players from that time (ex: Arthur Ashe, Billie Jean King, Chris Evert), and the politics surrounding pros and amateurs. Driven also focuses on Julie's relationship with her mother (Gladys) and Julie's eventual battle with mental illness. Famous and beloved in the tennis world, Gladys was a bit of a Mommie Dearest behind closed doors. While somewhat interesting, Heldman beats a dead horse for close to 500 pages (an outrageous length for this book). Driven is desperately in need of an editor…to cut repetitions, to craft story arcs, and to improve the writing (some sections felt like she'd copied directly from her childhood diaries). The tennis history is what kept me reading, so unless you're an avid tennis fan, there's probably not much in here to make it worth wading through the muck.
I grew up in a family where the youngest and most demanding child was the world's largest tennis magazine.
The Fifth Risk
by Michael Lewis
Nonfiction (Released October 2, 2018)
219 Pages
Bottom Line: Read it.
Affiliate Link: Buy from Amazon
Source: Library (Publisher: W.W. Norton)

Plot Summary: Lewis dives deep into the inner workings of murky government agencies (i.e. Department of Commerce, Department of Agriculture, etc) to explore the obscure risks the government grapples with every day.

My Thoughts: Michael Lewis is a master at making boring, tedious information sound fascinating and he did it again with The Fifth Risk. He shines a light on obscure people with important and interesting, but relatively unknown jobs within the federal government. He exposes risks that regular citizens probably never consider, but that the federal government works to mitigate every day (i.e. the electrical grid). And, he investigates the Trump transition (or lack thereof). There is an incredible amount of information packed into just over 200 pages…so much that the book felt like a brain dump at times. Despite being fascinated by almost everything he shared, I'm still unclear what his overall purpose is: is he trying to educate U.S. citizens about all the things government does for them / saves them from? Trying to expose Trump's non-existent / unorganized transition? Figure out the biggest risks in government? Publicly recognize unsung government heroes? He seemed to have all these purposes at various times. Mostly, I took from it that I had no idea what certain parts of the government do…and now I know a little more. Also, it's clear what side of the political aisle Michael Lewis identifies with…and he writes from that perspective.
Another way of putting this is: the risk we should most fear is not the risk we easily imagine. It is the risk that we don't. Which brought us to the fifth risk. […] The fifth risk did not put him at risk of revealing classified information. "Project management," was all he said.
Audiobooks
American Radical: Inside the World of an Undercover Muslim FBI Agent
 by Tamer Elnoury
Nonfiction – War (Released October 23, 2017)
9 Hours, 42 Minutes
Bottom Line: Read it
Affiliate Link: Buy from Amazon
Source: Purchased (Publisher: Dutton)

Plot Summary: Written under a pseudonym for the author's safety, this is his story of working undercover for an elite counterterrorism unit following 9/11.
My Thoughts: Elnoury made a career change from going undercover in the drug world to undercover in the terrorism world. And, his story is absolutely chilling. It illuminates terrorism plots that were thankfully thwarted and characters who are the worst of the worst. But, the most interesting part about it for me was the exploration of Elnoury's version of Islam and how he feels about those that practice the radicalized version of his religion. And, I wondered if the terrorists in this book read it and recognized themselves in it…and what that means for Elnoury's safety.
Bad Blood
by John Carreyrou
Nonfiction – Business / Investigative Journalism (Released May 21, 2018)
11 Hours, 37 Minutes
Bottom Line: Read it
Affiliate Link: Buy from Amazon
Source: Library (Publisher: Knopf)

Plot Summary: The true story of the meteoric rise and spectacular fall of the Silicon Valley biotech startup, Theranos.
My Thoughts: My favorite types of business books are the explosive, behind-the-scenes tell-all kinds (DisneyWar by James B. Stewart, Those Guys Have All the Fun by James Andrew Miller, and House of Cards by William Cohen) and Bad Blood fits the bill. Though I did get lost in some of the science and engineering details, I was fascinated / horrified at the arrogance of Elizabeth Holmes, Theranos's young CEO who viewed herself as the next Steve Jobs, and the lengths Theranos went to to create a "unicorn" despite the absence of a viable product. This one will make a great "Dad" gift for the holidays!
New Nonfiction to My TBR
Silence in the Age of Noise by Erling Kagge (November 21, 2017)
Recommended by Reading with Jade (it was her favorite nonfiction read so far this year)…this one caught my eye because I loved Quiet by Susan Cain (my thoughts) and I've become more and more interested in introversion as I've gotten older. 
A transformative account of an experience that is essential for our sanity and our happiness.
Whoever Fights Monsters by Robert Ressler and Tom Schachtman (May 1, 1992)
Recommended by Kazan at Always Doing…I love true crime and this by two guys that track serial killers.
The man who coined the term "serial killer", Ressler is a modern-day Sherlock Holmes who combines observation and a knowledge of psychopathic personalities to draw profiles of unknown perpetrators that are astonishingly accurate descriptions based on various aspects of the crime itself.
Just Mercy by Bryan Stevenson (October 21, 2014)
Recommended by Tina at TBR, etc…I've obviously been hearing about this book for ages from many people, but Tina's Instagram post was what really made me want to read it.
A powerful true story about the potential for mercy to redeem us, and a clarion call to fix our broken system of justice—from one of the most brilliant and influential lawyers of our time.
Operating Instructions by Anne Lamott (May 1, 1993)
Recommended by Sarah K, one of my blog readers (via my comments section)…I love honest accounts of motherhood and loved my first Anne Lamott this month (Bird by Bird).
The most honest, wildly enjoyable book written about motherhood is surely Anne Lamott's account of her son Sam's first year.
Dead Girls by Alice Bolin (June 26, 2018)
Recommended by Kelly at Stacked…she paired this one with Sadie by Courtney Summers, which I liked, in her Fiction / Nonfiction pairings post. More for my true crime TBR list, which is getting longer every minute.
A collection of poignant, perceptive essays that expertly blends the personal and political in an exploration of American culture through the lens of our obsession with dead women.
This Will Only Hurt a Little by Busy Phillips (October 16, 2018)
Recommended by Susie at Novel Visits…I'm all for a juicy celebrity memoir, especially one that's great on audio!
A memoir by the beloved comedic actress known for her roles on Freaks and Geeks, Dawson's Creek, and Cougar Town who has become "the breakout star on Instagram stories…imagine I Love Lucy mixed with a modern lifestyle guru."
The Good Nurse by Charles Graeber (April 15, 2013)
Recommended by Tina at TBR, etc.…more for my true crime TBR!
After his December 2003 arrest, registered nurse Charlie Cullen was quickly dubbed "The Angel of Death" by the media. But Cullen was no mercy killer, nor was he a simple monster. He was a favorite son, husband, beloved father, best friend, and celebrated caregiver. Implicated in the deaths of as many as 300 patients, he was also perhaps the most prolific serial killer in American history.
What was your favorite read and top TBR add of Nonfiction November?