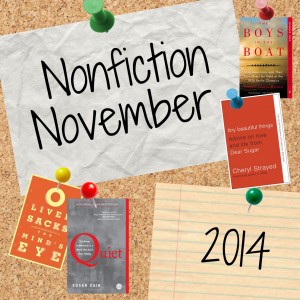 This post is part of Nonfiction November hosted by Katie at Doing Dewey, Kim at Sophisticated Dorkiness, Becca at I'm Lost in Books, and Leslie at Regular Rumination.
Wow, what a month! I was so happy to have the motivation to read some nonfiction, since much of this year has been about fiction for me. In addition to the books below, I shared my All-Time Favorite Nonfiction Books and books about the Kennedys.
I liked every book I read and I ended up getting two additions to my Holiday Gift Guide and one to my Best Books of the Year list from my Nonfiction November reading!

Liar, Temptress, Soldier, Spy by Karen Abbott (review)
Will be included in my upcoming Holiday Gift Guide.

My Salinger Year by Joanna Rakoff (review)
Will be included on my upcoming Best Books of the Year List.
Striking Gridiron by Greg Nichols (review coming on Wednesday, 11/26)
Will be included in my upcoming Holiday Gift Guide.
Without You, There Is No Us by Suki Kim (review)
I also loved reading everyone else's reviews, lists, and suggestions. Here are some books that I added to my completely out of control TBR list…

Empty Mansions: The Mysterious Life of Hugette Clark and the Spending of a Great American Fortune by Bill Dedman and Paul Clark Newell, Jr.
Thanks to Gun in Act One…and a number of other bloggers!
Fighter Pilot's Daughter by Mary Lawlor
I did not get this recommendation through Nonfiction November, but I thought I'd include it anyway since it's a memoir!
The Collapse: The Accidental Opening of the Berlin Wall by Mary Elise Sarotte
Thanks to My Book Strings!
The Patriarch: The Remarkable Life and Turbulent Times of Joseph P. Kennedy by  David Nasaw
Thanks to Musings From A Bookmammal!
The Underground Girls of Kabul by Jenny Nordberg
Thanks to Leila at Readers' Oasis…and a number of other bloggers!
How was your Nonfiction November (if you participated)? What books did you add to your TBR list?