If you've been reading this blog at all regularly this year, you know I've haven't had the greatest luck with my book selections. And, I feel like I've had especially terrible luck wth ARCs (Advance Reader's Copies) compared to last year. But, I didn't actually know that for sure. So, I decided to look at the actual numbers…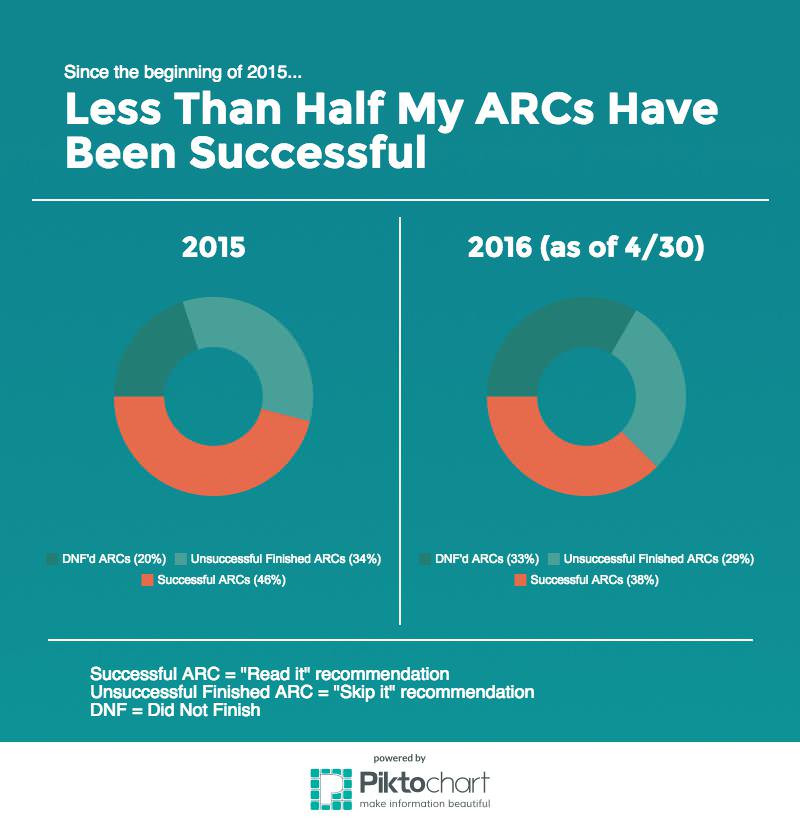 Key Takeaways
Since we're comparing unequal time periods, I'm going to talk strictly in percentages.
Over the past year and a half, less than half my ARC selections have been "successful". While this isn't great news, I thought that percentage would be even smaller based on how I've perceived my reading this year.
This year's ARCs have been less successful than last year's. But, I was surprised the differential wasn't more than 8% because this year's ARCs have felt much less successful than last year's.
I'm DNFing a higher percentage of ARCs this year. DNFs are disheartening for me and contribute to the feeling of being in a reading slump, but I guess the silver lining is that I'm not wasting as much time finishing unsuccessful ARCs this year! I used to feel more of an obligation to stick it out for an ARC (as opposed to a book I purchased), but I've been gradually letting go of that pressure lately.
What does this mean for my reading decisions?
I should focus less on ARCs and more on free range reading (for those not in the book world, that just means reading whatever you want, whenever you want). Of the books I finished since January of 2015, just over half were ARCs (54% in 2016 as of 4/30 and 56% in 2015). Given less than half of my ARCs have been successful, ARCs should probably comprise less than half of my overall reading, right?! Sounds logical to me! Now I just have to resist the temptation to grab all the shiny, new books!
But, how can I make better selections for the ARCs I do choose to read? This year, I tried focusing on imprints that had been successful for me last year. I suspect this isn't going as well as I'd hoped (but, I can't be sure until I do my full imprints stats analysis at year-end), but I don't think it's due to the imprints. It could be because I'm picking books by perusing publishers' catalogs much farther in advance of publication. Last year, I never really used the catalogs and waited until I heard about upcoming releases from other bloggers and media outlets. Maybe I should back off the catalogs a bit to allow myself to consider the opinions of other bloggers/reviewers I trust.
Don't be afraid to DNF ARCs that aren't working for me. I've made progress on this front, but should continue unshackling myself from that feeling of ARC obligation!
For other bloggers, have your ARCs been mostly successful this year? How do they compare to last year? How do you select ARCs? For all readers, how do you select your books to read (clearly, I need some fresh ideas!)?