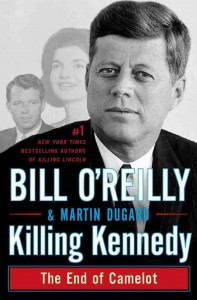 Killing Kennedy: The End of Camelot

by Bill O'Reilly and Martin Dugard, Nonfiction – History (Released September, 2011)
Bottom Line: Read it if you haven't read much about the Kennedy assassination…otherwise, skip it.
Summary: The story of the events leading up to and following the assassination of JFK by Lee Harvey Oswald.
My Thoughts: This is a hard review for me because, if I hadn't read much about the JFK assassination prior to reading this book, I would have loved it. It's a fantastic, short, readable overview of an event that has received so much coverage already – i.e. it's a great primer for someone who hasn't read much about the Kennedys or the assassination. However, I have read a fair amount about the Kennedys and the assassination and wasn't bowled over by "new" information in this book. O'Reilly structured the book by interspersing scenes of what Kennedy was doing leading up to the assassination with what Oswald and other Kennedy enemies (i.e. Sam Giancana and the Mafia, Khrushchev and the Soviets, Castro, and Hoover and the CIA) were doing – thereby setting up all the conspiracy theory angles that would later dominate the national discussion. However, I was disappointed that O'Reilly didn't delve more deeply into the conspiracy theories, which was what I was looking for going into the book. I also wish he had focused more on Oswald's movements and mentality leading up to the murder – I actually learned more about Oswald from Stephen King's historical fiction novel, 11/22/63. All that being said, Killing Kennedy made me want to read O'Reilly's Killing Lincoln because I don't know much about that event and a short, readable overview is exactly what I need.