A big thank you to TLC Book Tours for providing me with a copy of this book and for inviting me to be a host on this tour.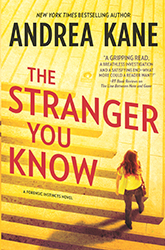 Fiction (Released September 24, 2013)
Bottom Line: Skip it.
Link to this book on Amazon
Plot Summary:
Casey Woods and her team at Forensic Instincts (FI), a private investigative firm, partner with the NYPD to investigate a string of murders of red-headed college girls beginning 15 years ago.
My Thoughts:
This is my first time reading Andrea Kane, a best-selling novelist specializing in romance and thriller "series". The Stranger You Know is the third book in her Forensic Instincts series.
This book felt a bit like one of those mysteries you can find in the grocery store book section. Some people love this type of book and The Stranger You Know certainly has all the elements that would make it successful with this type of reader – it's easy to read, suspenseful, and is completely plot driven.
However, I tend to be drawn to books that are beautifully written, have a bit of humor, and have interesting, multi-faceted characters (a suspenseful plot doesn't hurt either!), and I didn't get that from The Stranger You Know. My impression was that the writing was a bit cheesy and the characters' dialogue was unimaginative.
I also thought the characters were too black and white. The good guys (the Forensic Instincts team) were 100% good and the bad guys were 100% bad – there was no nuance in either type of character. The members of the Forensic Instincts team (Casey included) were a bit too perfect and earnest about their work. They all were "geniuses" in their respective areas of expertise, completely passionate about their jobs, and didn't seem to have any outside family obligations that would preclude them from working around the clock on this case. All of these things are obviously qualities you want in a work force, but are pretty unrealistic in real life and made the FI team lack humanity and normalcy as characters in a story.
Despite the writing and one dimensional characters, I have to say that the book did affect me enough that I had to stop reading it at night. It was scary and I had a nightmare about it! So, I guess it did have the desired effect. If you're into "grocery store" mysteries, certainly give The Stranger You Know a shot, but I don't think it would appeal to someone who's not into that particular genre.