In Episode 97, Christine Pride and Jo Piazza share how their co-authored novel, We Are Not Like Them, explores how hard it is to have conversations about difficult topics even between dear friends.  We discuss why they decided to write a book with a lifelong, interracial friendship at its core, and how they handled collaborating on a book with a plot revolving around a fraught topic.
This post contains affiliate links (plus: here's your Amazon Smile-specific affiliate link
), through which I make a small commission when you make a purchase (at no cost to you!).
Highlights
How Christine and Jo met and began their professional relationship.

Who had the initial idea for We Are

Not Like Them

.

How they decided to go from an editor/writer relationship to co-writing and what that looked like for them.

Why it was important to work collaboratively on both main characters.

Christine's and Jo's own challenges while working on this novel.

H

ow they handled "creative friction" when it arose.

How the discussions around character development opened up how they had to consider race on the page.

How their own personal experiences and perspectives informed both characters.

They share some key thoughts to having these important conversations.

The reactions from both Black and white readers.
Christine's and Jo's Book Recommendations [32:55]
Two OLD Books They Love
Two NEW Books They Love
Other Books Mentioned:
Everything Happens for a Reason by Kate Bowler [38:13]
Fates and Furies by Lauren Groff [42:01]
Bonus Pick: Three Girls from Bronzeville by Dawn Turner [42:42]
Two Books They DIDN'T LOVE
Other Books Mentioned:
The Paper Palace by Miranda Cowley Heller [48:18]
Special Topics in Calamity Physics by Marisha Pessl [48:20]
Where the Crawdads Sing by Delia Owens [49:53]
Two NEW RELEASES They're Excited About
Other Books Mentioned:
56 Days by Catherine Ryan Howard [53:51]
Voices from the Pandemic by Eli Saslow [54:02]
Last 5 Star Books They Read
Other Book Mentioned
About the Authors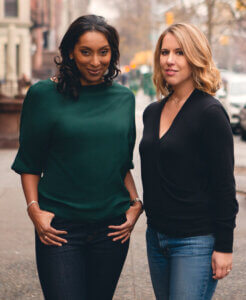 Christine Pride
Instagram | Website
Christine Pride is a writer, editor, and longtime publishing veteran. She's held editorial posts at many different trade imprints, including Doubleday, Broadway, Crown, Hyperion, and Simon & Schuster. As an editor, Christine has published a range of books, with a special emphasis on inspirational stories and memoirs, including numerous New York Times bestsellers. As a freelance editorial consultant, she does select editing and proposal/content development, as well as teaching and coaching, and pens a regular column—"Race Matters"—for Cup of Jo.  She lives in New York City.

Jo Piazza is an award-winning journalist, editor, and podcast host. Her work has appeared in the New York Times, The Wall Street Journal, CNN, Marie Claire, Glamour, and other notable publications. She is also the author of Charlotte Walsh Likes to Win, How to Be Married, The Knockoff, Fitness Junkie, and If Nuns Ruled the World. She lives in Philadelphia with her husband and two small children.
Next Episode
In two weeks (November 10), I will be back with the co-founders of The Book & Cover (@TheBookAndCover), a brand-new bookstore in Chattanooga, Tennessee, to talk about what it's like to open a new indie bookstore.  
Support the Podcast
Support on Patreon
When you support the podcast on Patreon for $5/month, get bonus podcast episodes and other goodies!
Share
If you like the podcast, I'd love for you to share it with your reader friends…in real life and on social media (there's easy share buttons at the bottom of this post!).
Subscribe
…wherever you listen to podcasts, so new episodes will appear in your feed as soon as they're released.
Rate and Review
Search for "Sarah's Bookshelves" in Apple Podcasts…or wherever you listen to podcasts!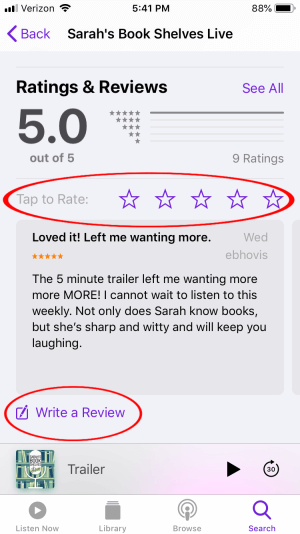 Pin this post…