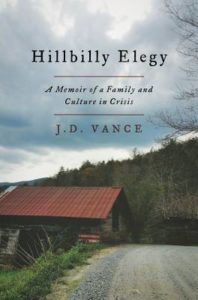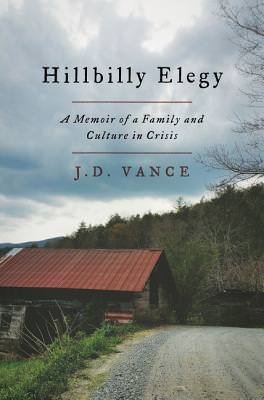 Hillbilly Elegy by J.D.Vance
Nonfiction – Memoir (Released June 28, 2016)
272 Pages
Bottom Line: Read it.
Affiliate Link: Buy from Amazon

Source: Library (Publisher: Harper)

Plot Summary: Vance's hybrid memoir of his childhood growing up poor in an Ohio town (Middletown) / social analysis of the plight of poor Appalachians.
My Thoughts: Before reading Hillbilly Elegy, I'd heard it compared to Jeanette Walls' The Glass Castle (which I loved) and I agree that the memoir portion does bear some resemblance. But, Vance takes Hillbilly Elegy to the next level (5 star level for me!) by seamlessly blending in social analysis of why the poor, white working class is failing to achieve upward mobility. This blend of life story and social analysis is tough to execute well (I'm looking at you, The Long Shadow of Small Ghosts) and Vance made it work. Vance's social analysis is brave and articulates hard-to-swallow truths, even about his own family, which make this book almost a plea to his fellow hillbillies to take some responsibility for their lives. 
But this book is about something else: what goes on in the lives of real people when the industrial economy goes south. It's about reacting to bad circumstances in the worst way possible. It's about a culture that increasingly encourages social decay instead of counteracting it.
Through a combination of hard work, a supportive grandmother, a clear vision, a driving ambition to "get out", and a bit of luck, Vance served in the military, then graduated from Ohio State and Yale Law School (a rarity for folks from his town). His success enables him to portray the difficulties (i.e. countless unwritten social rules) working class people that do make it face as they try to assimilate into the white collar world. Hillbilly Elegy is the perfect combination of entertaining story (including Mamaw, a fantastic trash-talking grandma with a heart of gold who Vance credits with saving his life) and commentary on a specific segment of the population that has become more visible in this election…making it a great discussion starter for book clubs.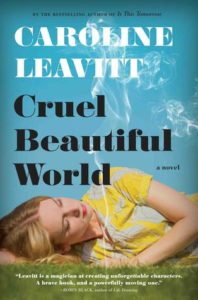 Cruel Beautiful World by Caroline Leavitt
Historical Fiction (Released October 4, 2016)
352 Pages
Bottom Line: Skip it.
Affiliate Link: Amazon

Source: Publisher (Algonquin Books) via NetGalley

Plot Summary: When sixteen year-old Lucy runs away with an older man in the early 1970's, the family she left behind tries to piece together what happened while her new life doesn't turn out quite how she imagined.
My Thoughts: Amid September's back to school chaos (see my review of A Gentleman in Moscow), I craved reading that didn't require too much concentration and Cruel Beautiful World fits that bill. Upon reading this first line, I thought Cruel Beautiful World would hit the spot perfectly:
Lucy runs away with her high school teacher, William, on a Friday, the last day of school, a June morning shiny with heat.
Though I wasn't highlighting much (i.e. the writing wasn't making a huge impression), the first half of the book was decently entertaining, if not particularly memorable. However, the ending included a couple eyeroll-inducing surprises and one that I saw coming a mile away, turning my mild enjoyment into annoyance. And, Lucy's so-called obsession with news of the Manson murders felt forced and unnecessary…like Leavitt just needed some vehicle to highlight that the book is set in the early 1970's because the time period didn't shine through the story otherwise.