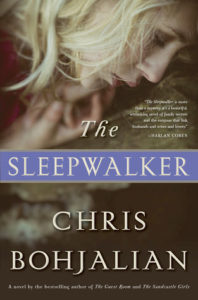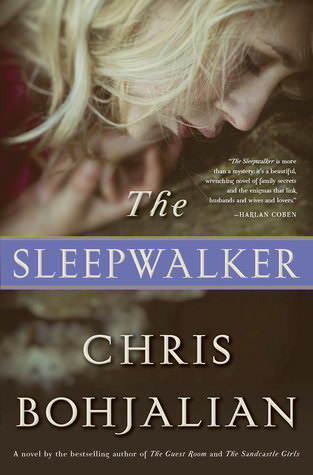 The Sleepwalker by Chris Bohjalian
Fiction – Thriller (Released January 10, 2017)
304 Pages
Bottom Line: Read it.
Affiliate Link: Buy from Amazon

Source: Publisher (Doubleday)

Plot Summary: When Annalee Ahlberg, a notorious sleepwalker, disappears from her home in the middle of the night, her husband and two daughters try to piece together what happened.
My Thoughts: Chris Bohjalian's most recent books are giving him quite a reputation for coming up with mysteries…with more. They have the who-done-it/why-done-it elements of your run-of-the-mill mystery, but he layers on something deeper. In 2016's The Guest Room, it was sex-trafficking, and in The Sleepwalker, it's parasomnia. I found the parasomnia angle fascinating…it's much more than the book's title suggests. It's a real thing (thank you, Google) and can cause shame for the sufferer, so Bohjalian's exploration of an extreme example of parasomnia's potential disastrous consequences had real-life appeal for me beyond this particular story. And, I liked the psychological exploration of the impact of parasomnia on a marriage and a family.
They both felt shame, but different reasons: he because of what people saw and she because of what she could not control.
All this being said, I would have liked to see the book go in a slightly different direction. I can't share too many details without ruining the ending, but I would've liked the story to explore the legal implications of parasomnia a bit more. Still, The Sleepwalker is a book you can fly through (which I need sometimes) and is going on my Page Turners list.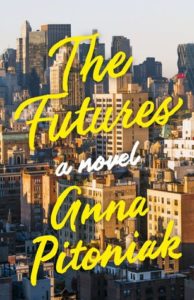 The Futures by Anna Pitoniak
Fiction – Debut (Release Date: January 17, 2017)
320 Pages
Bottom Line: Skip it.
Affiliate Link: Amazon

Source: Publisher (Lee Boudreaux Books)

Plot Summary: When college sweethearts Evan and Julia move to New York City after graduating from Yale, they face a tougher road than they imagined finding their place in the post-college world.
My Thoughts: I quite honestly don't have a lot to say about The Futures. It's the story of a quarter life crisis…something I certainly went through and could identify with. The "coming of age in your twenties in the big city" storyline always seems to suck me in, yet has proved disappointing the past few rounds (also Why We Came to the City).
Julia and Evan's college and immediate post-college experience resembled my own to a certain extent (minus the Ivy League tag). Despite or (possibly because of?) this relatability, the plot was predictable and not particularly memorable. I was disappointed with the lack of "yes, that's exactly how it is" writing, which could have upped the memorability factor for me. On the plus side, it was a nice, easy Brain Candy book that I never had to force myself to pick up.