I moved this week, so life has been crazy! Hence the round-up of August mini-reviews you're getting today. Two of these books are already out and one is coming on August 22.
Shadow of the Lions
by Christopher Swann
Fiction (Released August 1, 2017)
368 Pages
Bottom Line: Read it.
Affiliate Link: Buy from Amazon
Source: Publisher (Algonquin)
Plot Summary: After his life spirals out of control following the success of his first novel, Matthias returns to teach at his old boys' boarding school, where his best friend (Fritz) vanished from campus during their senior year.
My Thoughts: Y'all know I'm a sucker for boarding school novels. But, I've had read some stinkers over the past few years. Shadow of the Lions is NOT one of the stinkers! It's been described as a "literary thriller," which I'm not sure I agree with. I'd say it's more of a literary "mystery" than a "thriller" because it doesn't have all the heart-pounding franticness that a thriller brings to mind.
The story begins with a wistful feeling as Matthias returns to campus and reminisces about his time there as a student and Fritz's disappearance. And, it gradually picks up speed as Matthias decides he wants to find out what happened to Fritz once and for all. This is also a story about male friendship…the kind of bond that can only be developed in extremely close quarters with shared experiences (i.e. living together in dorms, in the military, etc). Shadow of the Lions is one of those books that you don't have to think too hard about (I need these sometimes!), but that has enough depth to keep you interested…and is the final book I'm adding to this year's Summer Reading Guide!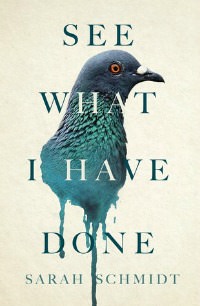 See What I Have Done
by Sarah Schmidt
Historical Fiction – Debut (Released August 1, 2017)
336 Pages
Bottom Line: Skip it.
Affiliate Link: Amazon
Source: Publisher (Atlantic Monthly)
Plot Summary: A fictional telling of the famous, unsolved Lizzie Borden murders of 1892.
My Thoughts: I love books about crime. I love fiction based on real people and/or events. I love books about dysfunctional families. See What I Have Done is all of these things, but I didn't love it. Most of the story centers around the Borden family dynamics (each family member has their own motives to have possibly killed Abby and Andrew Borden) and the days immediately following the murders. Oddly for a story involving crime and a dysfunctional family, it moved slowly and I got bored around the 40-50% mark. I kept expecting things to move along to Lizzie's arrest and the subsequent trial (the part of the story I find most intriguing), but that didn't happen until three quarters of the way through. And, when we finally did hear about it, it was covered only briefly and on a surface level (we never even got to hear about the evidence that led to Lizzie's arrest). When I finished, I felt like I didn't know much more about the murders than I did before I read the book.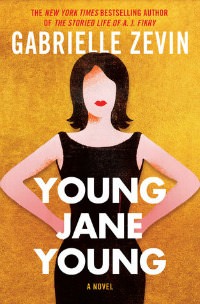 Young Jane Young
by Gabrielle Zevin
Fiction (Release Date: August 22, 2017)
320 Pages
Bottom Line: Skip it.
Affiliate Link: Amazon
Source: Publisher (Algonquin)
Plot Summary: When intern Aviva Grossman's affair with her much older, married Congressman boss becomes public, she must figure out how to get her life back in order.
My Thoughts: Zevin's last book, The Storied Life of A.J. Fikry (my review), was my favorite book of 2014, so I had high expectations going into Young Jane Young. And, I did love the first half. Young Jane Young is an "issue" book without feeling too much like an "issue" book. The storyline closely mirrors the Bill Clinton/Monica Lewinsky scandal, which I was fascinated with when it happened. But, Young Jane Young explores the reverberating impact of a public scandal like this on the female cheatee…and how different it is from the impact on the male cheater. It illuminates the gross double standard that exists in today's society and how that can truly wreck lives. Zevin had me glued through this point.
But, a gimmicky second half sent things sailing downhill. First, the writing style and tone of the story completely changed during the section told from Ruby's (Aviva's daughter) perspective (which was written in a one-sided email exchange with her pen pal). I didn't like that we never heard from the pen pal either. But, what really sent me over the edge was the final section told from Aviva's perspective that was written as a Choose Your Own Adventure story (yes, you read that correctly). What?!! There was a point to it, but it still didn't work for me…mainly because I thought I was reading an adult novel, not a kids' comic book. To be fair, this was clearly mentioned in the book's blurb, but I must have skimmed right over that part. I imagine Young Jane Young will be a somewhat controversial read, so it would make a great book club selection even though it didn't work for me.