Tara at Running N Reading hosts a Weekend Update Link-Up where people can share their weekend fun and successes with each other, as well as introduce each other to new things: races, workouts, books, food, gear, etc.
Since running and reading are my two favorite "try to retain some semblance of myself" while being a stay-at-home Mom activities, I'm excited to participate in this link-up!
Current Reading
I'm almost finished reading Reunion by Hannah Pittard…and it's fantastic! It's a delightfully irreverent story about an estranged, extended family (and, by extended, I don't mean cousins…I mean 4 ex-wives and all the accompanying half siblings) gathering for a funeral. The subject matter spoke to me in a deeply personal way, while the writing was funny and snarky and highlighted the ridiculous side of the rituals of death. And, did I mention it's under 300 pages?!
Affiliate Link: Buy from Amazon
As a result of my Top Ten Authors I Need to Read More From post, I was told that I MUST listen to David Sedaris on audio, rather than read his books. I've gotten through the first couple stories and they are funny (as promised!). Although, I'm not sure laughing out loud while running (which is when I usually listen) is really the overall goal here…but, who knows, that might come in handy during those last couple miles of this weekend's half marathon!
Affiliate Link: Buy from Amazon
"On Deck" Reading
Next up on the Kindle is this historical fiction and "fiction based on true crime" genre mash-up about Newport, Rhode Island at the end of World War I. The arrival of a Naval Training Station has turned tony Newport into a "moral cesspool" according to the local gentry and sailors' accusations of sexual impropriety against a beloved clergyman send the town into hysterics. I've had great luck with "fiction based on true crime" this year, so I'll be participating in an online blog tour for this book on October 27.
Affiliate Links: Buy from Amazon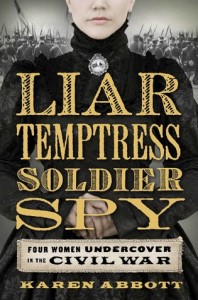 I've been meaning to read this one for a few weeks now and finally have a specific motivation to push it to the top of my TBR list – Nonfiction November! Liar, Temptress, Soldier, Spy is about four women who went undercover to spy during the Civil War and, apparently, my hometown (Richmond, VA) plays a major role in the story.
Affiliate Link: Buy from Amazon
Running
And…it's race week!! Aka taper week! Even though this is my first half marathon, I'm very familiar with the concept of tapering from my swimming background. Here's what I remember about tapering from my childhood in the pool: it's amazing! You are SUPPOSED to have very easy workouts and lots of stretching. Oh, and eat some carbs!
You know what I discovered this week? How much time you have in the day if you don't spend 1-2 hours of it working out! It's literally amazing what you can get done. However, I also kind of miss hard workouts…I've become accustomed to them and feel a little off balance without them. 
On to the race…
It was a gorgeous day for running (sunny and high in the low 60's)…I was so thankful for this after a rainy and cold morning on Saturday. I'm so glad the race (Westchester Medical Center Running Festival Half Marathon) was on Sunday! I mentioned last week that the race course elevation gain/loss was about double my usual training run and that the course was the dreaded U shaped out and back (the half marathon is the top graph). 
Race Highlights 
Luckily, the hills didn't turn out to be as bad as they looked online! But, the back half was still tough!
I took things out a bit faster than normal (time wise, not effort wise) since the first half of the race was downhill. I averaged around [9:25]-[9:30] miles vs. [9:45]-[9:55] in my training runs.
Despite the fact that I took things out fast (for me), I was getting passed by EVERYONE in the beginning. I was snickering to myself that I'd catch them all later, but many managed to hold that pace. I'm definitely not as natural a runner as many of the people in this race…some literally looked like gazelles floating over the road. And, they looked like they were barely trying. Sigh…
I didn't negative split this race, but did manage to more or less even split (miles ranged from [9:41]-[9:16] thoughout the race).
There was a big hill during mile 12, which had me feeling like I was going to throw up. So, my final mile wasn't as fast as I would have liked.
As I crossed the finish line, I felt horrible and needed to sit down (and eat a banana!). I noticed lots of other runners nonchalantly crossing the finish line and milling around chatting. I wondered how it was possible that running 13.1 miles had not seemed to remotely affect them?! It was HARD for me! I mean, really hard. I was tired afterwards…how is this a foreign concept to these people?!
Overall, I'm happy with my time ([2:05] vs. [2:10] goal…the official results aren't posted yet, so I don't know my place), ran faster than I did in training on a harder course, and am very glad I did this. However, I think I'm more geared to the shorter races. I see lots of 5Ks and 10Ks (and hopefully some triathlons) in my future! There was also a quarter marathon as part of today's race that I might consider for next year.
Did anyone else race this weekend?