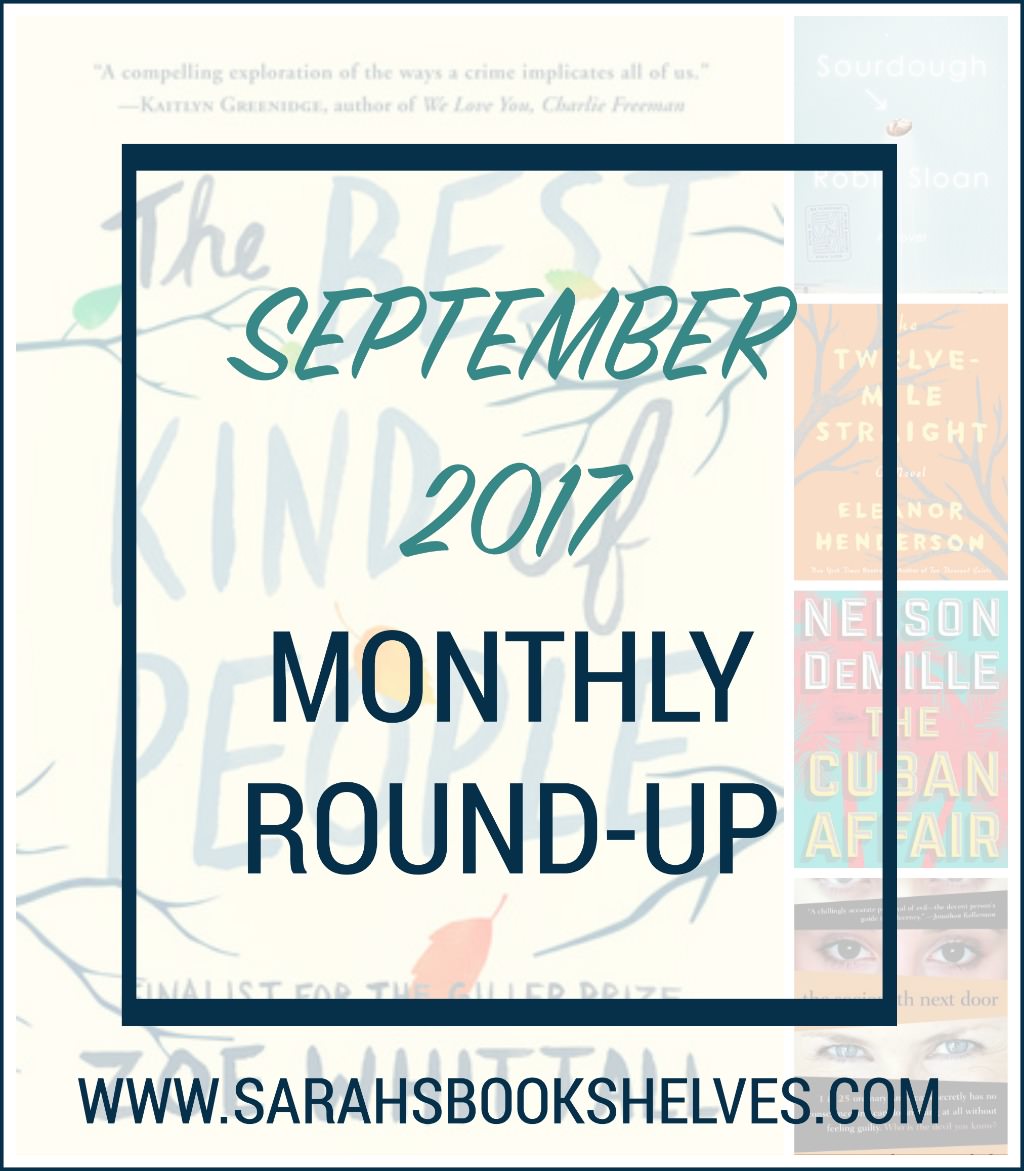 This post contains affiliate links.
September Reading / Life
I debated on whether to even write a September Round-Up, as I don't really have anything good to say. I read 5 books, my lowest total of the year by a mile, and my highest rated book was 3.5 stars. However, I have hope because things started to look up slightly towards the end of the month.

The only two books I'd recommend (but not wholeheartedly): Sourdough (my review) and The Best Kind of People.
Overly long books that didn't work for me: The Twelve-Mile Straight (my review) and The Cuban Affair.
My one audiobook, which was so-so:

The Sociopath Next Door

DNF's: Manhattan Beach, Lie to Me, The Burning Girl
Finally, I'm thrilled to co-host Nonfiction November again this year! Check out all the details here.
Tomorrow is the deadline to get your October Book of the Month Club selections in! Check out my commentary on the October selections AND my new tool to help you find the Book of the Month Club judge that best matches your reading taste (includes a free template)!
My Favorite Book(s) of the Month
Best Book of the Month
The Best Kind of People
 by Zoe Whittall (September 19, 2017)
Fiction, 448 Pages
Affiliate Link: Buy from Amazon
PS – last year's Best Books of September were Hillbilly Elegy by J.D. Vance (my review) and When Breath Becomes Air by Paul Kalanithi!
Best Selling Book(s) of the Month (via my affiliate links)
For the second straight month…
Emma in the Night
 by Wendy Walker (my review)
And, a backlist favorite…
The Mothers
 by Brit Bennett (my review)
October Releases I'm Excited About
Fear
 by Dirk Kurbjuweit (October 3)*
The Floating World
by C. Morgan Babst (October 17)
*I've already read it and really liked it!
Most Popular Posts
Posts Actually Published in September
10 Hyped Books I Wish I Hadn't Finished
Book of the Month Club September 2017 Selections: What Would I Choose?
Was 2017 the Summer of Overhyped Books?
Overall Posts
Book Club Recommendations
Behind Her Eyes and THAT Ending: Spoiler Discussion (#WTFthatending)
Best Books of 2017 So Far
Favorite Posts by Fellow Bloggers
How was your reading month? Hopefully better than mine!