Fiction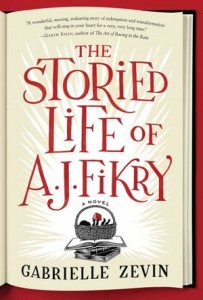 Released April, 2014
273 Pages
Bottom Line: Read it.
Affiliate Link: Buy from Amazon

Source: Purchased
Plot Summary
A.J. Fikry, the recently widowed and irritable owner of Island Books, is given the chance to turn his life around.
My Thoughts
The Storied Life of A.J. Fikry was a common presence on book blogs a few months ago and I finally got around to reading it! And, in this case, definitely better late than never because I am unabashedly hopping on the A.J. Fikry bandwagon…I absolutely adored this book!
I'm not even sure what type of book to say this is…it has great characters, gorgeous writing, and a twisty story…it has it all! I literally loved every single thing about it. It's a sweet book that simultaneously manages to be witty and snarky, especially when it comes to A.J.
A.J. is a book lover at heart and gives you his unbridled opinion of all things books throughout the story…his opinions are often snobbish and cutting, but they're hilarious and generally right on target! As a fellow book nerd, I obviously loved reading A.J.'s opinions about books and I would love to read a book blog written by him…although I'm sure he would refuse to write one out of principle because "you're supposed to come into a bookstore and talk to a 'bookseller' about what you might want to read next"! When I reviewed my notes, I found there were so many great quotes that I wanted to share that I decided they deserved their very own post! So keep an eye out tomorrow for my "Best of A.J. Fikry" post with my favorite quotes from this book! 
Despite the fact that A.J. is a virtual recluse at the beginning of the story, he struck me as a delightful character. How one character can be snarky, snobby, irritable, and reclusive while simultaneously striking me as delightful is beyond me! A.J. is extremely self-aware and provides funny, self-deprecating observations of his personal life. He also has the capacity to be caring and nurturing in a begrudging kind of way.
And, while we're talking about the characters, Island Books is almost a character in and of itself…sort of like New York City was a "character" in "Sex and the City". Despite the fact that I have migrated to reading solely e-books (for convenience), Fikry made me want to  pay my local bookstore a visit immediately. It reminded me of the value of an independent bookstore (and its proprietor)…the sense of community it fosters and how the proprietor can be instrumental in getting people to like reading (and to grow as readers).
My one complaint about this book is that it's too short…I didn't want it to end and was sad when it did! It's going on my Book Club Recommendations List and will absolutely be included on my Best Books of the Year List this December (click here for last year's list).
You May Also Like:
Mr. Penumbra's 24 Hour Bookstore by Robin Sloan