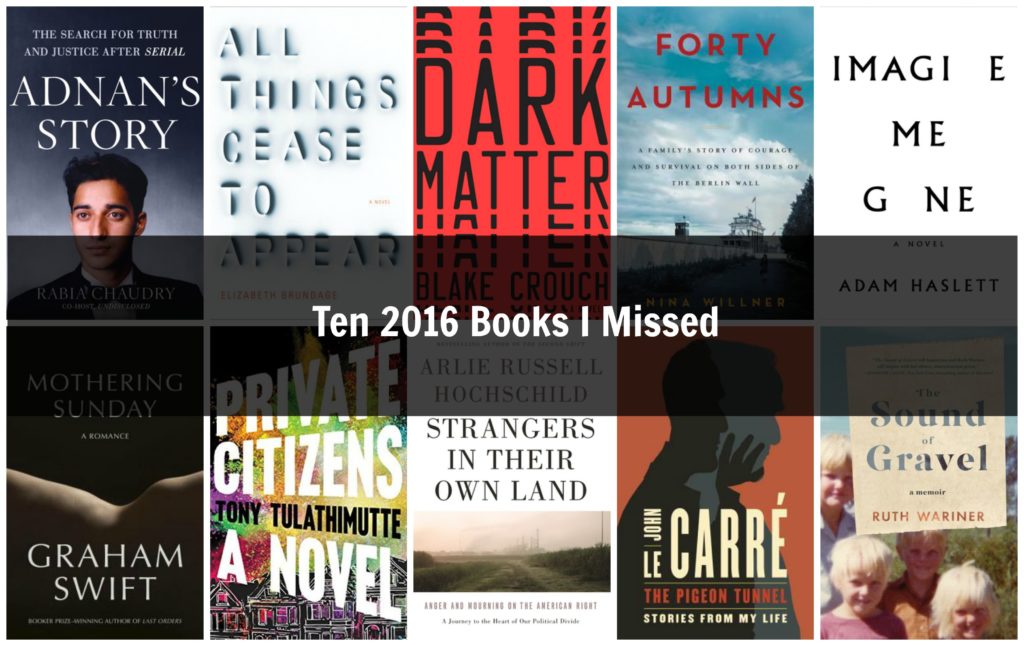 I love putting together this post every year because it forces me to reexamine my TBR list. I decide whether I'm still interested in reading all the backlist books on my list and remove the ones I'm no longer interested in or can't remember much about. These are some of the books that made the cut…
Ten 2016 Books I Missed
Adnan's Story by Rabia Chaudry
I was fascinated by the Serial podcast and Catherine at Gilmore Guide to Books raved about this follow-up book. I bought the audio during Audible's holiday sale…I figured I might as well continue this story in audio form.
All Things Cease to Appear by Elizabeth Brundage
Susie at Novel Visits included this mystery on her Best Books of 2016 list and called it "a dark story about two families in a very small town," which sounds right up my alley.
Dark Matter by Blake Crouch
This sci-fi novel is 100% out of my wheelhouse, but Carrie Lippert (a TV host and travel blogger, who is also a big reader with taste similar to mine) said it was a sci-fi novel that would appeal to people that aren't normally fans of that genre.
Forty Autumns by Nina Willner
I've always been fascinated by life behind the Iron Curtain and Eva at Paperback Princess put this true story of a family separated by the Berlin Wall on my radar with her review during Nonfiction November.
Imagine Me Gone by Adam Haslett
Catherine at Gilmore Guide recommended this novel about the effects of depression on a family and then I saw it on numerous Best Books of 2016 lists.
Mothering Sunday by Graham Swift
Joann at Lakeside Musing has been raving about this slim novel for months now.
Private Citizens by Tony Tulathimutte
Monika at Lovely Bookshelf's review of this novel about college grads living in San Francisco put it on my radar and I've since seen it on multiple Best Books of 2016 lists.
Strangers in their Own Land by Arlie Russell Hochschild
I've been hearing this nonfiction is a logical companion to Hillbilly Elegy, one of my favorite books of 2016.
The Pigeon Tunnel by John Le Carre
A memoir by someone who sounds like he could quite possibly be the most interesting man in the world.
The Sound of Gravel by Ruth Wariner
This memoir of a girl who grew up in a polygamist cult has been on my TBR list for a year now.
What 2016 books did you miss?