Top Ten Tuesday is a weekly meme hosted by The Broke and the Bookish that asks bloggers to create Top Ten lists on a variety of bookish topics. This week's topic is Ten Books On My Spring TBR.  
I've focused on new releases…and this is by no means a comprehensive list of all the books I'm looking forward to this spring. I didn't include spring releases that I'd already shared on my Ten Most Anticipated Releases for the First Half of 2016 and Top Ten 2016 Debut Novels I'm Anticipating lists, so check those out for even more spring picks.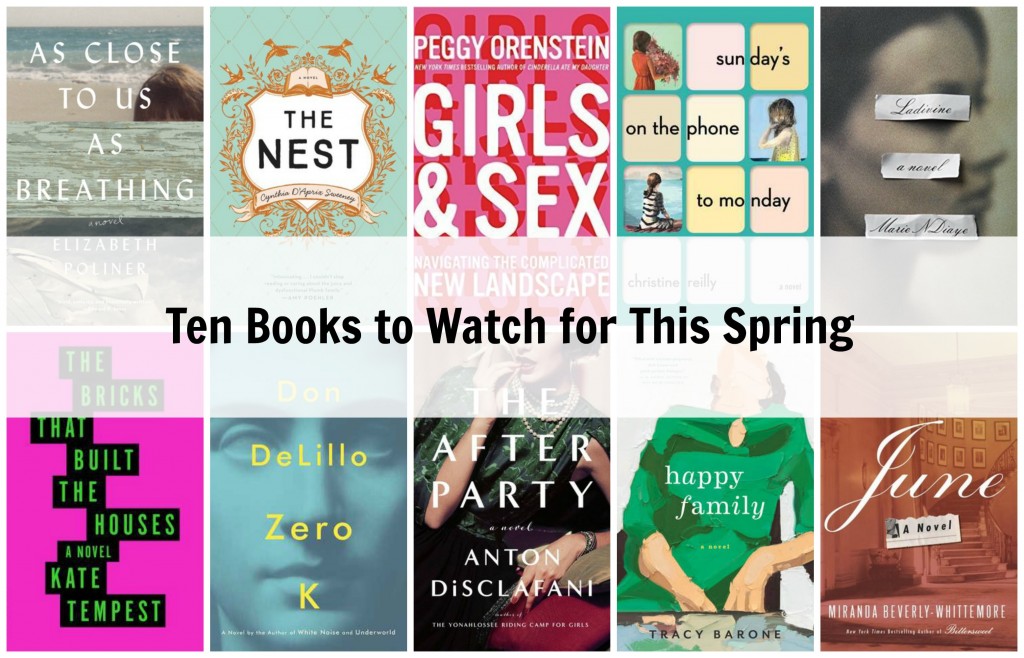 March
As Close to Us As Breathing by Elizabeth Poliner (March 15, Lee Boudreaux Books)
Ever since I loved Tender from the new Lee Boudreaux Books imprint, I've been looking forward to this multi-generational family saga (I'm a sucker for these!).
A multigenerational family saga about the long-lasting reverberations of one tragic summer by "a wonderful talent [who] should be read widely"
The Nest by Cynthia D'Aprix Sweeney (March 22, Ecco)
This debut novel is getting a lot of buzz and hits my dysfunctional families hot button.
A warm, funny and acutely perceptive debut novel about four adult siblings and the fate of the shared inheritance that has shaped their choices and their lives.
Girls & Sex by Peggy Orenstein (March 29, Harper)
As a mother of a young daughter, this book piques my interest/scares me.
A contributing writer to the New York Times Magazine and the New York Times best-selling author of books like Cinderella Ate My Daughter, Orenstein spoke to psychologists, academics, and other experts in the field and yes, 70 young women, to offer an in-depth picture of "girls and sex" today.
April
Sunday's on the Phone to Monday by Christine Reilly (April 5, Touchstone)
Yet more of my reading hot buttons (eccentric families, 1990's NYC) in this debut!
The Middlesteins meets The Virgin Suicides in this arresting family love story about the eccentric yet tight knit Simone family, coping with tragedy during 90s New York, struggling to reconnect with each other and heal.
Ladivine by Marie NDiaye (April 26, Knopf)
I've had good luck with Knopf in the past…plus, secrets and double lives.
The first Tuesday of every month, Clarisse Rivière leaves her husband and young daughter to take the train to Bordeaux and visit her mother, Ladivine. Clarisse has concealed nearly every aspect of her adult life from this woman whom she dreads and despises but also pities, and who knows her as Malinka. But after twenty-five years, the idyllic life she has built from scratch cannot survive the walls she's put up to protect it.
May
The Bricks That Built the Houses by Kate Tempest (May 3, Bloomsbury USA)
One of those books where you're confused about what it's actually about even after reading the blurb, but I'm intrigued.
Explores a cross-section of contemporary urban life with a powerful moral microscope, giving us intimate stories of hidden lives, and showing us that good intentions don't always lead to the right decisions.
Zero K by Don DeLillo (May 3, Scribner)
I've never read DeLillo, but he's been on my TBR list for awhile. 
Don DeLillo's seductive, spectacularly observed and brilliant new novel weighs the darkness of the world—terrorism, floods, fires, famine, plague—against the beauty and humanity of everyday life; love, awe, "the intimate touch of earth and sun."
The After Party by Anton Disclafani (May 17, Riverhead)
This one reminds me of a cross between The Swans of Fifth Avenue and The Big Rich (i.e. wealthy people behaving badly).
From the nationally bestselling author of The Yonahlossee Riding Camp for Girls comes a story of 1950s Texas socialites and the one irresistible, controversial woman at the bright, hot center of it all.
Happy Family by Tracy Barone (May 26, Lee Boudreaux Books)
After Tender, I'm pretty much excited about anything from Lee Boudreaux Books.
In Tracy Barone's mordantly funny debut, a fiercely independent woman is forced to come to terms with the family who raised her, the one who gave her away and the one she desperately wants.
June by Miranda Beverly-Whittemore (May 31, Crown)
Bittersweet, Beverly-Whittemore's 2014 novel, is one of my top beach read recommendations, so I was excited to hear she had a new book coming out.
From the New York Times bestselling author of Bittersweet comes a novel of suspense and passion about a terrible mistake made sixty years ago that threatens to change a modern family forever.