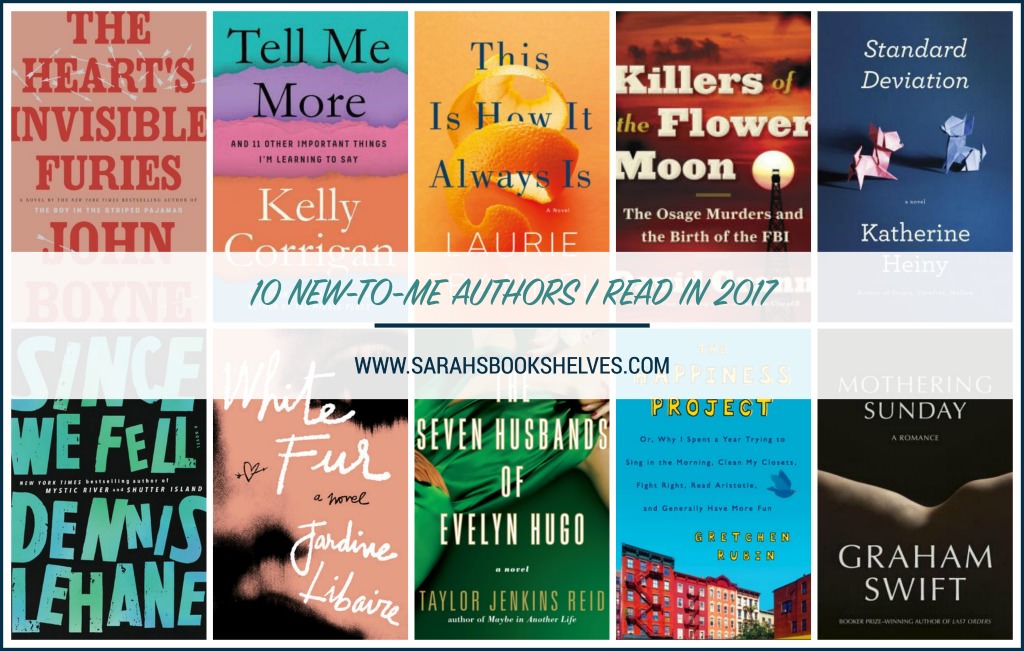 What reader doesn't love discovering new authors? Many of the best books I read last year were by authors new to me and I can't wait to dig into some of their backlists!
This list does NOT include debut authors…since I already honored them in my Best Debuts of 2017 list.
10 New-To-Me Authors I Read in 2017
John Boyne (The Heart's Invisible Furies
, My Review)
My hands down #1 book of the year! And, now I'd like to read The Boy in the Striped Pajamas
.
Kelly Corrigan (Tell Me More: Stories About the 12 Hardest Things I'm Learning to Say
)
This book is actually coming out today! But, I read it in 2017 and now I'd like to read Glitter and Glue
.
Laurie Frankel (This Is How It Always Is
, My Review)
Another one of my Best Books of 2017. I've never heard of any of her previous novels, but I'd love for someone to vet them for me!
David Grann (Killers of the Flower Moon
, My Review)
Grann's investigative story about the Osage indian tribe won all kinds of awards last year. And, I've been hearing great things about his previous book, The Lost City of Z
, so now I'd like to read that.
Katherine Heiny (Standard Deviation, My Review)
Standard Deviation was one of my Best Debuts of 2017 (it's her debut novel), but Heiny had previously published a short story collection (Single, Carefree, Mellow
) that I now want to read.
Dennis Lehane (Since We Fell
, My Review
) 
If you're a regular reader, you know how skittish I am about thrillers. The ones that usually work for me are always "the different kind of thrillers," and that's what Since We Fell is. The first part reads like an exploration of a marriage and the second half feels more like a traditional thriller.
Jardine Libaire (White Fur
, My Review)
White Fur definitely isn't for everyone, but it may have been the most gorgeous writing (and hottest love story!) I've read all year. I hadn't heard of any of her previous books, but I'm now itching to check them out.
Taylor Jenkins Reid (The Seven Husbands of Evelyn Hugo, My Review)
It took a LOT of people raving about this one to get me to pick it up and I'm so glad I did. Yet another favorite of 2017 and I'm hesitantly considering trying something from her backlist. I only say hesitantly because I hear this book is a departure from her previous work.
Gretchen Rubin (The Happiness Project
, Better Than Before
)
I listened to both these books on audio and, going a bit contrarian here, but I liked Better Than Before
better than The Happiness Project (she's a little less grating and more practical). Now, I want to listen to The Four Tendencies
.
Graham Swift (Mothering Sunday
, My Review)
This tiny, unique book completely surprised me. And, Swift has an extensive backlist!
What new-to-you authors did you read last year?