Fiction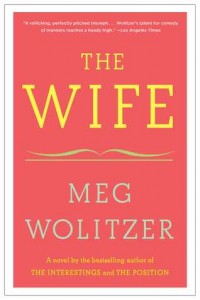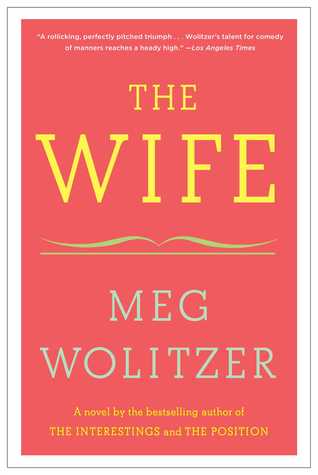 Released March, 2003
228 Pages
Bottom Line: Read it.
Affiliate Link: Buy from Amazon

Source: Purchased
Plot Summary 
On a flight to Helsinki to watch him receive a prestigious literary prize, Joan decides to leave her famous novelist husband, Joe, after a decades long marriage. 
My Thoughts
I had The Wife on my Kindle for months and finally got around to reading it (thanks to Shannon's review and prodding). And, I'm so mad at myself for waiting this long! It's easily one of my favorite books I read in 2014 and would have been a contender for my Best Book of the Year had it been published in 2014. Why? Because of the absolutely gorgeously perfect writing (and, yes, it needs 2 adverbs and an adjective)…that's why!
The Wife is a story of the power dynamics of marriage as told from Joan Castleman's perspective. Joan was a talented writer in college and gave it all up to support her less talented, but extremely successful husband in his writing endeavors.
It's about living life as a "babysitter for a successful man's ego" and being married to a "gigantic baby", which Joe, coddled by a doting, all female household as a child, has grown into. Wolitzer nailed what it's like to live with this type of person, as I know from personal experience since my father grew up in the same type of household with similar results.
You know the type I mean: those advertisements for themselves, those sleepwalking giants, roaming the earth and knocking over other men, women, furniture, and villages.
What to say about the writing…it's this package of astute, "yes, that's exactly how it is" observations about life and love in a compact 228 pages. My ineloquent words certainly don't do it justice, so here are some quotes:
Because as you get older, life sort of eats away at you like battery acid, and all the things you once loved are suddenly harder to find. And when you do find them, you don't have time to enjoy them anymore, you know?

You might even envy us – him for all the power vacuum-packed within his bulky, shopworn body, and me for my twenty-four hour access to it, as though a famous and brilliant writer-husband is a convenience store for his wife, a place she can dip into anytime for a Big Gulp of astonishing intellect and wit and excitement.
The Wife surprised me in a few ways. It explores the role of "the wife" in society and the expectations and pressures that come along with that. And, it tackles the conundrum many women face of choosing to harness their talents or devote themselves to their families…or some balance between the two. Finally, the ending was pure perfection.
Everyone knows how women soldier on, how women dream up blueprints, recipes, ideas for a better world, and then sometimes lose them on the way to the crib in the middle of the night, on the way to the Stop & Shop, or the bath. They lose them on the way to greasing the path on which their husband and children will ride serenely through life.
I'm going out on a limb by saying that I might have loved The Wife even more than I loved Wolitzer's The Interestings, which sets a high bar! It's a must read for anyone who loves savoring fantastic writing and would make a great book club selection. It's also going on a Great Books Under 300 Pages List I have planned for 2015.
You May Also Like
Florence Gordon by Brian Morton
The Interestings by Meg Wolitzer