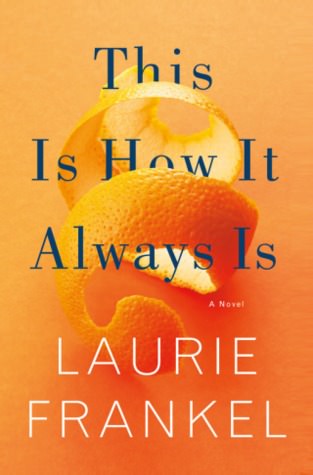 Fiction
Released January 24, 2017
336 Pages
Bottom Line: Read it.
Affiliate Link: Buy from Amazon

Source: Purchased (published by Flatiron Books)
Headline
This Is How It Always Is
 is an accessible story about a weighty topic that had me feeling a whole range of emotions…it's the kind of book many people will enjoy, yet will also provide excellent discussion for book clubs.
Plot Summary
When Claude, the youngest son of a family of five boys, starts to realize he wants to be a girl, the family must learn how to best support Claude and adjust to the situation.
Why I Read It
Susan Perabo, author of the fantastic short story collection Why They Run the Way They Do
 (my review), tweeted this about This Is How It Always Is:
Read this book. https://t.co/oWWp8XVG1c

— Susan Perabo (@SusanPerabo) January 24, 2017
Major Themes
Gender Dysphoria, Family, Bullying
What I Loved
One of the most important things a book needs to do to really draw me in is to make me feel…something. It doesn't have to be positive all the time, but I have to become emotionally involved with the story and characters in some way.

This Is How It Always Is

had me feeling a full range of emotions. It's heart-warming, but also heart-breaking. It's unexpectedly funny, sad, inspirational, and made me angry at times.
While this story obviously centers around Claude and his struggle with gender dysphoria, it's also very much a story about an unconventional and complicated family. Frankel explores the family dynamics, the impacts of Claude's struggle on each sibling and both parents, and the more run-of-the-mill struggles of a family (work/life balance, teen angst, sibling disagreements, etc) and how Claude fits into that.
While gender dysphoria is a weighty issue and many people have not personally experienced, the Walsh-Adams family as a whole is incredibly relatable. Rosie (the mother) is someone I could imagine being friends with and the family's reactions to and decision-making involving Claude felt decidedly normal to me.
In addition to handling the "big" issues and decisions relating to Claude's gender dysphoria, Frankel poignantly works through the small moments that become minefields when you're dealing with someone like Claude (i.e. meeting your new neighbors, the first sleepover).

The writing isn't what I'd call "gorgeous," but I loved the voice and tone. I felt like I was hearing my relatable friend talk about family life while phrasing things in the most amusing way possible. 
But Roo followed by Ben followed by Rigel and Orion had put a stop to that plan too, children being the enemies of plans and also the enemies of anything new besides themselves.
Plus, there's a bad@ss grandmother, a character type that generally adds a little something extra to a story for me!
What I Didn't Like
I'm generally not a fan of stories within stories and one (a fairy tale, in this case) figures prominently into

This Is How It Always Is

. It makes sense within the larger context and Frankel executed it well, but I personally found it distracting and unnecessary. It felt a little too cutes-y to me.
I'm getting really nit-picky, but some of the things Claude was doing at age five (i.e. designing and constructing a complicated Halloween costume by himself) seemed like a developmental stretch to me, even though his character is quite precocious. I have a six year old son and he could no more design and construct his own Halloween costume than fly to the moon; however, he could name 25 obscure animals you've never heard of. So, maybe this criticism isn't entirely fair.
A Defining Quote
You never know. You only guess. This is how it always is. You have to make these huge decisions on behalf of your kid, this tiny human whose fate and future is entirely in your hands, who trusts you to know what's good and right and then to be able to make that happen. You never have enough information. You don't get to see the future. And if you screw up, if with your incomplete, contradictory information you make the wrong call, well, nothing less than your child's entire future and happiness is at stake. It's impossible. It's heartbreaking. It's maddening. But there's no alternative.
Good for People Who Like…
Family, unconventional families, secrets / betrayal, marriage, motherhood, emotional gut-wrenchers, debate starters, accessible writing
Other Books You May Like
A memoir dealing with gender dysphoria:

Darling Days
 by iO Tillett-Wright
Another book centered around a large family with hoards of children:
Commonwealth
 by Ann Patchett