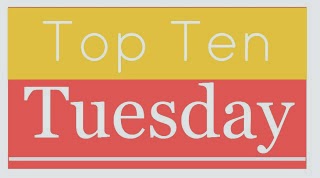 Top Ten Tuesday is a weekly meme hosted by The Broke and the Bookish that asks bloggers to create Top Ten lists on a variety of bookish topics. This week's topic is actually Top Ten 2015 Debuts, but I don't have anywhere near enough debuts on my radar screen to make up that list! So, I've amended the topic to be…
Top Ten 2015 Releases (through June)
I'm sure there will be a ton more books that pop up as the year progresses, but this is the list of books that I'm aware of at this point that I'm most looking forward to.
January
Descent by Tim Johnston (January 6 – TODAY)
The Rocky Mountains have cast their spell over the Courtlands, a young family from the plains taking a last summer vacation before their daughter begins college. For eighteen-year-old Caitlin, the mountains loom as the ultimate test of her runner's heart, while her parents hope that so much beauty, so much grandeur, will somehow repair a damaged marriage. But when Caitlin and her younger brother, Sean, go out for an early morning run and only Sean returns, the mountains become as terrifying as they are majestic, as suddenly this family find themselves living the kind of nightmare they've only read about in headlines or seen on TV.
The Girl on a Train

by Paula Hawkins (January 13)
This one actually is a debut!
Rachel takes the same commuter train every morning. Every day she rattles down the track, flashes past a stretch of cozy suburban homes, and stops at the signal that allows her to daily watch the same couple breakfasting on their deck. She's even started to feel like she knows them. "Jess and Jason," she calls them. Their life—as she sees it—is perfect. Not unlike the life she recently lost. And then she sees something shocking.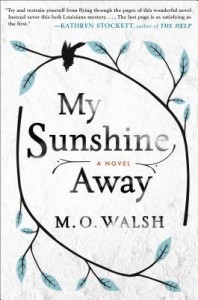 My Sunshine Away by M.O. Walsh (February 10)
Another debut…
It was the summer everything changed.…

My Sunshine Away

unfolds in a Baton Rouge neighborhood best known for cookouts on sweltering summer afternoons, cauldrons of spicy crawfish, and passionate football fandom. But in the summer of 1989, when fifteen-year-old Lindy Simpson—free spirit, track star, and belle of the block—experiences a horrible crime late one evening near her home, it becomes apparent that this idyllic stretch of Southern suburbia has a dark side, too.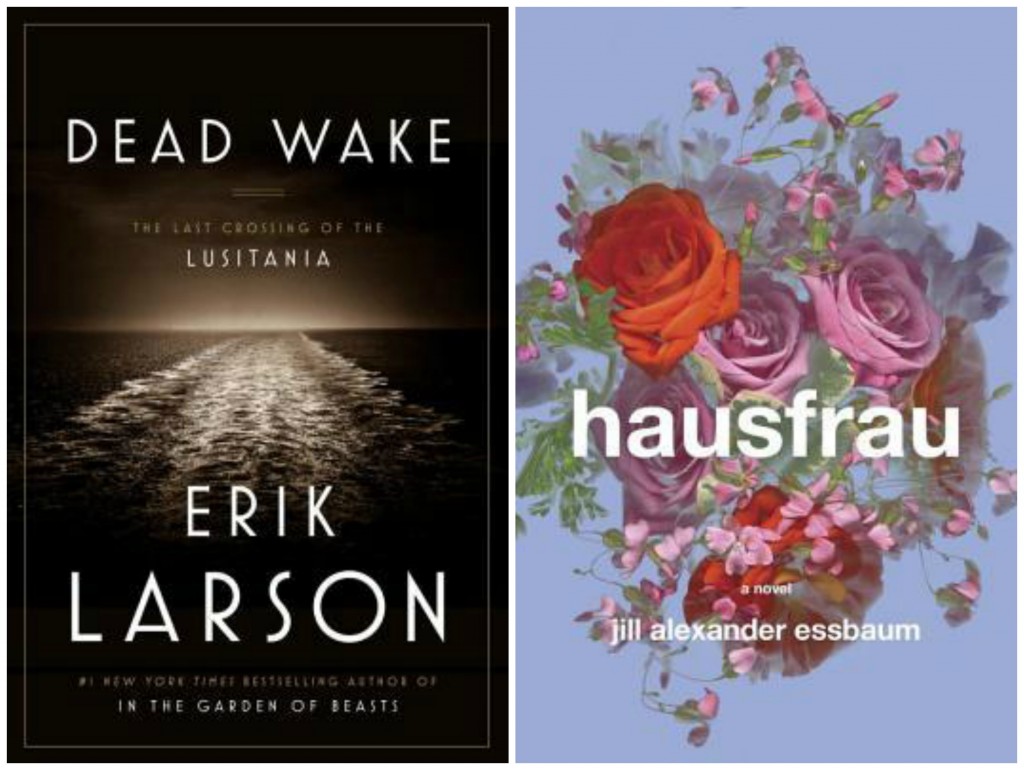 Dead Wake: The Last Crossing of the Lusitania by Erik Larson (March 10)
On May 1, 1915, a luxury ocean liner as richly appointed as an English country house sailed out of New York, bound for Liverpool, carrying a record number of children and infants. The passengers were anxious. Germany had declared the seas around Britain to be a war zone, and for months, its U-boats had brought terror to the North Atlantic. But the Lusitania was one of the era's great transatlantic "Greyhounds" and her captain, William Thomas Turner, placed tremendous faith in the gentlemanly strictures of warfare that for a century had kept civilian ships safe from attack. He knew, moreover, that his ship–the fastest then in service–could outrun any threat.
Hausfrau

by Jill Alexander Essbaum (March 17)
Another debut…
Anna Benz, an American in her late thirties, lives with her Swiss husband, Bruno—a banker—and their three young children in a postcard-perfect suburb of Zürich. Though she leads a comfortable, well-appointed life, Anna is falling apart inside. Adrift and increasingly unable to connect with the emotionally unavailable Bruno or even with her own thoughts and feelings, Anna tries to rouse herself with new experiences: German language classes, Jungian analysis, and a series of sexual affairs she enters with an ease that surprises even her.But Anna can't easily extract herself from these affairs. When she wants to end them, she finds it's difficult. Tensions escalate, and her lies start to spin out of control. Having crossed a moral threshold, Anna will discover where a woman goes when there is no going back.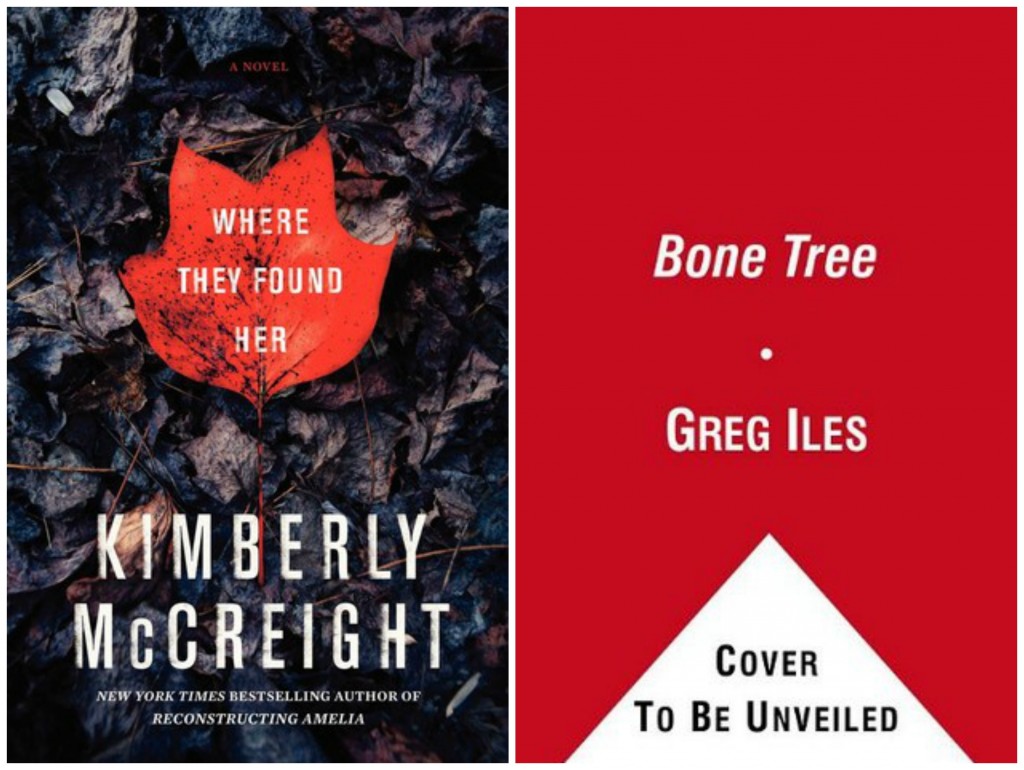 An idyllic suburban town.A devastating discovery.
Shocking revelations that will change three lives forever.
At the end of a long winter in well-to-do Ridgedale, New Jersey, the body of a newborn is found in the woods fringing the campus of the town's prestigious university. No one knows the identity of the baby, what ended her very short life, or how she wound up among the fallen leaves. But among the residents of Ridgedale, there is no shortage of opinions.
The sequel to last year's

Natchez Burning

, which made my Best Books of 2014 list.

Penn Cages father, Dr. Tom Cage, stands accused of murder, and each effort to defend him unearths new, shocking secrets, leaving Penn to question whether he ever really knew his father at all. At issue is the murder of Toms former nurse, Viola Turner. The district attorney is quick to point the finger at Tom, citing his decades-old relationship with Viola. When Tom is taken into custody, Penn must explore the dangerous territory of Tom and Violas shared history, set squarely in the most harrowing years of civil-rights-era Mississippi. What was the relationship between Tom, Viola, and the Double Eagle Club, an ultraviolent group of hardened men who considered themselves smarter, tougher, and more elite than their peers in the FBI-infiltrated Ku Klux Klan? In Natchez, Mississippi, where the past is never truly past, long-buried secrets tend to turn lethal when exposed to the light of day. For Penn Cage, the cost of solving this case is no exception. Greg Iles is the bestselling author of Third Degree, True Evil, Turning Angel, Blood Memory, and The Footprints of God, among others.
Girl in the Moonlight

by Charles Dubow, author of 2013's

Indiscretion

(May 12)
Since childhood, Wylie Rose has been drawn to the charming, close-knit Bonet siblings. But none affected him more than the enchanting Cesca, a girl blessed with incandescent beauty and a wild, irrepressible spirit.Growing up, Wylie's friendship with her brother, Aurelio, a budding painter of singular talent, brings him near Cesca's circle. A young woman confident in her charms, Cesca is amused by Wylie's youthful sensuality and trusting innocence. Toying with his devotion, she draws him closer to her fire—ultimately ruining him for any other woman.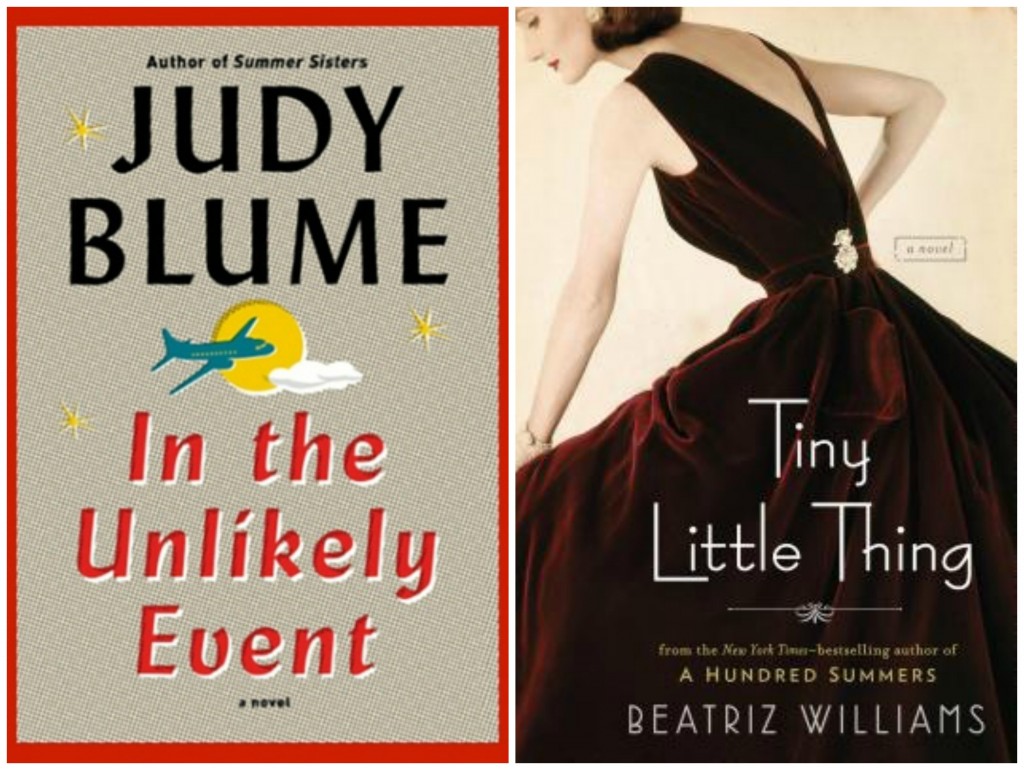 In the Unlikely Event

by Judy Blume (June 2)


In the Unlikely Event

 considers a startling backdrop: a series of passenger airline flights that crashed over a three-month period in 1951 and 1952 in Elizabeth, New Jersey, where Blume grew up. "These events have lingered in my mind ever since," says Blume. "It was a crazy time. We were witnessing things that were incomprehensible to us as teenagers. Was it sabotage? An alien invasion? No one knew, and people were understandably terrified." The crashes resulted in the closing of Newark airport for nine months.
Tiny Little Thing

by Beatriz Williams, author of

A Hundred Summers

and

The Secret Life of Violet Grant

(June 23)
In the summer of 1966, Christina Hardcastle—"Tiny" to her illustrious family—stands on the brink of a breathtaking future. Of the three Schuyler sisters, she's the one raised to marry a man destined for leadership, and with her elegance and impeccable style, she presents a perfect camera-ready image in the dawning age of television politics. Together she and her husband, Frank, make the ultimate power couple: intelligent, rich, and impossibly attractive. It seems nothing can stop Frank from rising to national office, and he's got his sights set on a senate seat in November.But as the season gets underway at the family estate on Cape Cod, three unwelcome visitors appear in Tiny's perfect life: her volatile sister Pepper, an envelope containing incriminating photograph, and the intimidating figure of Frank's cousin Vietnam-war hero Caspian, who knows more about Tiny's rich inner life than anyone else. As she struggles to maintain the glossy façade on which the Hardcastle family's ambitions are built, Tiny begins to suspect that Frank is hiding a reckless entanglement of his own…one that may unravel both her own ordered life and her husband's promising career.
Every Tuesday, fellow blogger Bibliophile By the Sea hosts First Chapter First Paragraph Tuesday Intros, where bloggers share the first paragraph of the book they are currently reading or thinking about reading soon.
I just started this memoir today and, so far, love Murphy's voice. I feel like I'm listening to a good friend who happens to be an amazing storyteller.

Dirty Chick

will be released on January 22.
Plot Summary from Amazon

Antonia Murphy, you might say, is an unlikely farmer. Born and bred in San Francisco, she spent much of her life as a liberal urban cliché, and her interactions with the animal kingdom rarely extended past dinner.But then she became a mother. And when her eldest son was born with a rare, mysterious genetic condition, she and her husband, Peter, decided it was time to slow down and find a supportive community. So the Murphys moved to Purua, New Zealand—a rural area where most residents maintained private farms, complete with chickens, goats, and (this being New Zealand) sheep. The result was a comic disaster, and when one day their son had a medical crisis, it was also a little bit terrifying.

Dirty Chick

 chronicles Antonia's first year of life as an artisan farmer. Having bought into the myth that farming is a peaceful, fulfilling endeavor that allows one to commune with nature and live the way humans were meant to live, Antonia soon realized that the reality is far dirtier and way more disgusting than she ever imagined. Among the things she learned the hard way: Cows are prone to a number of serious bowel ailments, goat mating involves an astounding amount of urine, and roosters are complete and unredeemable assholes.But for all its traumas, Antonia quickly embraced farm life, getting drunk on homemade wine (it doesn't cause hangovers!), making cheese (except for the cat hair, it's a tremendously satisfying hobby), and raising a baby lamb (which was addictively cute until it grew into a sheep). Along the way, she met locals as colorful as the New Zealand countryside, including a seasoned farmer who took a dim view of Antonia's novice attempts, a Maori man so handy he could survive a zombie apocalypse, and a woman proficient in sculpting alpaca heads made from their own wool.'
Here's the first paragraph of Chapter 1:
It wasn't even my chicken, actually, but my father's, which I was charged with caring for during the three weeks he went on holiday in France with his wife, Gail. This particular chore came with free use of his Spanish-style hacienda with a swimming pool just north of San Francisco, so I was more than happy to oblige. Besides the handful of chickens, there was an elderly cat, an idiot bulldog, and a duck.

Nothing I thought I couldn't handle.
What do you think? Would you keep reading? Stay tuned for my full review…