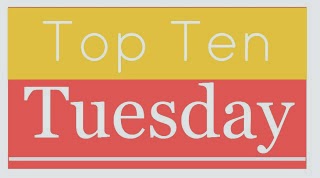 Top Ten Tuesday is a weekly meme hosted by The Broke and the Bookish that asks bloggers to create Top Ten lists on a variety of bookish topics. This week's topic is…
Top Ten Books I'd Like to Discuss at Book Club
*These are not all books that I necessarily liked, just books that I'd like to discuss at Book Club. I do have a Book Club Recommendations List that only includes books that I liked and that I think would be great book club selections.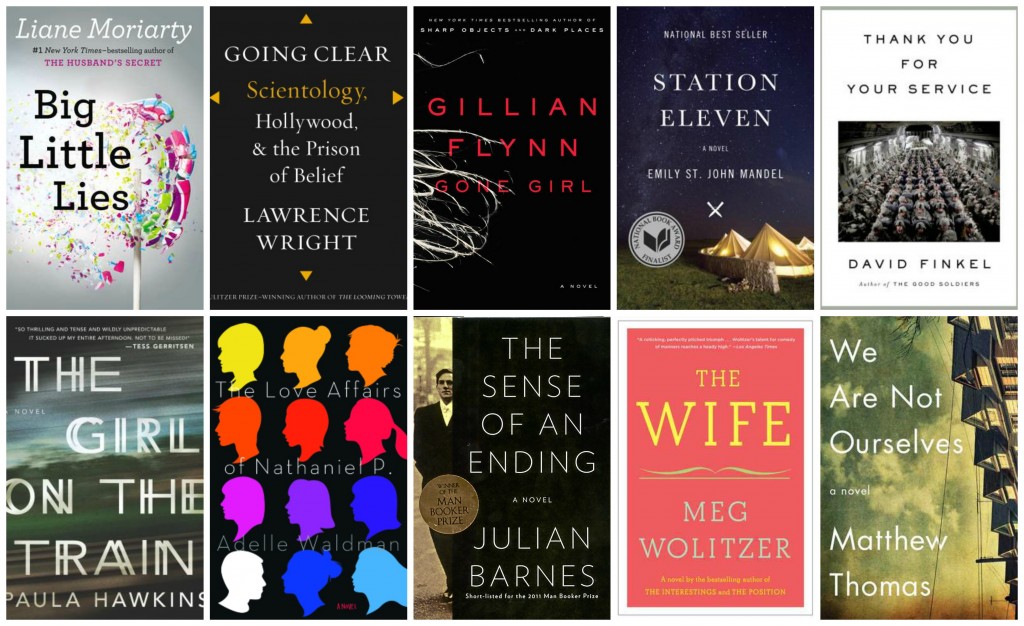 Big Little Lies by Liane Moriarty
Because maybe discussing this book with a group of women will help me understand why so many people love it. This is obviously one of the books I didn't like 🙂
Going Clear by Lawrence Wright
Because my Book Club already had a great discussion about the crazy Scientology revelations in this book, which culminated in Googling which celebs had dabbled in the "religion". And, a more serious discussion about if Scientology is, in fact, a religion…or something else entirely.
Gone Girl by Gillian Flynn
Because this ending begs to be debated!
Station Eleven by Emily St. John Mandel
Because how can talking about a realistic scenario of what the world could look like if most of the population were wiped out not be interesting?!
Thank You for Your Service by David Finkel
Because PTSD and TBI (Traumatic Brain Injury) in soldiers returning from war zones is a growing issue that can tear apart the families of soldiers who sacrificed for this country.
The Girl on the Train by Paula Hawkins
Because it's the book everyone is talking about right now. Oh yeah, and because of the psychological issues.
*Check back tomorrow for my spoiler free review and spoiler discussion (2 separate posts) 
The Love Affairs of Nathaniel P. by Adelle Waldman
Because this is such an eye opening look into the guy's perspective of dating…and rang true to the real-life dating scene I experienced in New York.
The Sense of an Ending by Julian Barnes
Because I need someone to explain to me why this book was so earth shattering for so many people…I couldn't see the point.
The Wife by Meg Wolitzer
Because a discussion of a woman's role in marriage and how to balance that with pursuing her own talents is perfect for book club.
We Are Not Ourselves by Matthew Thomas
Because many people my age will soon be dealing with issues similar to what Connell experienced with his father's health.
Every Tuesday, fellow blogger Bibliophile By the Sea hosts First Chapter First Paragraph Tuesday Intros, where bloggers share the first paragraph of the book they are currently reading or thinking about reading soon.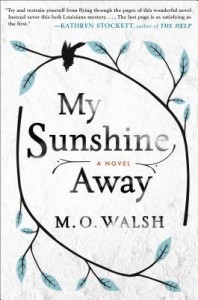 I've actually already finished this debut novel, but wanted to feature it here because it's my favorite book of the year so far and has one of the best first chapters I've read in awhile.
Plot Summary from Amazon
My Sunshine Away unfolds in a Baton Rouge neighborhood best known for cookouts on sweltering summer afternoons, cauldrons of spicy crawfish, and passionate football fandom. But in the summer of 1989, when fifteen-year-old Lindy Simpson—free spirit, track star, and belle of the block—experiences a horrible crime late one evening near her home, it becomes apparent that this idyllic stretch of Southern suburbia has a dark side, too.

Here's the first paragraph of Chapter 1 (this quote is from an uncorrected proof):
There were four suspects in the rape of Lindy Simpson, a crime that occurred directly on top of the sidewalk of Piney Creek Road, the same sidewalk our parents had once hopefully carved their initials into, years before, as residents of the first street in the Woodland Hills subdivision to have houses on each lot. It was a crime impossible during the daylight, when we neighborhood kids would have been tearing around in go-karts, coloring chalk figures on our driveways, or chasing snakes down into storm gutters. But, at night, the streets of Woodland Hills sat empty and quiet, except for the pleasure of frogs greeting the mosquitoes that rose in squadrons from the swamps behind our properties.
What do you think? Would you keep reading? Stay tuned for my full review…