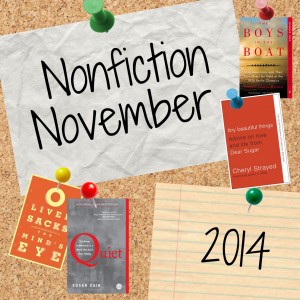 This post is part of Nonfiction November hosted by Katie at Doing Dewey, Kim at Sophisticated Dorkiness, Becca at I'm Lost in Books, and Leslie at Regular Rumination. 
Nonfiction – War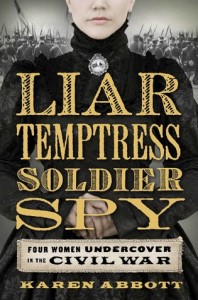 Released September, 2014
533 Pages
Bottom Line: Read it.
Affiliate Link: Buy from Amazon

Source: Purchased
Plot Summary of

Liar, Temptress, Soldier, Spy

:
The true story of four women who spied during the Civil War: a Martinsburg, Virginia socialite (Belle Boyd), a Richmond, Virginia abolitionist (Elizabeth Van Lew), a widowed Washington, DC secessionist (Rose Greenhow), and Midwestern farmer's daughter who pretended to be a man to fight for the Union (Emma Edmondson / Frank Thompson).
My Thoughts on

Liar, Temptress, Soldier, Spy

:
I'm a huge fan of readable books that teach me about history in an entertaining way…and Karen Abbott absolutely delivered for me with Liar, Temptress, Soldier, Spy. Though this book is about the Civil War, it's not an X's and O's type war book. Thankfully (for me at least!), it's much more of an espionage and intrigue book. The military aspect of the Civil War merely serves as a backdrop for these women's exploits.
When the book opened with a chapter titled "The Fastest Woman in Virginia" (i.e. Belle Boyd), I knew this would be entertaining. And, no sooner had I met Belle, than she was followed up with the DC-based Confederate spy, "Wild Rose" (i.e. Rose Greenhow, who seduced powerful men to get information), the girl who dressed as a boy to serve as a nurse and spy for the Union (Emma / Frank), and the abolitionist society matron living in the capital of the Confederacy (Elizabeth Van Lew). That's quite a cast of characters!
For me, this book was all about the "truth is stranger than fiction" anecdotes that seemed to be regular occurrences during this time in history and in these four women's lives in particular. So, I'm going to whet your appetites a bit with some of my favorites:
Washington, DC (officially part of the Union) was actually a culturally Southern city with a third of the residents hailing from the slave holding states of Virginia and Maryland.
Much of the spying was done by women and women ran many of the Richmond Underground's (a Union spy network) safe houses.
War, like politics, was men's work, and women were supposed to be among its victims, not its perpetrators. Women's loyalty was assumed, regarded as a prime attribute of femininity itself, but now there was a question – one that would persist throughout the war – of what to do with what one Lincoln official called "fashionable women spies".
Rose Greenhow used the window blinds in her house on the Union side of the Potomac River to communicate in Morse Code across to the Confederate side.
As many as 400 women were thought to have posed as men to fight in the war. One couple even enlisted together on their honeymoon.
One female soldier posing as a man actually gave birth to a baby boy while on picket duty (obviously, she had also concealed her pregnancy).
Members of a New York Infantry division arrived for war with sandwiches from Delmonico's and velvet covered camp stools, thus earning the nickname "the silk stocking regiment".
Stonewall Jackson was a legendary hypochondriac. If he felt he was off balance (even in the middle of battle), he would raise one arm to reestablish his equilibrium.
Liar, Temptress, Soldier, Spy provides a unique look at totally eccentric elements of the Civil War and you do not have to be a war buff to enjoy this one! It's going on my Book Club Recommendations List and will also be included in my upcoming 2014 Holiday Gift List (click here for last year's list).
You May Also Like:
In the Garden of Beasts by Erik Larson