This post is part of fellow book blogger, Beth Fish Reads', weekly meme (a "community" blog post, for all those non-bloggers out there) called Weekend Cooking.
If you regularly read my Weekend Cooking posts, you know that when I lived in NYC, I often took cooking classes at the Institute of Culinary Education (formerly Peter Kump's) on 23rd Street. They have an overwhelmingly large selection of recreational cooking classes – on every kind of food and cooking technique you can imagine and many that you've probably never thought of!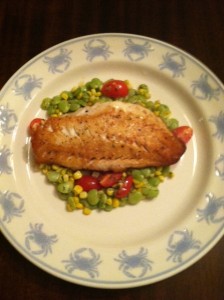 Today, I'm sharing a recipe from a class called Seafood with a Southern Accent taught by Chef James Briscione, who had won Chopped the week I took his class! This simple recipe is great for Summer (and early Fall, it seems, as my Farmer's Market still had corn and grape tomatoes last weekend!). For those not familiar with Succotash, it's a mixture of corn and butter beans (aka lima beans) that's popular in the South. You can add whatever additional ingredients you want to make it your own. It has a mild, sweet flavor and compliments flaky, white fish (and scallops!) really well.
Red Snapper with Succotash
Adapted from Institute of Culinary Education's "Seafood with a Southern Accent" class
4 (8 ounce) Red Snapper fillets (can substitute any flaky, white fish…I used Sea Bass in my version)
Canola oil
2 tablespoons of butter (I've substituted olive oil and it's still yummy)
1 shallot, minced
1 cup sweet corn, cut from the cob
1 cup okra, sliced (I think okra is slimy, so I leave this out)
1 1/2 cup fresh butter beans or lima beans, cooked, liquid reserved (I sometimes use frozen)
1 cup cherry tomatoes, halved (I use grape tomatoes)
1 1/2 tablespoons chopped dill (I've used basil, cilantro, and mint before and all were yummy!)
1 lemon
In a large saute pan, melt the butter over a medium flame and add the shallots.
When shallots are tender and translucent, add the corn (and okra if you choose). Cook these together for 3-4 minutes, still over a medium flame. If the pan seems dry, add 1/4 cup of water. Season well with salt and pepper.
Add the butter beans and 1 cup of the butter bean liquid. Bring this mixture to a simmer and cook about 3 minutes more.
To finish, stir in the tomatoes, dill, and juice of half the lemon.
Taste for seasoning adding salt, pepper and lemon as necessary.
Hold the succotash over a very low flame while you prepare the fish.
Heat a saute pan over high heat. Add canola oil once pan is hot.
Pat the fish dry and season with salt and pepper.
Add fish to hot oil presentation side down. Sear fish until edges turn golden brown (about 3-4 minutes). Turn fish and sear about 2 more minutes.
Remove fish from pan and serve over succotash. I also squeeze additional lemon juice over the fish.