I did some big blog and podcast behind the scenes work this week (stay tuned for a blog redesign soon and I think I'm getting a podcast editor…at least for some episodes!)…and worked my way through a long book!
Podcast
There WILL be a new podcast this week.
Episode 27, the Fall 2019 Book Preview with Catherine from Gilmore Guide to Books will air on Wednesday!
New on the Blog
Opportunity to Stock a Teacher's Library
We're still trying to clear this list!
Ashley Spivey (of #SpiveysClub Facebook Group and a guest on Episode 7 of the podcast) is putting together an effort to #clearthelist…teachers that usually spend their own money on additional supplies for their classrooms create Amazon wish lists for supplies that we can purchase for them!
Emily (@ejlouws on Instagram) has a ton of books on her list and I need your help clearing it! I've kicked it off, so click on this link to purchase some books for her classroom!
Hosted by The Book Date.
This post contains affiliate links (plus: here's your Amazon Smile-specific affiliate link
), through which I make a small commission when you make a purchase (at no cost to you!).
I finished reading…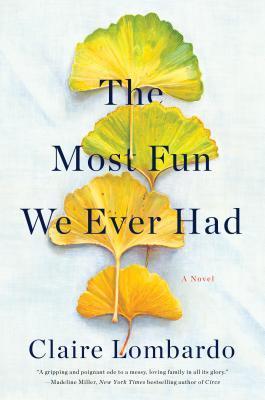 The Most Fun We Ever Had by Claire Lombardo (June 25, 2019)
This debut family saga has been getting raves all over #bookstagram and from people I trust. I really liked it, but I did think it was needlessly long. Mini review coming.
Affiliate Link: Buy from Amazon
I'm currently reading…
A Nearly Normal Family by M.T. Edvardsson (June 25, 2019)
I need a little break from the character-driven family dramas (I adore them, but I've read a lot this year…and luckily they've mostly been fantastic!), so I'm going to try this Scandinavian legal thriller. I've been enjoying courtroom dramas this year and have had better luck with thrillers coming out of Europe than the U.S. Plus, Angie Kim recommended it for Book of the Month in June. I'm starting this tonight, so I don't have anything to say about it yet.
Affiliate Link: Buy from Amazon
I tried, but wasn't feeling…
The Last Stone by Mark Bowden (April 2, 2019) – AUDIOBOOK
DNF at 55%
This true crime about two girls that disappeared from a mall in the D.C. suburbs in the 1970's by the author of Black Hawk Down and Killing Pablo was just too tedious to follow on audio. A large chunk of the book is the suspect being interviewed by the police and changing his story numerous times…it was hard for me to keep track of the little discrepancies on audio…and I don't think I care enough to pick it up in book form.
Upcoming reading plans…
I was planning to read this after The Most Fun We Ever Had, but they're both family dramas, so I need a recovery book in between. So, unless a library hold comes in, Ann Patchett will be up next!
The Dutch House by Ann Patchett (September 17, 2019)
I absolutely adore Ann Patchett and also adore when she tackles dysfunctional families, so it's safe to say I'm a tad excited about this book. Actually, it's the Fall book I'm most excited about! Really hoping it pans out…
Affiliate Link: Buy from Amazon
How was your reading week?
Pin this post…