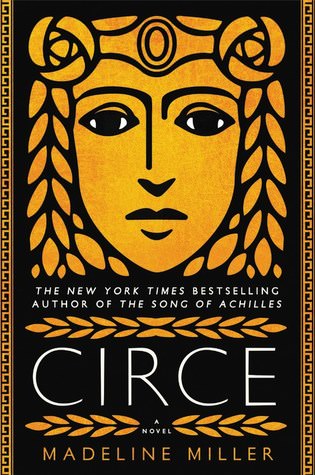 Fiction – Fantasy
Released April 10, 2018
394 Pages
Bottom Line: Skip it.
Affiliate Link: Amazon

Source: Book of the Month (Publisher: Lee Boudreaux Books)
This post contains affiliate links (plus: here's your Amazon Smile-specific affiliate link), through which I make a small commission when you make a purchase (at no cost to you!).
Headline
Though I could tell it was well-done, I didn't like Circe. I felt like I slogged through it and thought I needed to have better base knowledge or at least more interest in Greek mythology to appreciate it.
Plot Summary
When Circe, the under-rated daughter of the god Helios, begins interacting with mortals and discovers she has a power, her father banishes her to a deserted island as part of an agreement with Zeus.
Why I Read It
I decided to ignore my lack of interest in Greek mythology and read Circe anyway because of the multitude of rave reviews, including some from trusted recommendation sources (Gilmore Guide, Novel Visits, Book of the Month, author Ann Patchett).
Major Themes
Greek mythology, feminism, motherhood, adventure
What I Liked
Despite this book not being for me at all, I recognize that it was extremely well-done. I'm actually stressing out over my rating because of this. I didn't like 

Circe

at all, but I also feel like it doesn't deserve a 1 star rating because I could see how well-done it was.

There were a few parts where I was riveted by the adventure and I couldn't stop turning the pages (both parts had to do with The Straits).

Right when I finished

Circe

, I went away for a night with some girlfriends I grew up with. I arrived to find two of them reading and loving

Circe

. We then had a pretty in-depth discussion about the messages it conveys and I liked those messages. I also liked that it sparked this type of discussion at a girls' weekend!
What I Didn't Like
Circe

reminded me of how I felt about A Gentleman in Moscow (my review). I could see it was well-done, but I felt like I was slogging my way through it. I couldn't concentrate, the story was going in one ear and out the other, I felt like I was fighting with the language, it felt like a school assignment, and I felt like I was viewing the action from 50,000 feet in the air through a layer of clouds..I did not feel present in Circe's world (except for those two periods in The Straits).

The language is formal and of the time of the Greek gods. I had no idea what she was talking about in some passages, like this one:
His voice rolled like a bard's: Achilles, prince of Phthia, swiftest of all the Greeks, best of the Achaian warriors at Troy. Beautiful, brilliant, born from the dread nereid Thetis, graceful and deadly as the sea itself. The Trojans had fallen before him like grass before the scythe, and the mighty Prince Hector himself perished at his ash- spear's end.
Particularly in the beginning, there are way too many characters and I couldn't keep track of them. It felt like Miller included every minor god in Greek mythology in this book in some way, no matter how tangential. There was a glossary of characters at the back of the book, but I didn't know it was there until I was finished…that should absolutely have been at the front of the book!

Circe is the kind of book that I've found it almost impossible to read these days. I fit reading into my life in small snippets throughout the day amid taking care of my young children. Often while I'm reading, my children are around me talking, interrupting, participating in sports practices, etc. And, I rarely have larger chunks of time to really focus on getting immersed in a book. So, I need books that I can easily get immersed in. A part of me felt like my brain just couldn't handle

Circe

. But, I also think a great book shouldn't feel like hard work…
I'd heard you don't have to know much about or even be super interested in Greek mythology to love Circe. I totally disagree. I think you need somewhat of a foundation in Greek mythology to make heads or tails of this or the time and inclination to do some outside research as you go (i.e. looking up all these tangential gods and learning their stories).
You may ask why I finished Circe if I disliked it so much…the answer is I wanted to review it. There are very few contrarian reviews out there about this book and I thought the discussion needed an opposing viewpoint. That being said, this reading experience sure did remind me why I'm usually a big DNF'er of books that aren't working for me.
A Defining Quote
I thought once that gods are the opposite of death, but I see now they are more dead than anything, for they are unchanging, and can hold nothing in their hands.
Good for People Who Like…
Greek mythology, intricate books, more formal writing