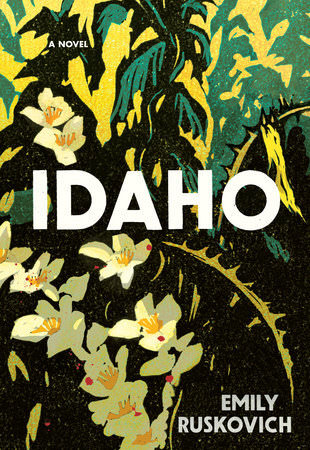 Fiction
Released January 3, 2017
320 Pages
Bottom Line: Skip it.
Affiliate Link: Amazon

Source: Publisher (Random House) via NetGalley
Headline
This debut novel has some intriguing story elements, but they never quite gel into a cohesive story.
Plot Summary
Ann Mitchell tries to piece together the details behind the crime that ended her husband, Wade's, first marriage, and landed his ex-wife (Jenny) in prison for murder.
Why I Read It
This debut novel caught my attention when I reviewed Random House's Spring 2017 catalog and, later, I heard good things about it from Shannon at River City Reading.
Major Themes
Marriage, family secrets, memory
What I Liked
Idaho

is a quiet mystery of what happened to a family…and I don't think I've ever used the words quiet and mystery in the same sentence. However, this combination had promise.

While the story is built around the crime that destroyed Wade's family, that's not really what the book is about. It's more about the layers on top of the central mystery (Wade and Ann's marriage, Wade's illness, living under a cloud that you don't know much about)…making it feel like more than your average mystery.

The writing is gorgeous at times. There are beautiful sentences, but they rarely string together to create a gorgeous paragraph or chapter.
The postwoman in Ponderosa feels entitled; she moves with confidence and knowing, as if because her fingertips have had the privilege of sorting out Ann's envelopes, she has glimpsed what she thinks is inside them all – lies, pleas, false trails, dirty news, licked closed by the tongues of the past.
What I Didn't Like
This is an odd book. There were times when I couldn't put it down and others when I found myself skimming just to get through it. I was intrigued at times, but bewildered at others.

There are compelling elements to this story…I think the downfall is in the execution. The story construction is clunky and there are a number of sub-plots going on, yet they never converge into a central theme. It's almost like Ruskovich couldn't decide whether the book was about Wade and Ann's marriage, Wade's illness, the murder itself, or Jenny's fate following the murder and her experience in prison.

There were parts of the story that seemed pointless and confusing (ex: Ann's imaginings of how the murder might have happened, Elliott's – an extremely minor character – romantic issues later in life)…but I was sure things would all tie together in the end. They didn't.
The major questions of the book were never addressed. I don't mind open-ended endings, but this was so extreme that it made me wonder what the point of the book was. For example, one of the things that kept me reading was to find out why Jenny committed the murder she did. There are sections of the story from Jenny's perspective while she's in prison where Ruskovich could easily have addressed the why of it all, but never did.

While beautiful at times, the writing also veered into "head-in-the-clouds" territory too often for my taste.
The sameness of that prison wall is like a winter spent in a wilderness you can't hope to matter to.
A Defining Quote
"You know you don't like me going up there, but you don't know why. You're so angry at me and you don't remember why."