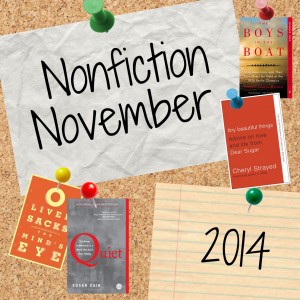 I read this book as part of Nonfiction November hosted by Katie at Doing Dewey, Kim at Sophisticated Dorkiness, Becca at I'm Lost in Books, and Leslie at Regular Rumination.
Nonfiction – Memoir

Released October, 2014
304 Pages
Bottom Line: Read it.
Affiliate Link: Buy from Amazon

Source: eGalley provided by the publisher via NetGalley
Plot Summary of

Without You, There Is No Us

:
A memoir of Suki Kim's time teaching English in a Christian missionary sponsored school (Pyongyang University of Science and Technology, aka PUST) for elite North Korean college age men outside of Pyongyang, North Korea.
My Thoughts on

Without You, There is No Us

:
Without You, There Is No Us shares a fascinating and horrifying glimpse into the black box that is North Korea, an "unknown and unknowable" world as Kim describes it. I've been fascinated with life in North Korea ever since I read the novel, The Orphan Master's Son (which I didn't like overall, but it did whet my appetite for more information about North Korea). 
A lot of the book covers Kim's experience as a PUST teacher…
Kim, a native of South Korea that immigrated to the U.S. at age thirteen, was using her role as a teacher at PUST to clandestinely gather material for her journalism career. Like all the teachers at PUST, she was watched constantly by North Korean "minders", her lesson plans were approved in advance, and her movements were severely restricted. She was not allowed to share information about the outside world with her students and was too terrified of the consequences to try to circumvent the rules. I wondered what would have happened had she been honest with her students about the broader world. A part of me thinks the deluge of information would have been so earth shattering for them that they wouldn't have been able to wrap their heads around the implications at all. These were so-called "elite" students that had never heard the word "skiing". How would they then be able to understand the implications of an open, global Internet? 
But, for me, this book is more about the strong sense of place…
Without You, There Is No Us is the name of a North Korean song with the "you" referring to Kim Jong-il, the country's former "Dear Leader"…which describes North Korea in a nutshell. It's a country where not much goes in or comes out (except, Dennis Rodman, apparently). I think it's this mystery that intrigues me, in the way that snakes intrigue me as long as they're contained, but terrify me if let loose. After reading Without You, There Is No Us, I am completely flabbergasted that such a backward place can exist in the modern world. The level of isolation, strangeness, and naiveness of its people is breathtaking.
North Korea follows a calendar system that counts time from the birth of their original Great Leader, Kim Il-Sung (who died in 1994).
All artistic endeavors (books, songs, art, plays, TV shows, etc) are either created by or about the Great Leader.
North Korean people cut the grass with scissors.
Kim was instructed to either bring or arrange for delivery of her own butter, refrigerator, and toilet paper, as those items are not readily available in North Korea.
Jeans are outlawed because Kim Jong-il (North Korea's leader until very recently) associates them with America.
Though I learned a lot, Without You, There Is No Us left me with even more questions…
Kim's perspective of life in North Korea from teaching at PUST is predominantly of the elite, ruling class. On infrequent excursions outside the school walls, Kim spotted "small, dark, emaciated people with dead eyes" along the sides of the road and working in fields. I'm now curious about what life is like for them and plan to read Escape from Camp 14, the story of a North Korean labor camp defector, which will hopefully give me the other side of the picture.
If you're interested in life in North Korea, Without You, There Is No Us is a great place to start.