My Best Books of 2014 have some similarities this year:
Exquisite writing 

Twisty, turny plots 

Debut authors (3 in my Top 10, 2 of my Honorable Mentions)

New to me authors (all but 1 of my Top 10 and Honorable Mentions)
Shannon at River City Reading made the point that most of us have been trumpeting our favorite books of 2014 for awhile now (if not in one, consolidated list), so what else can we really say about them? So, I thought I'd pretend I was back in high school and award yearbook style "Superlatives" to my favorite 2014 books!
On to the winners….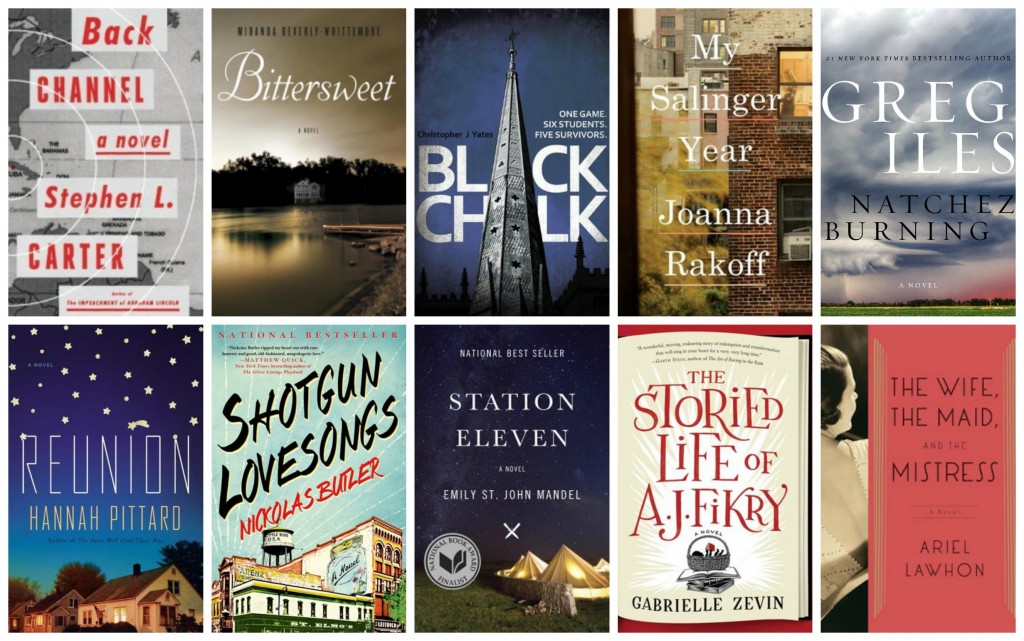 The Best Book of 2014
The Storied Life of A.J. Fikry by Gabrielle Zevin (review)
Most Likely to Be Added to My All-Time Favorites List
Most "Quotable"
The Rest of the Top Ten
Back Channel by Stephen L. Carter, Historical Fiction (review)
Most Thinly Veiled Nonfiction
Best Female Heroine
Bittersweet by Miranda Beverly-Whittemore, Fiction (review)
Most Backstabbing Plot Twists
Best Example of Wealthy People Behaving Badly
Black Chalk by Christopher J. Yates, Fiction (review)
Biggest Surprise of the Year
Most Friends You Can't Trust
My Salinger Year by Joanna Rakoff, Memoir (review)
Most Likely to Remind You of "Mad Men"  
Natchez Burning by Greg Iles, Historical Fiction (review)
Biggest Collection of Evil
Reunion by Hannah Pittard, Fiction (review)
Funniest Take on Step-Families
Most Irreverent
Shotgun Lovesongs by Nickolas Butler, Fiction (review)
Most Likely to Make You Long for Home
Best Portrayal of Male Friendship
Station Eleven by Emily St. John Mandel, Fiction (review)
Most Deserving of All the Hype
Scariest "Could Possibly Happen in Real Life" Scenario 
The Wife, The Maid, and The Mistress by Ariel Lawhon, Historical Fiction (review)
Most Recommended Book of the Year
Best Example of My New Favorite Genre (Fiction Based on True Crime)
The Honorable Mentions
An Untamed State by Roxane Gay, Fiction (review)
Most Likely to Leave You in Emotional Pieces
Liar, Temptress, Soldier, Spy by Karen Abbott, Nonfiction (review)
Most Entertaining War Book
The Martian by Andy Weir, Science Fiction (review)
Most Likely to Make You Like Science Fiction
Best "Main Character" Personality