2016 Summer Reading Guide

As summer approaches, the magazines and Internet are chock full of "Beach Reading" recommendations, which are usually easy books that do not require too many brain cells. While I definitely appreciate a light book for summer, I don't like to put my brain entirely on vacation. Along with the traditional "fun" books for summer, I like to mix in books that are fast-paced and/or intense, have some substance (relax, we're not talking A Little Life substance here), or are a little off the beaten path – and that's what you'll find on my summer reading list.
I've read every book that appears on this list and will continue to add new selections throughout the summer. And, stay tuned for my list of Summer 2016 Books I'm Most Anticipating (i.e. books that will be published this summer, but that I haven't read yet) on Tuesday, May 31.
Previous Summer Reading Lists: 2013, 2014, 2015
Latest Addition (August 11, 2016)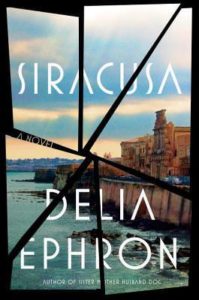 Siracusa by Delia Ephron
Fiction (Released July 12, 2016)
304 Pages
Affiliate Link: Buy from Amazon
Plot Summary: Relationships are put to the test when two couples (and one couple's somewhat odd daughter) vacation together in Italy.
My Thoughts: Siracusa might be my favorite vacation-type read so far this year! It's light and fast-moving, but also smartly written. The story is told from each of the four adults' perspectives and the writing style shifts with each voice. Going into the trip, both marriages had their own issues, with each spouse frequently mocking his/her partner. As the trip takes on a somewhat surreal quality, everyone starts acting out…refusing to hide their pent-up resentments any longer. Continue Reading…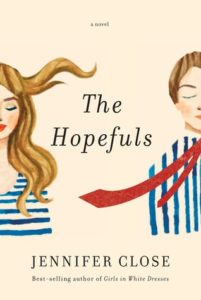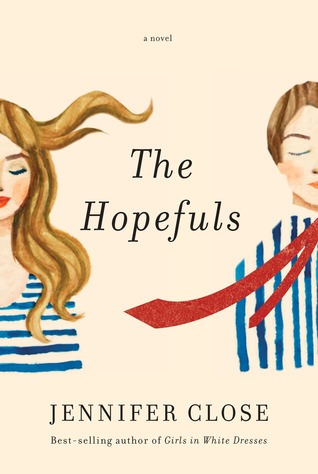 The Hopefuls by Jennifer Close
Fiction (Released July 19, 2016)
320 Pages
Affiliate Link: Buy from Amazon
Plot Summary: When young couple Matt and Beth Kelly move from New York City to Washington, D.C. for Matt's job, they must navigate marriage and friendship in the political world.
My Thoughts: While The Hopefuls is set in the political world, it's not a book about politics. Rather, it's a book about marriage and friendship set against the backdrop of politics. Continue Reading…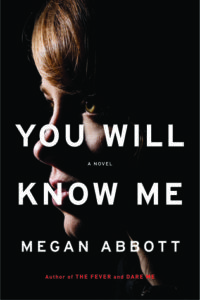 You Will Know Me by Megan Abbott
Fiction (Released July 26, 2016)
352 Pages
Affiliate Link: Buy from Amazon
Plot Summary: A tragic accident throws fifteen year-old gymnastics prodigy Devon Knox and her family's carefully constructed training plans into chaos. 
My Thoughts: If you're looking for a book that you can fly through, this is it. Megan Abbott writes young girls in the most deliciously demented way (see The Fever and Dare Me) and what better world for characters like that to inhabit than elite gymnastics. Only this time Abbott throws in a pack of overly zealous parents to deepen the appeal. Continue Reading…
Something Fun
Sons and Daughters of Ease and Plenty by Ramona Ausubel
Fiction (Released Jun 14, 2016)
317 Pages
Affiliate Link: Buy from Amazon

Summary: During a 1970's summer on Martha's Vineyard, Fern and Edgar learn that their sole source of income (Fern's trust fund) has run dry, causing each of them to do some sole searching.
My Thoughts: If you think this plot sounds similar to The Nest, you're right, but this book feels more like a family saga than another spin on "wealthy people behaving badly." Ausubel's writing, particularly in the first half, sparkles as she commentates on the habits of the wealthy, maintaining your identity through motherhood, and women's roles in marriage. The second half shined less brightly than the first, as the story meandered away from its social commentary focus. Even so, Sons and Daughters of Ease and Plenty is still a solid choice if you appreciate gorgeous writing and social commentary.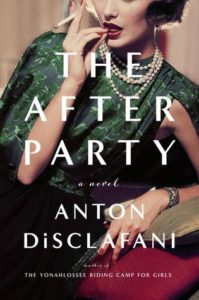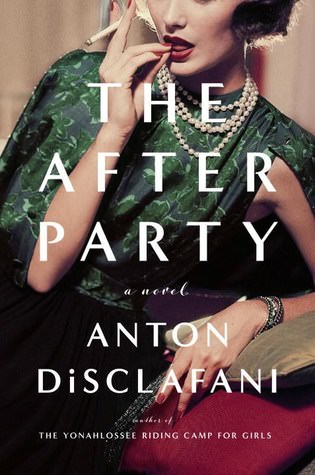 The After Party by Anton DiSclafani
Historical Fiction (Released May 17, 2016)
384 Pages
Affiliate Link: Buy from Amazon

Summary: The story of the complicated friendship of two 1950's Houston socialites: Joan Fortier, the queen of the Houston social scene
 with a knack for flouting convention, and CeCe Buchanan, her best friend/sidekick/babysitter.
My Thoughts: The After Party is a pretty good, but not earth-shattering read about wealthy people behaving badly. The headiness of the Texas oil atmosphere (reminiscent of the nonfiction book, The Big Rich) makes it a bit more unique among these types of books and an ending that was surprising without being nonsensical gave these silly, mostly dislikable women some depth.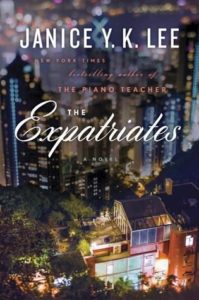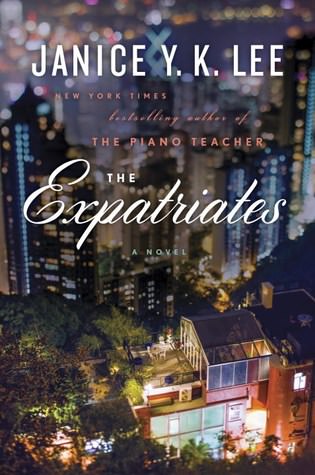 The Expatriates by Janice Y.K. Lee
Fiction (Released January 12, 2016)
336 Pages
Affiliate Link: Buy from Amazon

Summary: A story about life as an American expat in Hong Kong told through the eyes of three women: Margaret (a married mother of three recovering from a tragedy), Mercy (a twenty-something Korean American Columbia grad trying to get her life on track), and Hilary (a housewife struggling with fertility).
My Thoughts: The Expatriates hit a couple of my "what makes a book work for me" buttons: a good balance between plot and style, dark undertones, and social commentary. I was expecting a light novel about wealthy, successful expats living it up in Hong Kong and I was delighted to find the story also had surprising depth. Yes, many of the characters' lives sparkle on the surface, but darkness lurks just underneath as it becomes apparent that reality is quite different from appearances. Continue Reading…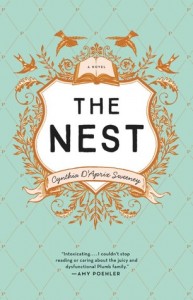 The Nest by Cynthia D'Aprix Sweeney
Fiction (Released March 22, 2016)
368 Pages
Affiliate Link: Buy from Amazon

Summary: After an accident leaves the four adult Plumb siblings' (Melody the suburban mom, Bea the washed-up author, Leo the ex-media titan and current party boy, and Jack the struggling antique dealer) shared inheritance decimated, they're forced to re-examine their lives.
My Thoughts: I'm a sucker for novels about dysfunctional families and wealthy people behaving badly and The Nest delivered both on a silver platter! I was immediately sucked into the lives of all four siblings and how each one responds to the news of their decimated trust fund (i.e. by maneuvering against each other based on their individual agendas). Continue Reading…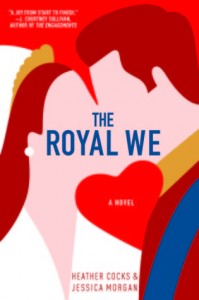 The Royal We by Heather Cocks and Jessica Morgan
Fiction (Released April 7, 2015)
465 Pages
Affiliate Link: Buy from Amazon

Summary: Inspired by the real life courtship of Prince William and Kate Middleton, American Rebecca "Bex" Porter embarks on a relationship with Prince Nicholas after meeting at Oxford.
My Thoughts: The Royal We is fun, cheeky, and romantic (but not overly cheesy)! It pokes fun at the idiosyncrasies of the British monarchy (I love any book that refers to the fictional Prince Charles as a "douchelord"…who knew he had so much in common with Scott Disick?!), but it's equally heartfelt about the emotions that go along with existing in a gilded royal cage. Continue Reading…
The Swans of Fifth Avenue by Melanie Benjamin
Historical Fiction (Released: January 26, 2016)
368 Pages
Affiliate Link: Buy from Amazon

Summary: A novel (wink, wink) based on the friendship between author Truman Capote and his New York City socialite "swans" (i.e. Babe Paley, Slim Keith, Marella Agnelli, Gloria Guinness, etc) and his eventual betrayal of them via the short story, "La Cote Basque, 1965".
My Thoughts: The Swans of Fifth Avenue is one of those deliciously scandalous guilty pleasures…wealthy people behaving badly at its best…with the added bonuses of the right amount of depth and writing that strikes the perfect tone. While this book is technically fiction, the major events and timelines are real with dialogue, emotions, and details imagined by the author. Continue Reading…

Something Fast-Paced/Intense
After the Crash by Michel Bussi
Fiction – Mystery / Thriller (Released January 5, 2016)
377 Pages
Affiliate Link: Buy from Amazon

Summary: On December 23, 1980, a plane crashed in the French Alps killing all its passengers and crew except a baby girl, whose survival sets off a war between two families, one rich and one poor.
My Thoughts: After the Crash is a compelling and intricately spun thriller that hooked me from page one…despite the fact that I'm pretty burned out of twisty thrillers. I thought I'd "take a peek" at the beginning before moving on to a shorter book, but I'd sped through 40 pages before I knew it. Continue Reading…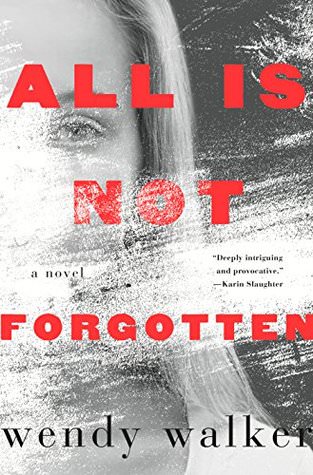 All Is Not Forgotten by Wendy Walker
Fiction – Mystery/Thriller (Released July 12, 2016)
320 Pages
Affiliate Link: Buy from Amazon

Plot Summary: After Jenny Kramer is raped in the woods behind a high school party, she is given a controversial drug treatment to erase her memory of the attack.
My Thoughts: All Is Not Forgotten (Reese Witherspoon's production company has already bought the film rights!) is a book I really don't have much to say about without revealing spoilers. What I can say is that I could not put this book down. I wasn't sure I actually liked it…and am still not sure to some extent, but I could. not. stop. reading. It's incredibly twisty, dark, and deeply unsettling. And, I was fascinated by all the psychology/science about how the brain processes memory and trauma. If you've read the book, check out my spoiler discussion post.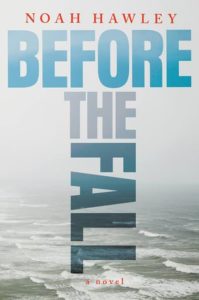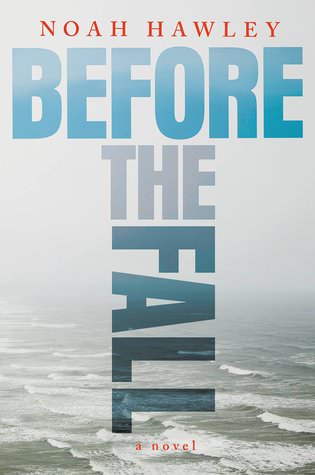 Before the Fall by Noah Hawley
Fiction – Mystery/Thriller (Released May 31, 2016)
400 Pages
Affiliate Link: Buy from Amazon

Plot Summary: A private plane carrying two important businessmen (one of whom is the Rupert Murdoch-like head of a 24 hour news network), their families, and a down-on-his-luck painter crashes off the coast of Martha's Vineyard, leaving two survivors.
My Thoughts: Before the Fall, written by the creator of the TV show Fargo, has been hyped as "the thriller of the year" by many and has appeared on a number of the traditional media's Summer Reading Guides. While I don't feel quite as strongly about it, it is one of only two thrillers I've enjoyed all year. As with some other books that worked for me lately (The Expatriates, Only Love Can Break Your Heart), the mystery (i.e. why the plane crashed) serves as a catalyst to explore human emotions and behavior. The crux of this story is more about the people on the plane and what today's media can do to a tragic story than the crash itself. Continue Reading…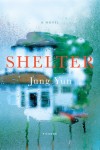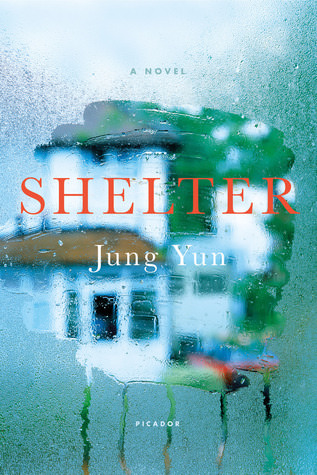 Shelter by Jung Yun
Fiction (Released March 15, 2016)
336 Pages
Affiliate Link: Buy from Amazon

Summary: After a tragic incident forces Kyung Cho's parents to move in with him and his young family, they are forced to confront Kyung's unhappy childhood and address long-simmering family resentments.
My Thoughts: Shelter is the perfect balance between action-packed story, well-developed characters struggling with real issues, and gorgeous writing with lots of social commentary…and it was my 3rd 5 star book of 2016! I love dysfunctional family books and Shelter is certainly one of those, but in a dark and serious way. This is decidedly not the "rich siblings fighting over their trust fund" type of family dysfunction (i.e. The Nest). Continue Reading…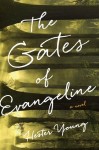 The Gates of Evangeline by Hester Young
Southern Fiction (Released September 1, 2015)
416 Pages
Affiliate Link: Buy from Amazon

Summary: To escape the grief over losing her son, New Yorker Charlotte Cates decamps to Louisiana to write a book about a thirty year-old missing person case involving the wealthy Deveau family of the estate, Evangeline.
My Thoughts: I love me some Southern family drama and books about wealthy people behaving badly, so it's not surprising that those aspects of this debut novel appealed to me. But,The Gates of Evangeline also contains a number of elements that usually turn me off: ghosts/visions, a cliche romance, some cheesy writing, and some predictable plot twists. But, I really enjoyed this book despite all the red flags. Continue Reading…
The Guest Room by Chris Bohjalian
Fiction (Released January 5, 2016)
336 Pages
Affiliate Link: Buy from Amazon

Plot Summary: The aftermath of a bachelor party that married Westchester investment banker Richard Chapman hosted for his younger brother upends the lives of all the attendees and their families.
My Thoughts: Chris Bohjalian is one of my go-to authors and The Double Bind is one of my all-time favorite books, so I was ecstatic to hear he had a new novel out this year! The topic of this one sounds frivolous and sleazy (and parts of it are sleazy by necessity), but he deals with the ripple effects of the consequences of this bachelor party in a very serious and thoughtful way. Continue Reading…
Something With A Bit More Substance
Only Love Can Break Your Heart by Ed Tarkington
Fiction – Southern (Released January 5, 2016)
320 Pages
Affiliate Link: Buy from Amazon

Summary: When Richard (aka "Rocky") was eight years old, his rebellious older half-brother, Paul, disappears without explanation, setting off a chain of events that impact their family and community in rural Spencerville, Virginia.
My Thoughts: The awkward and innocent, yet calculating voice of Rocky made this Southern coming of age story sparkle…and reminded me a bit of My Sunshine Away, one of my favorite books of 2015. While I wouldn't call this debut novel "Grit Lit", it is a top-notch Southern coming of age story. And like My Sunshine Away, there is "action" and suspense in this story, but it really serves as a vehicle for Rocky's coming of age, not the other way around. Continue Reading…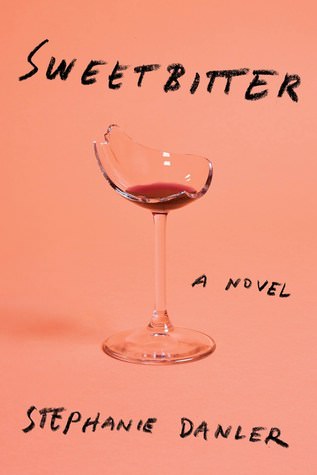 Sweetbitter by Stephanie Danler
Fiction (Released May 24, 2016)
368 Pages
Affiliate Link: Buy from Amazon
Summary: When twenty two year-old Tess comes to New York City looking to start her adult life, she lands a job as a "backwaiter" at a fictional Union Square restaurant that sounds a lot like Union Square Cafe…and experiences an unimaginable education in food, wine, life, and love.
My Thoughts: I'd been hearing incredible things about this debut novel from bloggers I trust (Catherine at Gilmore Guide to Books and Tara at It's Tara Leigh) and, with my love of food and interest in the NYC food scene, I was fairly confident I would love it too. And, I did. It's only my fourth 5 star book of the year! This is one of those books where the cover and premise could deceive you into thinking you're getting "brain candy". What you're actually getting is a smart, exquisitely written coming of age story set in the rough and tumble world of top-notch restaurants. Continue Reading…
The Girls by Emma Cline
Fiction – Historical (Release Date: June 14, 2016)
368 Pages
Affiliate Link: Buy from Amazon

Summary: Inspired by the 1960's California cult led by Charles Manson, the story of fourteen year old Evie Boyd involvement with an older teenager named Suzanne and her fellow cohorts living a cultish life on a dilapidated ranch.
My Thoughts: This novel, along with The Nest, is one of the most hotly anticipated debuts of the year. I knew the story was inspired by the Manson cult, but I expected it to focus on the murders. Instead, The Girls is a much more subtle book about teen angst and the context and culture surrounding the Manson cult. Continue Reading…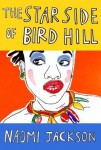 The Star Side of Bird Hill by Naomi Jackson
Fiction (Released June 30, 2015)
294 Pages
Affiliate Link: Buy from Amazon

Summary: After their mother becomes unable to care for them in Brooklyn, sisters Dionne (16) and Phaedra (10) are sent to live with their midwife grandmother (Hyacinth) on Bird Hill in Barbados.
My Thoughts: Everything about this debut novel is just gorgeous: most obviously the writing, but also the coming of age story with generational and cultural clashes front and center. Dionne and Phaedra have been raised in troubling circumstances in Brooklyn and experience quite a culture shock when they arrive on conservative Bird Hill. Continue Reading…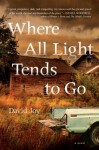 Where All Light Tends to Go by David Joy
Fiction (Released March 3, 2015)
274 Pages
Affiliate Link: Buy from Amazon

Summary: Jacob McNeely, son of his small North Carolina mountain town's biggest outlaw, struggles to separate himself from the life of crime he was born into and to fight for the girl he loves (Maggie).
My Thoughts: I've read some great "Grit Lit" in the past few years (Bull Mountain, The Shore, The Animals), so I knew I had to make time for David Joy's debut novel. It's a story about fathers and sons, loyalty, love, and trying to claw your way out of your given circumstances. The writing really made me feel the poverty and hopelessness of the mountainous North Carolina setting and it reminded me of a more reflective version of Bull Mountain. Continue Reading…
Something Off the Beaten Path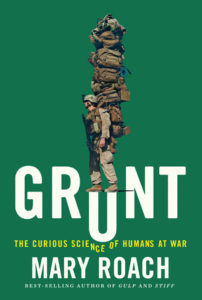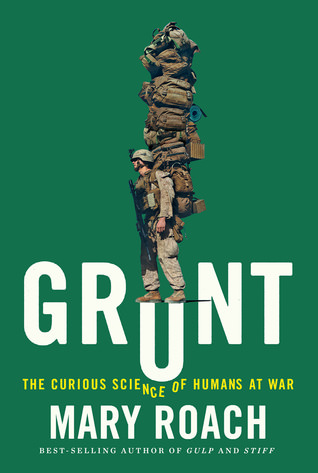 Grunt by Mary Roach
Nonfiction (Released June 7, 2016)
288 Pages
Affiliate Link: Buy from Amazon

Plot Summary: "Grunt tackles the science behind some of a soldier's most challenging adversaries—panic, exhaustion, heat, noise—and introduces us to the scientists who seek to conquer them." (Goodreads)
My Thoughts: Mary Roach is known for delving deep into an odd topic (like what happens to cadavers in Stiff) and using her dry (and frequently morbid) humor to share her findings in a relatable way. In Grunt, she focuses on seemingly minor issues (many of which civilians encounter in their daily lives) that wreck havoc with the military and military issues that don't get a lot of media attention, including bird strikes, hearing loss, diarrhea prevention, flies and sleep. Continue Reading…
My Southern Journey by Rick Bragg
Nonfiction – Essays (Released September 15, 2015)
256 Pages
Affiliate Link: Buy from Amazon

Summary: A collection of Bragg's previously published (in various magazines and newspapers) articles about Southern life and culture.
My Thoughts: Bragg shows off Pat Conroy-caliber writing in his essay collection about Southern life. His essays range wildly in tone, from the heartfelt to nostalgic to funny (i.e. his mother becoming a crazy cat lady, his forays into carpentry) to incredibly insightful. Continue Reading…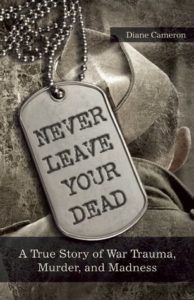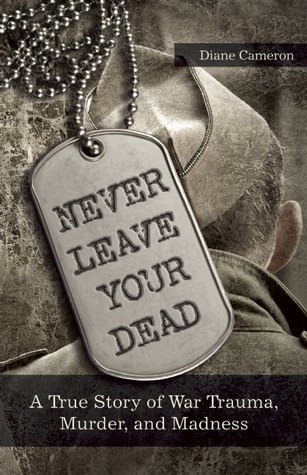 Never Leave Your Dead by Diane Cameron
Nonfiction – War (Released June 7, 2016)
176 Pages
Affiliate Link: Buy from Amazon

Summary: The true story of Donald Watkins, a WWII veteran (and the author's stepfather) who murdered his first wife and mother-in-law long after returning from the China theatre.
My Thoughts: I have to be honest…this book was a total surprise for me. The story sounded interesting, but I had no idea truly how interesting it would turn out to be. I could not stop reading (despite the tiny print of my PDF-formatted ARC) and I ended up taking so much away from these compact 176 pages! Though the writing and story-telling is a bit choppy, the story of Donald Watkins blew my mind. Continue Reading…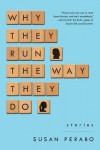 Why They Run the Way They Do by Susan Perabo
Fiction – Short Stories (Released February 16, 2016)
208 Pages
Affiliate Link: Buy from Amazon

Plot Summary: A collection of short stories featuring the darker undertones of daily life.
My Thoughts: Short stories have historically been a tough sell for me, but I'm trying to be more open to them after loving Nickolas Butler's Beneath the Bonfire last year. I'm so glad I gave Why They Run the Way They Do a shot because it's now only the second short story collection I've truly enjoyed from start to finish. On the surface, these stories are about mundane daily life…a harmless middle school prank, a child's toy, spending time with your mother after some bad news…but, they have a darkness simmering just underneath. Continue Reading…