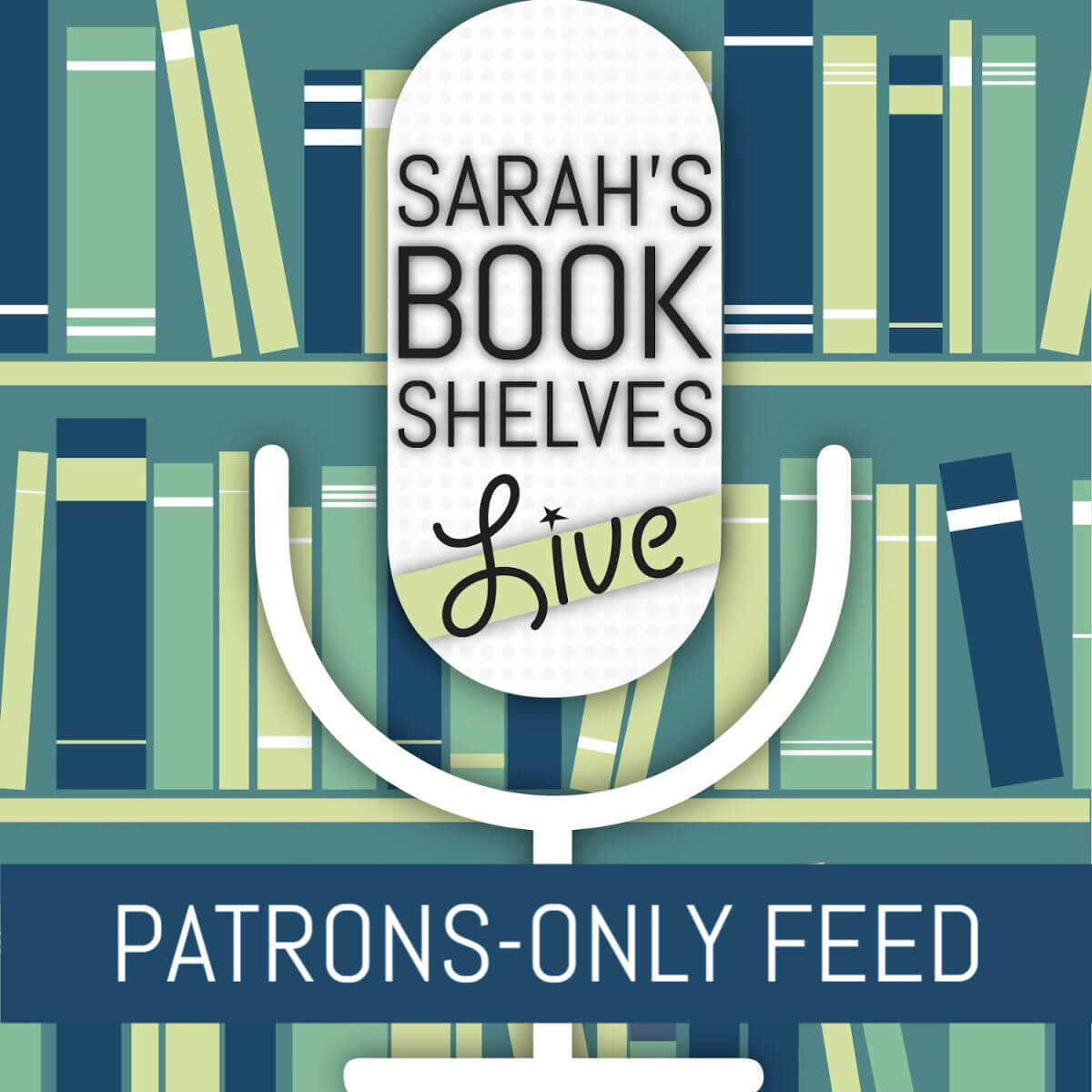 As you may know, Sarah's Book Shelves has had a Patreon community for a couple years now and I'm thrilled to share that this community will now focus on the Sarah's Book Shelves Live podcast…and will have a new set of rewards involving bonus podcast content!
What is Patreon?
Patreon is a website where you can join your favorite creator's (i.e. blog, podcast, etc) exclusive community by donating a few dollars a month to support his/her work.
In return for your support, most creators offer "rewards" (i.e. exclusive content or services for their Patreon supporters).
While Patreon is relatively new in the book blogging world, you can already support some of your favorite podcasts and authors (e.g. The Popcast with Knox and Jamie, From the Front Porch with Annie Jones and Chris Jenson, Pantsuit Politics with Sarah & Beth, and fantasy writer N.K. Jemisin) on Patreon.
How It Works
By paying a small amount per month to join the Sarah's Book Shelves Live Patreon community, you'll get access to bonus podcast content, some additional goodies, and more personal interaction with me and fellow listeners.
Get Access to Special Episodes & Other Goodies
For $5 a month, you'll get access to…
Monthly "Superlatives" podcast episodes – every full length episode guest will answer 5 bookish "superlative" questions just for Patrons. These episodes will air at the end of the month, after all of that month's full length episodes have aired. October's episode will feature Superlatives from Cristina Arreola (Senior Books Editor at Bustle) and Sara Hildreth (high school English teacher and bookstagrammer at @fictionmatters).
Deleted content from big name podcast guests (Annie Jones is the first deleted content episode, which is available NOW!).
Other special podcast episodes throughout the year (ex: mid-year and end-of-year wrap-ups, deep dive into the Goodreads Choice Nominees, etc).
25% discount on purchase of my Rock Your Reading Tracker (2020 tracker coming in mid-November).
Priority placement on the waiting list to appear as a guest on a mini episode of Sarah's Book Shelves Live.
Sarah's Book Shelves Live Patrons-Only Facebook Group where you can share book recommendations with other Sarah's Book Shelves Live listeners, ask for recommendations, share your thoughts about upcoming podcast episodes, suggest questions for podcast guests, and get exclusive behind the scenes information from me.
For $3 a month, you'll get access to…
Where Your Support Will Go
First and foremost, I'll be using this money to pay for a professional podcast editor. This means better audio quality for you and additional time for me to develop more bookish content for you.

I'll also be using this money to cover the general expenses of producing a podcast (hosting fees, recording software, recording equipment, etc).
How to Install the Sarah's Book Shelves Live Patrons-Only Podcast Feed on Your Podcast App
If you use an app other than Apple Podcasts…
Check this list to see if your app can support the Patrons-Only podcast feed.
Follow these instructions to install the Patrons-Only podcast feed on a supported app.
As always, please email sarahsbookshelves@gmail.com with any questions! And, THANK YOU so very much for your support!