Hooray – summer is almost here, even if it doesn't feel like it some days! I don't know if people have ever needed summer quite as badly as this year – I know I sure do! And, what is my favorite activity that comes along with summer? Reading on the beach, of course!
My Philosophy on Summer Reading
As summer approaches, the magazines and Internet are chock full of "Beach Reading" recommendations, which are usually easy books that do not require using many brain cells. While I definitely appreciate a light book for summer, I don't like to put my brain entirely on vacation. There are plenty of fun books that keep you engrossed and your mind working (but not too much!) – and that's what you'll find on my summer reading list. Finally, I will continue to update this throughout the summer.
Click here for last year's Summer Reading List
The List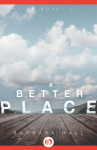 A Better Place by Barbara Hall
Fiction (Released July, 2014)
Affiliate Link: Buy from Amazon

Summary: Valerie Caldwell, a small-town Southern belle living in LA, leaves her screenwriter husband and returns to her Virginia hometown, creating upheaval for her old friends.
My Thoughts: A Better Place came to me from Pat Conroy's publisher (hint hint: naming Pat Conroy in your pitch is a surefire way to get me to review a book!) and, for that reason, I decided to at least read the first chapter and see what I thought. Frankly, I wasn't expecting much, but I was pleasantly surprised! It's a quick, easy read that would be great for fans of Southern fiction. Continue Reading…
A Hundred Summers by Beatriz Williams
Fiction (Released May, 2013)
Affiliate Link: Buy from Amazon

Summary: In the summer of 1938, Lily plans to relax at her family's vacation home in Seaview, Rhode Island (a blue blood beach enclave), but her childhood best friend and former fiancé's appearance throws a wrench in her plans.
My Thoughts: A Hundred Summers is a light, fun book that would make a great beach read. However, it does have some depth to it, which is why I enjoyed it so much. Continue Reading…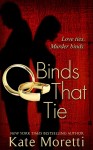 Binds That Tie by Kate Moretti
Fiction (Released March, 2014)
Affiliate Link: Buy from Amazon

Summary: With cracks running under the surface of Maggie's marriage to Chris, she begins a flirtation with a mysterious stranger that forces their lives into turmoil.
My Thoughts: Binds That Tie is a page turning, psychological thriller that affected me sort of like a train wreck…Maggie and Chris' lives take disastrous turn after disastrous turn and I couldn't look away! As with all the twisty, turny books I've been reading lately, I'm going to avoid saying much about the plot's specifics because that's part of the fun of reading this one! Continue Reading…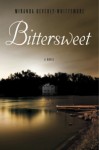 Bittersweet by Miranda Beverly-Whittemore
Fiction (Released May, 2014)
Affiliate Link: Buy from Amazon

Summary: When the beautiful and wealthy Genevra (Ev) Winslow invites her very average roommate, Mabel Dagmar, to spend the summer at her family's summer retreat, Mabel enters a world of secrets, lies, threats, and betrayal.
My Thoughts: Bittersweet was one of the summer releases I was most looking forward to and, now that I've read it, it's my favorite summer book so far! It joins We Were Liars in the category of summer books about "extremely wealthy families behaving badly in private vacation compounds" (yes, that seems to be a budding category these days…and an exciting one!). Continue Reading…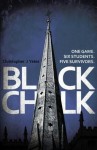 Black Chalk by Christopher J. Yates
Fiction (Released April, 2014)
Affiliate Link: Buy from Amazon

Summary: Six best friends at Oxford University decide to play "a game of consequences, silly forfeits, and childish dares" (quote from Amazon), which devolves into humiliation and tragedy.
My Thoughts: Black Chalk joins The Wife, The Maid, and The Mistress as one of my favorite books I've read this year…and I will be including it on my Best Books of 2014 List at the end of the year (click here for last year's list). Hmm – how to best describe this book (other than AWESOME!)? Think The Hunger Games meets The Secret History meets The Interestings. Continue Reading…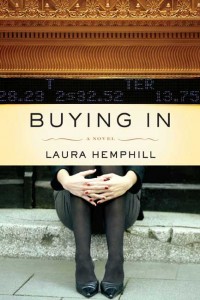 Buying In by Laura Hemphill
Fiction (Released November, 2013)
Affiliate Link: Buy from Amazon

Summary: Well-educated small town girl, Sophie Landgraf, goes to work as a Wall Street investment banking analyst and is quickly taught the ways of the Wall Street world.
My Thoughts: When I first started reading this book, I thought it was going to be the chick version of Monkey Business (an expose of investment banking culture), albeit with less of the snarky humor. I also thought the parts that would add depth to the investment banking culture backdrop would be the effects Sophie's job has on her relationships (I've been there – my husband is an investment banker!). Wrong on both counts – and I'm glad I was! Continue Reading…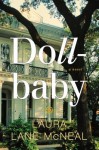 Dollbaby by Laura Lane McNeal
Fiction (Released July, 2014)
Affiliate Link: Buy from Amazon

Summary: After the unexpected death of Ibby Bell's father in 1964, her mother leaves her with her eccentric paternal grandmother (Fannie) and her household staff (Dollbaby and Queenie) in New Orleans.
My Thoughts: As soon as I saw that Dollbaby promised to be "a novel of Southern eccentricity and secrets", I knew I wanted to read it! This is McNeal's debut novel and, though it has some problems, it's a solid first effort and I will absolutely read her next book. Continue Reading…
Flash Boys by Michael Lewis
Nonfiction – Business (Released March, 2014)
Affiliate Link: Buy from Amazon

Summary: The story of a group of people, led by Brad Katsuyama (a Royal Bank of Canada trader), who uncovered the recent rigging of the U.S. stock market by high-frequency traders.
My Thoughts: I should say up front that I absolutely love Michael Lewis' writing and am a huge fan of his previous books, particularly The Big Short. He's a master at simplifying complex financial topics and spinning these potentially boring concepts into entertaining stories. He stays true to form with Flash Boys. Continue Reading…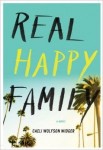 Real Happy Family by Caeli Wolfson Widger
Fiction (Released March, 2014)
Affiliate Link: Buy from Amazon

Summary: When Lorelei, an aspiring teen actress, flees LA and her overbearing stage mother (Colleen), a spiral of drugs, thirst for fame, and slimy reality TV threaten to destroy their family.
My Thoughts: I will say up front that this book isn't for everyone, but I agreed to review it because I'm fascinated by reality TV…or perhaps the unreality of reality TV. Real Happy Family takes a satirical look at this crazy world and the vulnerable people who will do almost anything for fame. Continue Reading…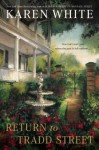 Return to Tradd Street by Karen White
Fiction (Released January, 2014)
Note: This is the final book of the Tradd Street series. If you are new to this series, I recommend starting at the beginning with The House on Tradd Street.
Affiliate Link: Buy from Amazon

Summary: Ambitious Charleston realtor Melanie Middleton prepares for single motherhood and helps solve the mystery behind the remains of an infant that are found in the foundation of her historic Tradd Street home.
My Thoughts: I loved the first three books in this series and was looking forward to finding out how it all ends. Every book in the series includes a romantic and a mystery element, with the mystery involving the ghosts that inhabit historic Charleston homes. Continue Reading…
Someone Else's Love Story by Joshilyn Jackson
Fiction (Released November, 2013)
Affiliate Link: Buy from Amazon

Summary: Shandi and her three year old son are caught in a convenience store robbery, where Shandi instantly falls in love with William Ashe, a fellow robbery victim and their protector through the experience.
My Thoughts: Wow – I have so much to say about this book that would involve spoiling the story, but I won't say it here. I loved this book – and it is not the cliche love story you might think just by reading the plot summary. Continue Reading…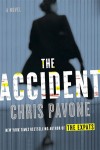 The Accident by Chris Pavone
Fiction (Released March, 2014)
Affiliate Link: Buy from Amazon

Summary: When the manuscript of an unauthorized biography about a famous media mogul (titled The Accident), lands on literary agent Isabel Reed's desk, it kicks off a frantic day of battles between those trying to get it published and those trying to bury it, putting everyone's lives in danger.
My Thoughts: The Accident is, quite literally, a literary page turner (I'm not actually sure if this is a legit "genre", but I like the sound of it!). A thriller about the book publishing business? I wasn't sure something like this could keep me on the edge of my seat, but The Accident absolutely did. Continue Reading…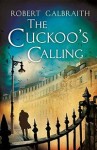 The Cuckoo's Calling by "Robert Galbraith" (aka J.K. Rowling)
Fiction – Mystery/Thriller (Released April, 2013)
Affiliate Link: Buy from Amazon

Summary: Down on his luck detective, Cormoran Strike, and his temporary secretary, Robin, investigate the suspicious suicide of famous model Lula Landry at the behest of her adopted brother.
My Thoughts: This book got lots of buzz a few months after its publication under the pseudonym "Robert Galbraith". "Galbraith" was soon outed as Harry Potter series author J.K. Rowling and the book shot to number one on Amazon's Bestseller List within hours (it had previously only sold 500 copies). Continue Reading…
The Divorce Papers by Susan Rieger
Fiction (Released March, 2014)
Affiliate Link: Buy from Amazon

Summary: Twenty-nine year old criminal lawyer, Sophie, is forced to pinch hit on the divorce case of Mia Durkheim, the blue blood daughter of one of the firm's most important clients.
My Thoughts: You should take the book's title literally because the actual papers relating to a divorce are  exactly what this book is. The story is told entirely through inter-office emails, legal documents, letters to and from the client and between Mia and Daniel (Mia's estranged husband), and emails between Sophie and her best friend. Continue Reading…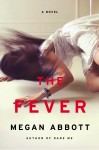 The Fever by Megan Abbott
Fiction (Released June, 2014)
Affiliate Link: Buy from Amazon

Summary: When Deenie's best friend, Lise, is struck by an unexplained fainting spell/seizure in the middle of class, Deenie's family and entire high school community are thrown into the middle of the fear and hysteria associated with a strange and quickly spreading epidemic.
My Thoughts: The Fever was the only novel that I chose to read off the New York Times Summer Reading List and was also an Amazon Best Book of the Month for June. Stacey from The Novel Life best described it as "unputdownable" and I can't come up with a better one word description. Continue Reading…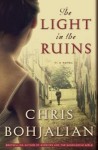 The Light in the Ruins by Chris Bohjalian
Historical Fiction (Released July, 2013)
Affiliate Link: Buy from Amazon

Summary: A serial killer targets the aristocratic Rosati family in post – World War II Italy, which takes the family and police investigator (Serafina) back to their experiences during Italy's wartime alliance with Germany.
My Thoughts: Chris Bohjalian is one of my favorite authors, so I had been looking forward to his latest historical fiction novel and he did not disappoint! The Light in the Ruins is a wartime family saga mixed with a suspenseful murder mystery. Continue Reading…
The Love Affairs of Nathaniel P. by Adelle Waldman
Fiction (Released July, 2013)
Affiliate Link: Buy from Amazon

Summary: As Nate becomes a more well-known figure in the Brooklyn literary scene (due to the imminent release of his first novel), he struggles with women and his new found status.
My Thoughts: I am ashamed to say that I bought this book because one of the ex-Bachelor contestants tweeted (I guess I am admitting that I follow ex-Bachelor contestants on Twitter – how embarrassing!) that it was the most fascinating look into guys' heads she'd ever read. I'm not sure I feel THAT strongly about it, but it was a pretty interesting take on a guy's view of relationships and dating, especially in New York ("the world seemed populated […] by women whose careers […] no longer preoccupied them. No matter what they claimed, they seemed, in practice, to care about little except relationships."). Continue Reading…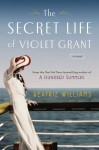 The Secret Life of Violet Grant by Beatriz Williams
Fiction (Released May, 2014)
Affiliate Link: Buy from Amazon

Summary: In 1964, Vivian Schuyler receives her great aunt's (Violet Schuyler Grant) suitcase from 1914 in the mail, sending her on an investigative mission to uncover the details behind Violet's mysterious disappearance.
My Thoughts: The Secret Life of Violet Grant was on my list of summer books I was excited about reading…mostly because I think Williams' last book, A Hundred Summers, is the most perfect beach book I've ever read (yes, really!). While I didn't love Violet Grant quite as much as I loved A Hundred Summers (that's a tall order!), I liked it about as much as one can like something without using the word "love". Continue Reading…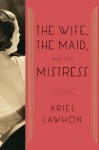 The Wife, The Maid, and The Mistress by Ariel Lawhon
Historical Fiction (Released January, 2014)
Affiliate Link: Buy from Amazon

Summary: Based on the actual 1930 disappearance of New York State Supreme Court Justice Joseph Crater, this novel tells the story of what could have happened to him from the perspectives of his wife, his mistress, and his maid.
My Thoughts: Hooray! The Wife, The Maid, and The Mistress is the first book of the year that I have absolutely loved and it will definitely make an appearance on my "Best Books of 2014″ List come December (click here for previous "Best Books of the Year" Lists). The "true crime" angle reminded me of Sutton by J.R. Moehringer, while the setting of 1930 NYC is reminiscent of Rules of Civility by Amor Towles. Both books that I loved! Continue Reading…
We Were Liars by E. Lockhart
Fiction – Young Adult (Released May, 2014)
Affiliate Link: Buy from Amazon

Summary: A beautiful and distinguished family. A private island. A brilliant, damaged girl; a passionate, political boy. A group of four friends – the Liars – whose friendship turns destructive. A revolution. An Accident. A secret. Lies upon lies. True love. The Truth. (Amazon Book Description)
My Thoughts: We Were Liars will be the most talked about book of the summer…mark my words! And, this review will be short on details because it's a book best enjoyed by going in blind. Continue Reading…