Best Books of 2013 / Holiday Gift Ideas
This is my "best books of 2013" list, and the books on this list would also make great gifts this holiday season!
A specially selected book (or a Kindle with a few books on it!) can be such a thoughtful and personal gift. Last year, we gave my father-in-law a Kindle with a few books chosen specifically for him already loaded onto it – he loved it and talked about it for months afterwards!  And, you CAN give a specific book as a gift to someone with a Kindle (see Amazon's Guide to Giving / Receiving Books on a Kindle).
Click here for last year's Holiday Gift Ideas / Best Books of 2012 List.
For Guys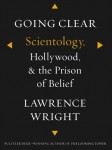 Going Clear: Scientology, Hollywood & the Prison of Belief by Lawrence Wright, Nonfiction
Buy from Amazon

Plot Summary: The story behind L. Ron Hubbard's (LRH) founding of Scientology, its links to the entertainment industry, and the current state of the "religion".
My Thoughts: Going Clear reminded me a lot of Under the Banner of Heaven by Jon Krakauer, just swapping out Scientology for Mormonism. Continue Reading…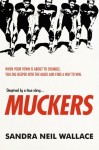 Muckers by Sandra Neil Wallace, Fiction – Sports
Buy from Amazon

Plot Summary: Based on a true story, quarterback Red O'Sullivan and his underdog Hatley High School football team attempt to bring hope to their failing mining town by winning the 1950 Arizona State football championships.
My Thoughts: My first thought when I started reading Muckers was that the team and the setting were a bit like the East Dillon Lions in "Friday Night Lights" (the TV show version), which made my day, as I think "FNL" was the best show that's ever been on TV in my lifetime. Though Muckers is technically fiction, it's based on the true story of the "Muckers" football team in Jerome, Arizona, a once prosperous copper mining town that essentially became a ghost town when the mine closed. Many of the characters are based on real people and many details in the story are true. Continue Reading…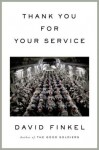 Thank You for Your Service by David Finkel, Nonfiction – War
Buy from Amazon

Plot Summary: An exploration of mental and emotional trauma facing soldiers returning from Iraq and Afghanistan and the military's efforts to curb this group's high suicide rate.
My Thoughts: Thank You for Your Service was named one of the Best Nonfiction Books of the Year by Publishers Weekly and one of the Top 10 Books of the Year by the Washington Post…and I wholeheartedly agree. Continue Reading…

The Boys in the Boat by Daniel James Brown, Nonfiction – Sports
Buy from Amazon
Plot Summary: The true story of Joe Rantz and his University of Washington teammates' quest to win gold in the men's eight rowing event at the 1936 Berlin Olympics.
My Thoughts: The Boys in the Boat is the best nonfiction book I've read this year (by far) and the best sports book I've read in the past few years! For those who have read my Sports Books List, you know that I'm obsessed with the Olympics, but rowing is not one of the Olympic sports I typically watch. Point being, you do not have to be into rowing (or even the Olympics) to enjoy this book. It reminded me a lot of Seabiscuit, not only because it's set in the same time period, but also because Brown, like Seabiscuit's Laura Hillenbrand, managed to keep me fascinated by a sport that I have little interest in. Continue Reading…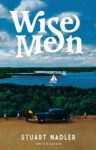 Wise Men by Stuart Nadler, Fiction
Buy from Amazon

Plot Summary: A multi-generational story about the Wise family, centered around an incident with their Cape Cod care-taker, Lem Dawson, and how the family deals with its aftermath.
My Thoughts: Wise Men was an Amazon Best Book of the Month for February 2013 and a Grantland (Bill Simmons' website) monthly book recommendation, but the Amazon reader reviews were decidedly mixed. This shows how opinions can differ because I loved this book! It's a broad book covering a lot of themes: coming of age, abrupt change of circumstances, racism, class, father/son relationships, and the strings that come along with accepting financial assistance. Continue Reading…

For Girls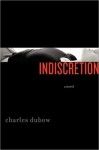 Indiscretion by Charles Dubow, Fiction
Buy from Amazon

Plot Summary: When Claire, a beautiful and captivating girl in her early twenties, enters the world of Harry and Maddy Winslow, their lives will never be the same.
My Thoughts: This book was described on Amazon as paying tribute to The Great Gatsby (which I loved), and it does in certain ways. But, Indiscretion is unabashedly less "literary" and more straight up guilty pleasure than Gatsby. Continue Reading…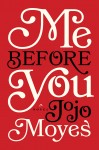 Me Before You by JoJo Moyes, Fiction
Buy from Amazon

Plot Summary: Louisa Clark takes a job as a caregiver for Will Traynor, an adventure buff and finance bigwig turned quadriplegic, and faces unexpected feelings and a massive moral dilemma.
My Thoughts: Me Before You was one of those books that had been on my "to read" list forever. I kept hearing people loved it, but every time I read Amazon's plot summary, I would decide not to buy it. I want to shake myself – my lesson learned (yet again!!) is that if people keep talking about a book with an unappealing title or plot summary, there is probably a reason (a la The Immortal Life of Henrietta Lacks, The Language of Flowers, and The Fault in our Stars)!! I could not put this book down! Continue Reading…
Someone Else's Love Story by Joshilyn Jackson, Fiction
Buy from Amazon

Plot Summary: Shandi and her three year old son are caught in a convenience store robbery, where Shandi instantly falls in love with William Ashe, a fellow robbery victim and their protector through the experience.
My Thoughts: I loved this book – and it is not the cliche love story you might think just by reading the plot summary. The lack of cliche in this love story was one of the things I liked most about it. It's a page turner and included grief and the response to tragedy, Autism (or Asberger's, or some not quite defined place on that spectrum), faith, and that age-old "we're just friends" dynamic (both Shandi and William have a childhood best friend of the opposite sex). Continue Reading…

Still Points North by Leigh Newman, Nonfiction – Memoir
Buy from Amazon

Plot Summary: Following her parents' divorce, Leigh Newman spent her childhood splitting her time with her Dad in Alaska and her Mom in Baltimore before tackling early adulthood as a travel writer in New York City.
My Thoughts: I feel like I've been reading a lot of memoirs lately – but this one was fantastic! It has eccentric parents reminiscent of The Glass Castle by Jeannette Walls and outdoor adventures reminiscent of Wild by Cheryl Strayed – a great combination in my opinion! Continue Reading…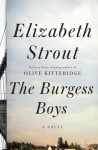 The Burgess Boys by Elizabeth Strout, Fiction
Buy from Amazon
Plot Summary: Three grown siblings, Jim (a successful New York City defense attorney), Bob (a NYC Legal Aid attorney), and Susan (Bob's twin sister and a single Mom), from small town Maine reconnect when Susan's son throws a pig's head into a local mosque during Ramadan.
My Thoughts: The Burgess Boys is a New York Times Bestseller and was one of Amazon's Best Books of the Month for March 2013 – and I totally agree! It is an easy to read, engrossing family saga with an interesting political / legal theme.  Continue Reading…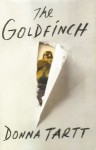 The Goldfinch by Donna Tartt, Fiction
Buy from Amazon

Plot Summary: Thirteen year old Theo Decker survives an NYC bombing that kills his mother and connects him with the prized painting ("The Goldfinch") that plays a central role in the rest of his life.
My Thoughts: The Goldfinch is one of my favorite fiction books of 2013 and I liked it even more than The Secret History, Tartt's debut novel (which I loved and is on my Book Club Recommendations List). It is hard for me to boil down what this book is truly about because it covers such a wide breadth of themes and I also don't want to ruin the suspense. Perhaps what best captures the essence of the story is Theo's statement that he had "the conviction that my whole life was balanced atop a secret that might at any moment blow it apart". Continue Reading…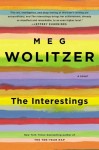 The Interestings by Meg Wolitzer, Fiction
Buy from Amazon

Plot Summary: Jules Jacobson becomes best friends with five teenagers at a summer camp for the arts in the 1970′s, remaining friends despite completely different experiences in adulthood.
My Thoughts: The Interestings was one of Amazon's "Best Books of the Month" for April and I have had hits and misses from this list. Thankfully, this one was a hit for me. his is a character-driven, coming of age story with a strong sense of time and place (Nixon 70's, AIDS era 80's, NYC, etc). Continue Reading…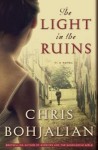 The Light in the Ruins by Chris Bohjalian, Historical Fiction
Buy from Amazon

Plot Summary: A serial killer targets the aristocratic Rosati family in post – World War II Italy, which takes the family and police investigator (Serafina) back to their experiences during Italy's wartime alliance with Germany.
My Thoughts: Chris Bohjalian is one of my favorite authors, so I had been looking forward to his latest historical fiction novel and he did not disappoint! The Light in the Ruins is a wartime family saga mixed with a suspenseful murder mystery. Continue Reading…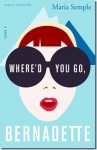 Where'd You Go, Bernadette? by Maria Semple, Fiction
Buy from Amazon

Note: I cheated a bit by including this book, as it was published in December 2012, but thought I could get away with it since it was SO good and was released so late in 2012.
Plot Summary: Bernadette Fox disappears following a series of embarrassing incidents at home and issues with anxiety, sending her eighth grade daughter (Bee) on a quest to find her.
My Thoughts: Finally…the first book I've read in 2013 that I've absolutely LOVED! This book is surprising, quirky, heartwarming, and suspenseful. Continue Reading…
Z: A Novel of Zelda Fitzgerald by Therese Anne Fowler, Historical Fiction
Buy from Amazon

Plot Summary: The story of Zelda and author F. Scott Fitzgerald's relationship as told from Zelda's fictional perspective.
My Thoughts: I absolutely loved this book, was sad when I finished it, and couldn't wait to write about it. I know there is Gatsby everywhere right now with the movie coming out, but this book really lives up to the hype. The start is a little slow, but don't let it deter you because the story picks up steam quickly. Continue Reading…