In addition to reading, cooking (and eating great food!) is one of my favorite things to do. So, I obviously had to compile a list of cooking / food books! Books on this list are not cookbooks – these are actual books about food, cooking, restaurants, chefs, and cooking school – although a few do contain some recipes.
Latest Addition (October 16 2020)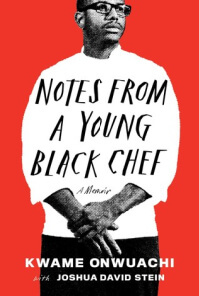 Notes from a Young Black Chef
by Kwame Onwuachi and Joshua David Stein
Memoir, Released April 9, 2019
Affiliate Link: Buy from Amazon
Plot Summary: Onwuachi's story of growing up in the Bronx and rising to culinary fame (and a successful appearance on Top Chef) by the age of 27.
My Thoughts: Let me start by saying only a small part of Notes from a Young Black Chef goes behind the scenes of Top Chef…so don't read it solely for that reason. But, Onwuachi's story is one of drive, hustle, hard work, and dreaming big. It's sort of a mash-up between Service Included, The Making of a Chef, and The Other Wes Moore…and a solid addition to the food memoir genre (4 stars)! Full Review.
The List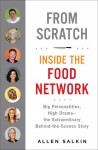 From Scratch: Inside the Food Network by Allen Salkin
Nonfiction (Released October 1, 2013)
434 Pages
Affiliate Link: Buy from Amazon

Plot Summary: The behind the scenes story of the Food Network from inception in the early 1990′s through present day – including details about its stars (Emeril Lagasse, Bobby Flay, Mario Batali, Racheal Ray, Paula Deen, etc).
My Thoughts: I love to cook (and eat!) and have been watching the Food Network since its early days in the mid-90′s. So, I was familiar with most of Food Network's shows and personalities prior to reading the book. This obviously made From Scratch particularly interesting to me, but it may not hold the same excitement for someone who is not a Food Network fan. From Scratch is a business book, as well as a somewhat gossipy behind the scenes look at Food Network and its personalities. Continue Reading…
Generation Chef by Karen Stabiner
Entrepreneurship (Released September 13, 2016)
288 Pages
Affiliate Link: Buy from Amazon
Plot Summary: Journalist Karen Stabiner follows young chef Jonah Miller as he opens his first New York City restaurant, the East Village Spanish spot, Huertas.
My Thoughts: Generation Chef's look into a new restaurant's first year of life is equal parts food and business book. I particularly loved getting a behind the scenes look at the ups and downs of an entrepreneurial restaurant venture. Running a new restaurant clearly takes courage and a steady hand and I was frighteningly nervous for Miller and his team as they approached each new milestone (applying for a liquor license, awaiting a New York Times review, etc). Continue Reading…
In Defense of Food by Michael Pollan
Summary: A behind the scenes look at how the American food industry relies more on scientific compilations of nutrients and less on real food, written by the author of The Omnivore's Dilemma.
My Thoughts: This is a book about what and how Western people eat, and more than any other single factor, really changed how I try to eat. Pollan's motto ("Eat food. Not too much. Mostly plants.") is simple, easy to follow, and rooted in common sense. Pollan explains how the FDA goes through "fads" where certain nutrients are deemed important and then artificially added (or subtracted if deemed "bad") to mass produced foods. Over time, these foods end up resembling science experiments rather than actual foods. Pollan's investigation of the entwined relationship between government and the food industry is fascinating and provides the evidence supporting his common sense approach to food. He also provides tips to help you decipher health claims on food packages and make sense of ingredient labels – helping you shop smarter.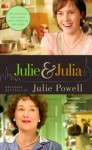 Julie & Julia by Julie Powell
Summary: Author Julie Powell attempts to spice up her life by spending one year cooking every recipe in Julia Child's Mastering the Art of French Cooking.
My Thoughts: This is one of the books that the movie "Julie & Julia" (the other is My Life in France, see review below) is based on and it originally started as a blog. Although I preferred My Life in France, this is a fun book – especially when you're bored in the dead of winter. I enjoyed Powell's funny commentary about attempting Julia Child's recipes and admired Powell for doing something drastic to get herself out of the rut she was in with work, etc.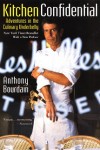 Kitchen Confidential by Anthony Bourdain
Summary: At the time Executive Chef at New York restaurant, Les Halles, Bourdain pulls the curtain off the restaurant industry.
My Thoughts: Even though this book was published over a decade ago and many "copy cat" memoirs about the restaurant industry have been published since, I still think it is the best one. Bourdain is bitingly witty and holds nothing back in his skewering of some others in the culinary industry. However, he is self-deprecating as well…much more so than in his other books. In addition to learning all the crazy things that go on with the people who are cooking and serving your food at restaurants, I loved hearing about all the "tricks" and "tips" (i.e. not to order fish on Mondays) for eating in restaurants. I have read every book Bourdain has written since Kitchen Confidential, and this one is still my favorite and the only one going on this list.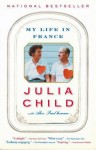 My Life in France by Julia Child
Summary: Julia Child's memoir of the culinary awakening she experienced while living in France with her husband, Paul, which resulted in the Julia Child of "The French Chef" fame.
My Thoughts: This is the second book that the movie "Julie & Julia" is based on…and I loved it! Julia is hilarious and endearing as she shares her memories from the time period when she truly fell in love with cooking. She makes learning French cooking (and the language!) at Le Cordon Bleu actually sound light and injects her sense of humor. She also covers the background of writing Mastering the Art of French Cooking and developing her show, "The French Chef".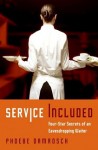 Service Included by Phoebe Damrosch
Summary: The memoir of a waitress who ended up as the only female captain during the opening year at Thomas Keller's New York restaurant, Per Se.
My Thoughts: I particularly loved this book because of the wealth of information it gave me about this world famous restaurant that is located two blocks from my apartment, but is a huge tease for me because I will never be able to afford to eat there! It's eyeopening hearing all the behind the scenes machinations that go into a restaurant like that – and the veiled stories of celebrity diners add to the fun. The one thing that annoyed me was Damrosch's commentary on her personal life – I was just much more interested in the restaurant and food than in Phoebe's love life. But, if you're interested in Thomas Keller or the restaurant scene, Service Included is definitely worth reading despite the personal drama.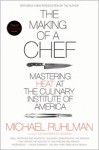 The Making of a Chef by Michael Ruhlman
Summary: Author Michael Ruhlman kickstarted his food writing career with this memoir of his attendance at the Culinary Institute of America (CIA).
My Thoughts: You may recognize Michael Ruhlman's name If you watch Iron Chef America on the Food Network…he is a regular judge on the show. Ruhlman was originally a writer and this book was his first foray into the culinary world, where he is now well-respected. I've read multiple "culinary school memoirs" and I thought this one best portrayed the intensity of the experience. These instructors are like drill sergeants and the school is somewhat like a boot camp. Before I had my child, I sometimes used to sit at work and fantasize about going to culinary school – this book brought me right back down to earth and gave me a whole new respect for chefs. This book makes it clear that the CIA is certainly not for dabbling amateurs who are bored with their jobs!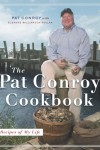 The Pat Conroy Cookbook: Recipes of My Life by Pat Conroy
Summary: Pat Conroy's "memoir", which centers around the best meals he's eaten and cooked and the stories behind them.
My Thoughts: Pat Conroy is one of my favorite authors (his novel, Beach Music, is on my All-Time Favorites List) and I was so excited to find out he also loves to cook. Though this book does contain recipes, it is a book you actually read. Each recipe is accompanied by stories from his life and travels (including Europe, Thailand, and obviously the American South), which are told in Conroy's masterful style. You even get the stories of people from his real life who were the inspiration for certain book characters and real life scenes which ended up in his books. If you are a Conroy fan, but not a cook, you will still love this book. Finally, since this book does contain recipes, you may want to (gasp!) spring for the "real" book version, rather than the e-book.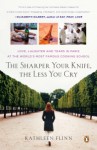 The Sharper Your Knife, the Less You Cry by Kathleen Flinn
Summary: After getting laid off from her boring corporate job, Flinn pursues her dream of culinary school at Le Cordon Bleu in Paris.
My Thoughts: This is the second (and more girly) culinary school memoir on this list. In my review of The Making of a Chef (see above), I mentioned sitting at my desk and fantasizing about going to culinary school…well, this is essentially the memoir of what that experience would be like. This one is a bit different from The Making of a Chef because it includes many more personal details from Flinn's life and has the added dynamic of French language and culture (and Flinn's experience adjusting to both). Flinn also writes with humor about typical French ridiculousness and how that comes across at Le Cordon Bleu.
The Soul of a Chef: The Journey Toward Perfection

by Michael Ruhlman (Released August, 2001)
Summary: Ruhlman explores what makes a chef successful by profiling three different examples: the Certified Master Chef (CMC) exam at the Culinary Institute of America (CIA), rising star chef Michael Symon, and reknowned chef Thomas Keller.
My Thoughts: This book is almost like three separate short stories, which makes it an easy read and keeps things interesting. Part 1 focuses on the CMC Exam, which is a professional certification given by the CIA (this is NOT the exam that CIA students take to graduate from the school). Ruhlman does a fantastic job writing about the exam in a way that has you biting your knuckles with suspense as if you were watching a sports event. His descriptions of the franttic lead-up to service for each section of the test and the judging panels provide serious drama. However, I did find the detail about classical cooking methods tedious to read at times. Part 2 focuses on Cleveland chef Michael Symon, who was a rising star on the culinary scene at the time and is now an Iron Chef on Iron Chef America. It's a light-hearted section compared to Part 1 and showcases Symon's bubbly personality, a critical factor in the success of his restaurant. I loved learning more about Symon's background, cooking style, personality, and business philosophy after seeing him on numerous cooking shows. He's kind of a badass and does food his own way while winning respect in the culinary industry. Part 3 focuses on Thomas Keller and "The French Laundry", widely considered the best chef and restaurant in the country. Ruhlman focuses on how Keller got to where he is despite no formal training and growing up in a family that was never focused on food. Ruhlman might be my favorite food writer.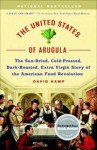 The United States of Arugula by David Kamp
Summary: The story of how America went from TV dinners and canned vegetables to organic produce, farmer's markets, The Food Network, and artisanal cheese in just a few decades.
My Thoughts: As someone who is interested in food/cooking and watches the Food Network pretty regularly, I found the history of how we (U.S. consumers) evolved from TV dinners to gourmet home cooking fascinating. Even for those who aren't "foodies", this was an interesting history of the second half of the 1900's and said a lot about the collective personality of U.S. consumers. Kamp also profiles James Beard, Julia Child, and Craig Claiborne in a pretty gossipy way, which adds levity to the historical focus of this book.