What's better than sitting on the beach with a fantastic book?! As summer approaches, the magazines and Internet are chock full of "Beach Reading" recommendations, which are usually easy books that do not require using many brain cells. While I definitely appreciate a light book for summer, I don't like to put my brain entirely on vacation. There are plenty of fun books that keep you engrossed and your mind working (but not too much!) – and that's what you'll find on my summer reading list. Since this is my maiden voyage into recommendations for summer, it contains both old and new selections, while future summer lists will focus solely on new books. Finally, I will continue to update this throughout the summer.
Latest Addition (August 18, 2013)
Dad Is Fat

by Jim Gaffigan, Nonfiction – Memoir (Released May, 2013)
Summary: Essays about Jim's experience raising five children in a two bedroom Manhattan apartment. Yes, you read that correctly.
My Thoughts: I found Dad is Fat listed in the "books" section of a magazine called The Week that my cousin had left lying around. Since I just moved out of Manhattan because my husband and I had gotten fed up with the unique hassles of raising our children there, I figured this thing would be right up my alley. I enjoyed the book and could relate to some of his stories and anecdotes, but did not find it laugh out loud funny like many reviews indicated. I definitely found it humorous and smiled many times, but I didn't think it was as funny as it could have been given the material Gaffigan most certainly had to work with. It didn't have as many Manhattan-specific anecdotes as I expected, but this broadens the book's appeal outside of Manhattanites. The first essay about Jim's experience traveling to the Grand Canyon with his brother and sister-in-law and their one year old was actually the funniest one in there – and it was before Jim even had children. His essay about applying sunscreen to five screaming, thrashing toddlers is funny and relatable (applying sunscreen to one screaming, thrashing toddler is hard enough!). And, his essay about how cousins completely make family gatherings, especially for children, is touching and so true in my experience as well! I also obviously marveled at the Gaffigan's ability to manage five children at all, much less in Manhattan and while subscribing to the philosophy of attachment parenting…I mean, good lord, it's a wonder they have any sanity! I did get a little annoyed with Gaffigan's writing style – he is a stand-up comedian and it was obvious in a cheesy way at times. He seems to have a fondness for bad puns (i.e. when talking about how horrible kids are with chewing gum, he says "I am definitely pro-gum control") and randomly inserted jokes that don't really fit the story. Sometimes it felt like he left an "insert joke here" note to himself as he was writing and came back later to fill it in. Even though I did have some issues with the book, it was an entertaining, relatable read overall and would be great for the beach.
The List

American Wife: A Novel

by Curtis Sittenfeld, Fiction (Released February, 2009)
Summary: Alice Lindgren, a small town librarian, marries Charlie Blackwell, the son of a prominent Republican family and unexpectedly ends up as First Lady of the U.S.
My Thoughts: Does the summary sound strikingly similar to George and Laura Bush? Well, it should, because American Wife is a thinly veiled, fictional account of their life together told through Laura's/Alice's eyes. Though this is fiction, I loved thinking about what Laura's perspective might be of the world she was living in. The book portrays "Alice" as fundamentally disagreeing with "Charlie" about some core issues, but having to keep quiet about her opinions publicly. Who knows if there is any truth to that in the Bushes' real life, but it made for a good novel. One additional note – this is not a political book and your political opinions will probably not influence whether you enjoy it or not.

AN Outrageous Affair: A Novel

by Penny Vincenzi, Historical Fiction (Released September, 2009)
Summary: Set over thirty years beginning in World War II, tell-all journalist Magnus Phillips threatens to expose Lady Caroline Hunterton's scandalous past and ruin her family in the process.
My Thoughts: This book is a straight up guilty pleasure. There's not much thinking involved…it's perfect for the beach! The whole book is about scandal, illegitimate children, long ago affairs…all set in an historical time period. It hits Hollywood, London, and New York as well. This is the one book on this list that doesn't really fit my "summer reading" criteria – i.e. keeping you engrossed, but your mind working a bit too. This one has no problem with the engrossed part, but gives you a break on the thinking.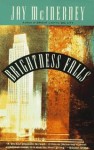 Brightness Falls (Vintage Contemporaries)

by Jay McInerney, Fiction (Released March, 1993)
Summary: Russell and Corrine Calloway are high-flying New York City professionals (Russell in publishing and Corrine as a stockbroker) in the late 1980's until Russell's attempted takeover of his publishing house has drastic effects on their lives.
My Thoughts: I loved the time period when this book was set – late 80's (right before the 1987 stock market crash) – mainly because I was reading it after the crash of 2008 (I know, I read it a long time after it was written!) and there were so many similarities. This is a book about people becoming overconfident and thinking things will stay buoyant forever – qualities which were certainly evident in the lead-up to the 2008 crash. I also loved reading about Manhattan in the 80's – there was lots of crazy stuff going on. The main characters aren't particularly likable, but this isn't a character-driven book…it's a book about a time and place and the Calloways are supposed to represent the dynamics at play. They do that well, as does the entire book.
Fiction Ruined My Family

by Jeanne Darst, Nonfiction – Memoir (Released September, 2011)
Summary: The youngest daughter of an alcoholic mother and a struggling writer father tells the true story of her childhood and of trying to avoid repeating her parents' mistakes while trying to succeed as a writer herself.
My Thoughts: Many reviews compared this book to Jeannette Walls' memoir, The Glass Castle, and I do think the two books are similar (although this one is definitely funnier). Certainly, if you liked The Glass Castle, you will probably like Fiction Ruined My Family. It's somewhat of a tragi-comedy – Darst is able to inject humor into a childhood that was pretty heartbreaking. She is honest and doesn't sugarcoat any unpleasant experiences, both her own and her family's. So much so that I wonder if any family members are still speaking to her after reading this book! She doesn't spare any of them their most embarrassing moments being described in minute detail for the world to read! And, there are some doozies in there – i.e. if gross-out humor bothers you, probably best to avoid this book. Darst basically lives her adult life with the sole purpose of creating situations that may result in great writing material. This involves rarely holding a steady job, living in squalor, and acting like she is 22 well into her mid-thirties. But, her strategy worked and she got a very entertaining memoir out of it all! Though this is kind of a fun book, it is well-written and more than just a memoir of drunken escapades.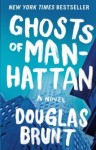 Ghosts of Manhattan: A Novel

by Douglas Brunt, Fiction (Released October, 2012)
Summary: Amid the 2005 mortgage bubble, thirty five year old Bear Stearns bond trader, Nick Farmer, faces disillusionment with his career decision, personal life, and strategy decisions at Bear.
My Thoughts: My in-laws were the first people to tell me I should read this book and I was a little skeptical because I'd read so many "Wall Street excess tell-alls" that they had started to run together in my head and ceased to be interesting. There's only so many times you can read about money, drunkenness, cocaine, and hookers before it becomes a bit repetitive. But, this book was different…in a good way! First, it's fiction and the author was not a Wall Street trader, so it's technically not a "roman a clef" about his real experience. But, obviously the setting and characters are based on what Wall Street was generally like in the middle of the mortgage bubble. Second, Brunt's observations about the social hierarchy in the banking/trading/finance world and the situations and characters you encounter there are witty, spot-on, and well said. I would go so far as to say that Brunt comes close to Tom Wolfe territory with his social commentary. Though Brunt does include his fair share of partying, drugs, and prostitutes, it's the social commentary and his PERFECT analogies that were the most entertaining for me. Nick is also having an inner struggle with his career choice and the effects of that lifestyle on his marriage, which gives the novel more depth than your average Wall Street excess tell-all and makes Nick a more sympathetic character. Finally, this book deals with a theme that a lot of people my age (35, like Nick) are confronting. What happens when you choose a career right out of college, without knowing much about what that career really entails, and thinking you may do that job for a couple years before moving on, then wake up fifteen years later still doing this thing that you never intended to be your life's work? How do you make a change at age thirty five when many people have families to support and how do you figure out what you really want to do with your life? These are difficult and relatable questions and Nick goes through the range of emotions and thought processes as he's working this out. Ghosts of Manhattan successfully crosses the Wall Street excess tell-all and the Tom Wolfe-style social satire for a great summer read…particularly for guys.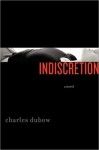 Indiscretion: A Novel

by Charles Dubow, Fiction (Released February, 2013)
Summary: When Claire, a beautiful and captivating girl in her early twenties, enters the world of Harry and Maddy Winslow, their lives will never be the same.
My Thoughts: This book was described on Amazon as paying tribute to The Great Gatsby (which I loved), and it does in certain ways. It's set among the estates of East Hampton, it's narrated by an outside friend (Walter, similar to Gatsby's Nick Carraway), Walter often looks out the window of his estate to watch Maddy's nearby bedroom light go off at night (the green light on Daisy's dock in Gatsby), and the plot centers on a devastating outsider being drawn into the center of other people's lives. But, Indiscretion is unabashedly less "literary" and more straight up guilty pleasure than Gatsby. The plot seemed so cliche to me at first – I felt there must be more to this than the blatantly obvious "earth shattering event" you see coming a mile away. But, I found myself inexplicably drawn in and absolutely flying through the book…cliche and all. I would go as far as to say it was somewhat addictive. It was almost as if some page turning impulse was overriding my brain telling me that I had read this story many times before. I've been trying to put my finger on why it was so addictive despite rational thought and landed on the fact that the story is about much more than initially meets the eye. It's about marriage being a whole life created with impacts reaching far beyond the two people in the relationship. It's about the ripple effect of actions – and their consequences even decades later. Dubow does a fantastic job making you feel what the characters are feeling – and he covers every end of the betrayal feelings spectrum. Indiscretion is Charles Dubow's first book and I'm interested to see what he does next.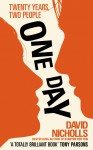 One Day (Vintage Contemporaries Original)

by David Nicholls, Fiction (Released May, 2011)
Summary: Dex, a playboy, and Em, a nerdier intellectual, meet on the last day of college and carry on a twenty year friendship filled with awkward moments and feelings.
My Thoughts: Yes, this is the book that the movie of the same name starring Anne Hathaway and Jim Sturgess was based on. Dex and Emma's relationship is a realistic representation of that awkward "best friends, but possibly more" dynamic that many people have experienced growing up. And, I loved the way Nicholls structured the book: revisiting their relationship on the same day over the course of twenty years.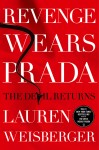 Revenge Wears Prada: The Devil Returns

by Lauren Weisberger, Fiction (Released June, 2013)
Summary: In the sequel to The Devil Wears Prada, Andy Sachs (who still shudders to hear Miranda Priestly's name even ten years later) teams up with her former Runway nemesis, First Assistant Emily, to start a high-end bridal magazine and, of course, encounters Miranda along the way.
My Thoughts: I loved The Devil Wears Prada, so I was disappointed to read that its sequel had gotten such mixed reviews. The mixed reviews obviously didn't stop me from reading the book, but I did go in with fairly low expectations. Imagine my surprise when I stayed up late reading a quarter of the book the first night I started it! I had just read a serious book (In the Shadow of the Banyan), so I found Revenge a refreshingly light and entertaining contrast. It was an easy read following Banyan, which was exactly what I needed! Initially, a lot of Revenge is Andy rehashing memories of her time with Miranda and these snarky descriptions are what made the original Devil so good. This time around, the Miranda memories do feel a bit warmed over, but are probably necessary to set the stage. In Revenge, Andy and Emily end up on the receiving end of the charming version of Miranda (the version most celebrities saw in Devil). It was interesting to see the  juxtaposition of how she treats people she wants something from versus how she treats her underlings. You can feel her transform between personalities right before your eyes and then back again in seconds. I also enjoyed the secondary storyline of Andy's marriage to Max Harrison, the son of a media scion, and found her stuck-up snob of a mother-in-law to be a somewhat amusing character. Even though she was dislikable, she added some humorous ridiculousness to the story. Despite enjoying the book and flying through it, I hated the ending, and that seems to be the consensus among other reviewers. It couldn't have been more cliche and you could see it coming a mile away. Actually, there were a lot of cliche moments in this book and I rolled my eyes at some parts. But, I have to go on overall feeling while reading a book and I enjoyed this one for what it was…something light, easy, and not thought provoking. Sometimes you just need a book like that.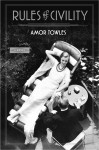 Rules of Civility: A Novel

by Amor Towles, Fiction (Released August, 2011)
Summary: The unlikely friendship of Katey and Eve (two young women struggling in 1930's New York) with wealthy banker Tinker Grey gives the two girls access to the world of the New York social elite.
My Thoughts: Through the first half of this book, I thought it was a lighthearted look at New York "society" in the 1930's. This was fun and entertaining, but didn't have much depth to it. There is a certain point where something surprising is revealed that caused me to take a fresh look at things – and that's what made me like this book even more. It added some depth that I was missing, but not so much as to take away from the book's fun nature. I also loved Katey's witty commentary on NY society, which was essential to the strong "view from the outside" perspective that her character brings.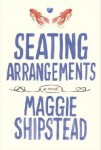 Seating Arrangements

by Maggie Shipstead, Fiction (Released June, 2012)
Summary: Family and friends gather on a small island in New England for the wedding of Daphne Van Meter, who is seven months pregnant, and Greyson Duff.
My Thoughts: The Van Meters (Winn and Biddy are the parents – I mean, get a load of those names!) and Duffs are snobby, New England families that don't talk about anything unpleasant and fear "inappropriateness" and "social embarrassment" above all else. Obviously, a wedding where the bride is knocked up has the potential for many moments that would send these people into a tailspin. Many of the reviewers on Amazon passionately hated the characters and everything they are about. However, it's obvious from the first page that this is a social satire and Shipstead wrote the book with a tongue in cheek attitude. These characters aren't meant to be loved…they are meant to provide comedy and represent certain cliches. Shipstead also perfectly captures the ridiculousness that can overcome packs of women as they prepare for a wedding. Seating Arrangements is a fun, light read with just the right amount of substance.
Still Points North: One Alaskan Childhood, One Grown-up World, One Long Journey Home

by Leigh Newman, Nonfiction – Memoir (Released March, 2013)
Summary: Following her parents' divorce, Leigh Newman spent her childhood splitting her time with her Dad in Alaska and her Mom in Baltimore before tackling early adulthood as a travel writer in New York City.
My Thoughts: I feel like I've been reading a lot of memoirs lately – but this one was fantastic! It has eccentric parents reminiscent of The Glass Castle by Jeannette Walls and outdoor adventures reminiscent of Wild by Cheryl Strayed – a great combination in my opinion! Leigh's Dad flies her in his seaplane to remote fishing spots in the Alaskan tundra to catch "mountains of salmon" (at age eight!), yet lives in a brand new house without any furniture. Her Mom is artsy and obsessed with her old Baltimore lineage and does not have any house rules or ask about Leigh's homework (much less make her actually do it). The combination of these eccentric personalities and the touching story of Leigh dealing with her parents' divorce makes for an enjoyably quirky and heartfelt book. Leigh tells her story in three parts. Part 1 focuses on her upbringing in Alaska and Baltimore and how she handles the divorce. I loved hearing about her life in Alaska – her Dad builds himself a smoker out of an old refrigerator and smokes their "mountains of salmon" in their driveway! The Top Chef judges would be very impressed. Part 2 starts out when Leigh is 26 and beginning her writing career (initially for a travel magazine). I liked this part a bit less than the first one – it's more about her struggle with what to make of her life and her commitment issues and focuses less on her Alaskan upbringing, which I think is the truly unique part of this book. Part 3 turned things back around – she meets a guy!  And, of course, struggles with how to navigate that relationship. I got completely sucked into the Leigh/Lawrence story and stayed up very late at night to see how it would end. Don't Google her before reading the book if you want to enjoy the suspense of this plot line! She writes about the relationship in a totally unique way (i.e. "somebody who isn't interested in traveling to eat wild boar isn't somebody I could fall in love with"). And this one: "you'd either come to Alaska one day and meet my family and suck the marrow out of a caribou bone (which no man had yet done). Or you wouldn't.". I also loved Lawrence, which caused me to get a bit frustrated with Leigh's decision-making at times, but it added drama to the story for sure. If you liked The Glass Castle and/or Wild, I think you'll like this one too!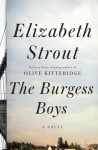 The Burgess Boys: A Novel

by Elizabeth Strout, Fiction (Released March, 2013)
Summary: Three grown siblings, Jim (a successful New York City defense attorney), Bob (a NYC Legal Aid attorney), and Susan (Bob's twin sister and a single Mom), from small town Maine reconnect when Susan's son throws a pig's head into a local mosque during Ramadan.
My Thoughts: I usually make notes about why I like or dislike a book as I'm reading to help me with the review. However, I didn't for this book and enjoyed just reading. That may be a bad thing for the review (if so, I apologize!), but it is meant as a compliment to the book. The Burgess Boys is a New York Times Bestseller and was one of Amazon's Best Books of the Month for March 2013 – and I totally agree! It is an easy to read, engrossing family saga with an interesting political / legal theme. The plot string about Susan's son (Zach) throwing the pig's head into a Mosque is somewhat random for a small town in Maine (in the book, Shirley Falls has a sizable population of Muslim, Somali immigrants), but gives the book a uniqueness that differentiates it from a run of the mill family saga. The pig's head incident and the ensuing legal wrangling also remind me a bit of Defending Jacob by William Landay (see my Page Turners List for my review). I really liked how Strout thoroughly explored both angles of the political issue (religious tolerance vs. adapting to your surroundings and overreaching political correctness) and didn't seem to take sides. In addition to Zach's legal drama, The Burgess Boys is a book about sibling and marital dynamics. The two Burgess boys (Jim and Bob) and lone Burgess girl are extremely different and have long rooted resentments that they are forced to work out while trying to help Zach. All three siblings are compelling, if not completely likable, characters. The only thing that bothered me was that Strout left one lose end hanging at the end of the book – it always annoys me when authors do this! The Burgess Boys is a NYT Bestseller that lives up to its hype.
The Chaperone

by Laura Moriarty, Fiction (Released June, 2012)
Summary: Based on an actual time in the adolescence of real life silent film star Louise Brooks, Cora, a proper matron from Wichita, accompanies a young and temperamental Brooks to New York City to train at the Denishawn School of Dancing and returns to Kansas a changed woman.
My Thoughts: I was a little surprised by this book. I went into it thinking it would focus on Cora and Louise's tempestuous relationship and Cora's efforts to rein in Louise's mischief. However, it turned out to be much more about Cora and her quest to answer questions about her past than I expected. Cora has quite a life and I found her story unexpected and suspenseful, but I did wish Louise played an even bigger role in the book. She's a total firecracker…although b*tch may be a better word…but, she certainly spices things up. I loved the historical fiction aspect of The Chaperone and the premise reminded me a bit of The Paris Wife (a fictional story based on a real time in Ernest Hemingway's life). The Chaperone was set during Prohibition, a time when social mores were extremely prohibitive (think corsets and "chaperoned" dates with your "beau"), especially in somewhere like Wichita. But, the roaring 20′s are just around the corner and signs that times are changing (think shorter hemlines, women wearing make-up, the birth control movement, etc.) are everywhere, especially in New York. This book is a study in contrasts that illuminate these social dynamics: Cora vs. Louise, Wichita vs. New York, and Wichita at the beginning of the book vs. at the end. The judgmental social atmosphere also sets the stage for lots of scandal going on behind closed doors, adding more spice to the story.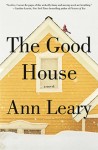 The Good House: A Novel

by Ann Leary, Fiction (Released January, 2013)
Summary: Hildy Good, a successful real estate agent in an historic New England town that has become a summer home "destination" for the wealthy, befriends newcomer Rebecca McAllister, who involves her in a scandal that threatens to reveal Hildy's own secret.
My Thoughts: This was a light, easy to read, and enjoyable book, but not one that was especially memorable. It was good and I liked it, but it was a middle of the road book that I don't have tons to say about. Tension between locals and wealthy interlopers in a community that has recently become an "in" destination is nothing new, but it works well here and adds an interesting dynamic to this story. There are good characters with small-town New England eccentricities that make them lovable despite their flaws. Hildy is an interesting narrator because she adds perspective from the locals' (she grew up in the community) and newcomers' points of view (which she gains through her real estate business). The question of Hildy's alcoholism (is she a true alcoholic or not?) adds substance, but I will say that this is the lightest book on alcoholism I've ever read. Amazon billed The Good House as "funny, poignant, and terrifying"…I would say it is funny at times (though not hilarious), definitely poignant, but in no way terrifying (have no idea where they came up with that one!).
The Good Life (Brightness Falls)

by Jay McInerney, Fiction (Released 2006)
Summary: Corrine and Russell Calloway (the same couple from Brightness Falls, see review above) work through their reactions to 9/11 and its effects on their family and marriage.
My Thoughts: This book is a follow-up to Brightness Falls, but I made the mistake of reading it before Brightness Falls and it was actually my favorite of the two. Like Brightness Falls, this is a book about time and place (in this case, post-9/11 Manhattan). I did not live in NYC during 9/11, but moved there a few months after, so the trauma and emotions that New Yorkers were dealing with were still fresh. McInerney captures these emotions in an honest and relatable way, which brings depth to this book. The main characters, like those in most of his books, come from NYC "society" and the window into that world is what adds the levity and fun to a book set in such an emotional time. While The Good Life will obviously resonate with New Yorkers, 9/11 left such a mark on my entire generation (I believe it is our generation's Kennedy assassination) that non-New Yorkers will have no trouble identifying with the key themes as well.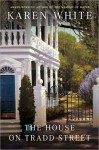 The House on Tradd Street

by Karen White, Fiction (Released November, 2008)
Summary: Ambitious real estate agent Melanie Middleton inherits an historic Charleston home with the requirement that she restore it to its former glory and live in it for a year, she is forced to confront a local mystery and its ghosts.
My Thoughts: This is a great pick for those of you that love Southern fiction. It's a light, fun read, but has more depth than a Dorothea Benton Frank book for sure. It kind of reminded me of a more fun Midnight in the Garden of Good and Evil. You just need to suspend reality for a bit and let yourself fall into the world of Civil War era mysteries and haunted houses. In addition to Charleston, restoration of historic homes, and mysteries, there is a suspenseful romance storyline with "witty banter" type flirting. There is a sequel to this book as well, The Girl on Legare Street, but I didn't like it remotely as much as this one.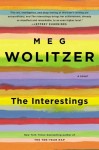 The Interestings: A Novel

by Meg Wolitzer, Fiction (Released April, 2013)
Summary: Jules Jacobson becomes best friends with five teenagers at a summer camp for the arts in the 1970′s, remaining friends despite completely different experiences in adulthood.
My Thoughts: The Interestings was one of Amazon's "Best Books of the Month" for April and I have had hits and misses from this list. Thankfully, this one was a hit for me, despite getting mixed reviews from Amazon readers. I have a lot to say about The Interestings, so buckle up! This is a character-driven, coming of age story with a strong sense of time and place (Nixon 70′s, AIDS era 80′s, NYC, etc). The book begins when the central characters (Jules, Ethan, Jonah, Cathy, and the brother/sister duo of Ash and Goodman Wolf) meet at Spirit-in-the-Woods summer camp for the arts. During this section, the characters actually annoyed me and I didn't think I was going to like the book because of it. They struck me as trying too hard to be "artsy" and "different" and they also had the Dawson's Creek way of talking about things that are way above the heads of your average teenager. However, the characters do mature and become more likable in adulthood and I ended up being completely invested in them as the book went on. I particularly loved Dennis, who becomes a central character later in the book, as he was the opposite of everything that initially annoyed me about the central characters. He provides the "outsider view" and has such a reasonable, normal perspective on the sometimes ridiculous goings on of the "camp crowd". Jules' narration is also fantastic – she offers funny, spot-on commentary of people and situations and is incredibly honest; matter of factly describing things how people probably think, but would never dare say aloud. The Wolf family itself is a compelling, if not totally likable character – they are outgoing and social and have that inexplicable quality that draws others into their orbit, but they also have internal demons and flawed relationships with each other. It's perfect that all the kids call the Wolf's NYC apartment The Labyrinth. After the first summer at camp, the story flashes forward to present day (around 2009) and you actually find out where some of the characters ended up in life…keep in mind, this is very early in the book. I was worried this would take the suspense out of the story, but I was actually dying to find out the details of how they ended up where they did. With other characters, Wolitzer gradually releases bits of information like teasers. I actually loved this combination and I think it created a good amount of suspense in a book that is not a typical "page turner" story. The adulthood portion of the book deals with themes that many childhood friendships face. How do you maintain closeness despite growing in different directions and having different priorities (family, career, level of success, etc)? How do you handle lifestyle differences when friends end up at opposite ends of the socioeconomic spectrum? Can a friendship survive the emotions associated with that (jealousy, guilt, awkwardness)? How does the addition of a spouse change your relationship with your friends? I'm currently in the early stages of settling into adulthood (many peers have families, are settling into career choices, and are figuring out how they want to live their lives) and found these themes incredibly relatable. Finally, the writing flowed and soothed…almost (but not quite!) as well as John Irving's or Pat Conroy's. The combination of great writing, fantastic characters, and relatable themes makes The Interestings a book that I always looked forward to picking up again – not because I just had to know what happens next, but because I always looked forward to sinking back into these people's world.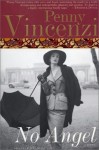 No Angel
Something Dangerous

Into Temptation

by Penny Vincenzi, Historical Fiction (Released October, 2004 – 2006)
Summary: The Lytton Family Trilogy is a multi-generational story of the Lytton Family (of Lytton Publishing), an upper class British family, beginning in 19th century era England.
My Thoughts: This series is basically like a soap opera set in an historical time period, which makes the series' scandalousness feel a little less guilty! It also makes the story more interesting. No Angel focuses on Celia Lytton, the matriarch of the family, and her experience running the publishing business while her husband was fighting in WWI. Something Dangerous stars Celia and Oliver Lytton's children adjusting to the changes World War II and Nazi Germany force upon their lives. Into Temptation takes place in New York and London in the 1950's and focuses on Barty's (Celia Lytton's adopted daughter that she rescued from poverty as a child) success at the Lytton's publishing house and threats to its success.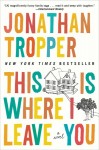 This Is Where I Leave You: A Novel

by Jonathan Tropper, Fiction (Released August, 2009)
Summary: The Foxman family gathers upon the death of their father to sit Shiva for seven days.
My Thoughts: This book will always hold a special place in my heart because I was reading it while I was in labor with my daughter. I think it takes just the right book to get you through those pre-epidural labor hours (and, in my case, the hour right before pushing when the epidural more or less wears off on one side!!)…something light, funny, and easy to read in small snippets. This Is Where I Leave You was all these things and more. For those of you that read my review of Seating Arrangements, This Is Where I Leave You is similar (both are centered around family gatherings that result in awkward, but funny situations), but funnier, faster moving, and way less WASPy. It's somewhat of a tragicomedy with most of the tragedy cloaked in humor….so I would not classify it as a sad book at all. I laughed most of the way through it, even though the situations the family members were in would definitely be considered "sad" (think divorce, infidelity, death of a family member, infertility). Tropper's portrayal of the process of mourning a deceased family member was also spot on…he captured the awkwardness of acquaintances trying to be nice, but coming across as totally inappropriate or acting like they're closer to the family than they really are, and of forcing politeness in a cocktail party-esque atmosphere while you're grieving. Finally, the characters in this book are lovably eccentric and very witty…the mother who is obsessed with her looks amid her husband's Shiva, the spoiled youngest brother, and the witty and biting sister…just to name a few. This Is Where I Leave You is a great pick if you're looking for something light and funny. And, a movie based on this book is coming out with Connie Britton (better known as Mrs. Coach from "Friday Night Lights") as the youngest brother's older girlfriend…I'll watch anything with Mrs. Coach in it!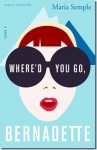 Where'd You Go, Bernadette: A Novel

by Maria Semple, Fiction (Released December, 2012)
Summary: Bernadette Fox disappears following a series of embarrassing incidents at home and issues with anxiety, sending her eighth grade daughter (Bee) on a quest to find her.
My Thoughts: This was the first book I read in 2013 that I absolutely LOVED…and it took until March to find it! This book is surprising, quirky, heartwarming, and suspenseful. At first, I thought it was going to be a flighty read about neurotic mothers in the carpool line. But, about a quarter into the book, you learn more about Bernadette…she's a complex character and I was hooked on her after reading the ArtForum article profiling her former architecture career. Her complexity as a character is sort of shoved into a light and funny surrounding story, which gives the book great balance. I also loved Bee, Bernadette's daughter. She reminded me of Becca Moody, Hank's daughter on the TV show "Californication"…a calm voice of reason juxtaposed against a family full of turmoil. Beyond great characters, this book contains a quirky mix of topics that somehow all gel together…"crazy mother" dynamics, Microsoft corporate culture, mental illness, architecture, and Antarctica. It sounds scattered, but each topic has its logical place in the story…it just worked. Finally, I loved the structure of the book – the story is told through a combination of Bee's thoughts, emails and letters between characters, news articles, and reports by various "officials" (I don't want to say what types of officials for fear of giving away spoilers). You get lots of different perspectives of what's going on and the structure illuminates the contrast between Bernadette's self image and everyone else's view of her, which gets to the heart of the story.
Z: A Novel of Zelda Fitzgerald

by Therese Anne Fowler, Historical Fiction (Released March, 2013)
Summary: The story of Zelda and author F. Scott Fitzgerald's relationship as told from Zelda's fictional perspective.
My Thoughts: I absolutely loved this book, was sad when I finished it, and couldn't wait to write about it. I know there is Gatsby everywhere right now with the movie coming out, but this book really lives up to the hype. The start is a little slow, but don't let it deter you because the story picks up steam quickly. Z is similar to The Paris Wife by Paula McLain in that it's a fictional take from a famous author's wife's perspective about a real period of time in their lives. And, Z even covers the same time period as The Paris Wife, but from a different perspective (Zelda's vs. Hadley Hemingway's), so it's especially interesting if you've already read The Paris Wife. The story of Zelda and Scott is a tragic love story carried out amid fame (if not fortune), glitter, clinking champagne glasses, and the literary intelligentsia of the time (Hemingway, Gertrude Stein, Ezra Pound, etc). And, you truly would never guess this novel takes place during Prohibition based on the amount of alcohol flowing through it…which made for an exciting, but heartbreaking story. Zelda's voice is distinctive through Fowler's writing and I just loved the way she phrases things – the language feels similar to The Great Gatsby's. This book is understandably pro-Zelda. She is portrayed as exciting, modern, misunderstood, and somewhat victimized while Scott comes across as slimy, pretentious, arrogant, petty, jealous, childish, and obsessed with rich people (despite never becoming one himself due to his profligate spending). But, they seem to love each other as much as possible through all that. It was interesting how Scott was portrayed as the first author to truly embrace the modern concept of marketing and P.R. for his writing – he seemed to view his marriage to Zelda as a tool to add mystique to his writing and encouraged her to act like certain characters in his books and stories. Z also provides great fodder for discussion about women retaining their own identities in marriage and motherhood…whether through a career or something else. This strikes me as a very modern topic for the 1920′s and is obviously still relevant today. Scott wants Zelda, increasingly against her will, to live a life of hair appointments, parties, and painting lessons that enhances his own image and then puts her down for it later when comparing her"series of low-key amusements" to the importance of his "risky existence" of baring his soul through his writing. Reading Z made me want to re-read The Great Gatsby, as well as Scott's first two novels (This Side of Paradise and The Beautiful and the Damned), both of which were initially more successful than Gatsby. Z is a fun, light read for summer, but is also chock full of history and substance.