This post is part of fellow book blogger, Beth Fish Reads', weekly meme (a "community" blog post, for all those non-bloggers out there) called Weekend Cooking.
It's the end of January…pretty much the dead of winter. Not exactly vegetable season, right?! During the summer, I can walk into the grocery store or farmer's market and immediately spot a number of gorgeous vegetables I want to make for dinner. Not so much in the winter. Let's face it…winter vegetables seem boring! Carrots, cauliflower, parsnips, turnips, cabbage. Have you ever said, "I can't wait to have turnips for dinner!"? Probably not…
So, I took to Foodnetwork.com to find some simple, but delicious recipes for winter vegetables and found three that have become staples at our house.
Anne Burrell's Roasted Cauliflower with Caper Vinaigrette
Link to the recipe
*As far as I'm concerned, the only way to eat cauliflower is roasted (unless it's in soup form)!
Ingredients
1 head cauliflower
Extra-virgin olive oil
Kosher salt
1/4 cup capers
1 clove garlic, smashed
1/4 cup red wine vinegar
1 bunch fresh parsley, coarsely chopped
1/4 cup golden raisins
Directions
Preheat the oven to 400 degrees F.
To prepare the cauliflower, pull and cut off the green leaves. Cut the head in half from the top to the bottom. Cut out the core, and then cut the top into smaller pieces leaving some stem attached. You want bite-sized florets that look like little trees of cauliflower.
Toss the cauliflower with olive oil and salt and place in the oven. Roast the cauliflower for 20 minutes.
While the cauliflower is roasting, puree the capers, garlic, vinegar, and parsley in a food processor. While the machine is running, drizzle in 1/4 cup olive oil. Taste and season with salt, if needed.
Toss the roasted cauliflower with the vinaigrette and sprinkle with the raisins.
Rachael Ray's Warm Sesame Slaw Salad
Link to the recipe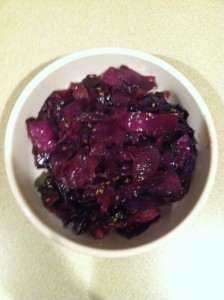 Ingredients
2 tablespoons vegetable, peanut or canola oil
1 small head red cabbage, shredded
Salt and freshly ground black pepper
3 tablespoons rice wine vinegar
3 tablespoons honey
3 tablespoons toasted sesame seeds
1 tablespoon sesame oil
Directions
Heat the oil in large skillet over high heat. Stir-fry the cabbage 5 minutes (I lower the heat and cook the cabbage a bit longer after the stir-fry) then season with salt and pepper, to taste, and add vinegar and honey, sesame seeds and oil. Serve warm.
Rachael Ray's Savory Swiss Chard
Link to the recipe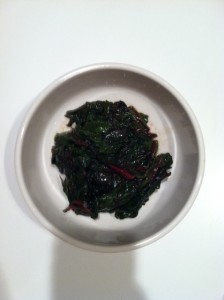 Ingredients
2 tablespoons extra-virgin olive oil
1 large bunch red or green or rainbow chard, stemmed and coarsely chopped
Freshly grated nutmeg, about 1/4 teaspoon
1/2 teaspoon smoked sweet paprika or ground cumin
Salt and freshly ground black pepper
1 teaspoon Worcestershire sauce
1/2 cup chicken stock
Directions
In a large skillet heat extra-virgin olive oil over medium-high heat. When oil is hot, add the greens to the pan and wilt. Season the greens with nutmeg and smoked sweet paprika or cumin, salt and pepper and a dash of Worcestershire sauce. Add the chicken stock and simmer for a few minutes then serve.