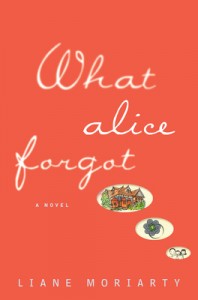 Fiction
Released May, 2010
496 Pages
Bottom Line: Skip it.
Link to this book on Amazon
Plot Summary of

What Alice Forgot

:
After a fall during spinning class, 39 year old Alice wakes up to find she can't remember the last ten years of her life and embarks on a quest to figure out who she has become.
My Thoughts on

What Alice Forgot

:
I'd heard so much about this book for so long, and just like Moriarty's The Husband's Secret, people seemed to love it. Also like The Husband's Secret, I just couldn't make myself love it. The premise of the story was really interesting and raised real questions for me, but the characters bugged me and the writing never drew me in. And, this is exactly the same way I felt about The Husband's Secret.
The situation that Alice faces certainly had an impact on me – she has memories of herself from ten years ago and is astounded to discover what type of person she has since become. I absolutely thought about my own life and what my 25 year old self would think of my current self (probably that I am now incredibly boring, but I think she would be proud that I started this blog!). This book also made me realize all the stupid little things that I should be letting go that don't matter in the long run. So, in that sense, I'm glad I read the book.
Even though What Alice Forgot did provoke some life evaluation for me, I didn't enjoy actually reading the book (I know, this sounds bizarre…). The writing was too plain vanilla chick lit and the dialogue lacked snap. Alice's situation could have resulted in smart, witty exchanges (particularly between Alice and Nick, her husband) and I think Moriarty missed this opportunity.
I also didn't like present day Alice – she was one of those insufferable, always trying to impress moms and reminded me of (you guessed it!) Cecilia from The Husband's Secret. They were almost interchangeable characters for me, causing me to get a "been there, done that" feeling about present day Alice.
Finally, and this could be because I had just read Brain on Fire (the medical mystery memoir of a healthy 26 year old who falls into an unexplained madness), I was dying to know what was medically wrong with Alice and why she lost those particular 10 years of memories. The book totally avoids giving any medical explanation for her dilemma (other than hitting her head in a fall off her spinning bike)…to the point where Alice never returns to the doctor after being released from the hospital despite her memory not returning. Not only is this just not credible, but including a plausible medical scenario for her condition could have been fascinating!
After two tries, I think I've just come to the conclusion that Moriarty's style is not my cup of tea.