This post is full of spoilers, so STOP READING AFTER THE FIRST SECTION if you don't want to know the ending (or other details).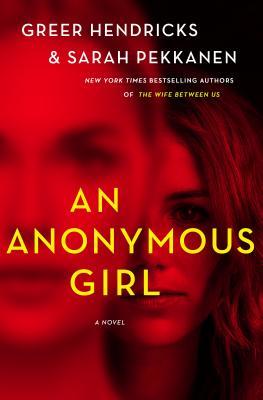 Fiction – Thriller
Released January 8, 2019
384 Pages
Bottom Line: Read it.
Affiliate Link: Buy from Amazon
Source: Publisher (St. Martin's Press)

This post contains affiliate links (plus: here's your Amazon Smile-specific affiliate link
), through which I make a small commission when you make a purchase (at no cost to you!).
Y'all know I have an incredibly finicky relationship with psychological thrillers. But, I think I'm starting to figure out one element that can make me like them: having part of the story told from the perspective of a psychologist or psychiatrist. I like to dig into people's minds and have always had a weird fascination with the brains of serial killers. So, psychological thrillers that are heavier on the psychological and lighter on the thriller tend to work for me. An Anonymous Girl fits this bill.
It's less reliant on action and outlandish plot twists…the suspenseful question is not what will happen, but who you can trust. The beginning of the story sucked me in in a creepy, unsettling way. There was a "WTF is going on" vibe (What exactly is this study about? What does Dr. Shields want with Jess?) and Dr. Shields, the psychiatrist in this story, gives off a Herman Koch vibe (especially like Dear Mr. M and Summer House with Swimming Pool). This book is a giant mindf*ck!
STOP HERE IF YOU DON'T WANT TO KNOW SPOILERS!
Who's the puppeteer in this drama?
I went back and forth constantly on this question. Obviously, Dr. Shields is set up in the beginning to be the character you should definitely not trust.
But, as the story progressed, there were moments I thought Thomas was behind it all. Why was he hiding his affair with April…to the point of inventing a fake affair with Lauren from the boutique? The moment when he revealed he'd purposely texted Dr. Shields to make her think he was having an affair made me think he was controlling far more than I'd thought…that he knew how in love Dr. Shields was with him and used that to get her to take certain actions.
Then, at the very end, I thought maybe Jess was pulling a lot more strings than I'd thought (more on that below when I talk about the ending).
With whom did your sympathies lie throughout the story?
My sympathies shifted between characters throughout the story. In the beginning, my sympathies were with Jess. She was a hard-working girl trying to make it in the big city while carrying around this huge burden from childhood (that she'd locked Becky in her parents' bedroom the day she fell out of the window) and also trying to help her family out financially. But then, the way she treated Noah irritated me. She wasn't as pure good as I'd thought.
I was never super sympathetic towards Thomas until the very end. He seemed to be manipulative and arrogant. But, he did go out on a limb to help Jess get out from under Dr. Shields' thumb. And, he lied to protect Jess from Dr. Shields by telling her that he and Jess never slept together. In the end, I feel like he was just a guy caught up in this crazy web that he couldn't get out of and was trying to mitigate the damage. I more felt sorry for him than anything else.
By the very end of the story, my sympathy for Dr. Shields actually grew. I'd always thought she was a cold, calculating sociopath…but, the situation was more complicated than that. Yes, she was calculating. But, she was driven by her love for Thomas, which sociopaths aren't capable of. And in the end, she was willing to sacrifice herself for him. I think she was just an unhinged woman who became incredibly dangerous because she knew how to read and manipulate people through her profession. If she hadn't been a trained psychiatrist (and so good at it), she'd probably just be a run-of-the-mill woman driven crazy by a man.
And, coming back around to Jess…she seemed much colder and more calculating at the end of the story (see below for more).
Did you ever think Jess was starting to lose her mind and inventing things that didn't really happen?
Around the 42% mark, I suspected Jess was starting to lose touch with reality. I wondered if she was overly paranoid and was imagining everything that happened in her life was orchestrated by Dr. Shields.
While a lot was (chicken soup on the doorstep?!), I do think Jess was becoming somewhat paranoid. But, I kind of can't blame her.
How did you interpret the ending?
The end of the Epilogue totally threw me for a loop. Jess blackmails Thomas for money…granted it's to help her family and Jess was put through the wringer by Dr. Shields. Dr. Shields got Jess fired, ruined a promising relationship, and did promise to help Jess's father financially. But, the whole encounter left me cold.
And how about these last lines after Jessica confronts Thomas with her blackmail proposal?
Perhaps you are confident in your decision. Or maybe an insistent question will haunt you: Was it all worth it, Jessica?
Is this implying that Jessica orchestrated this entire thing start to finish and actually used Dr. Shields and Thomas? That was my first thought, but it seems highly unlikely given how the story unfolded. She got into Dr. Shields' study by accident, but is there a possibility Jess somehow found out about the study and arranged to do the make-up of one of the participants? I feel like there's no way that could've happened. Too many pieces wouldn't make sense if that was the case.
So, what does that last line mean? Did Jess just start orchestrating at a certain point in the story (when she realized she could get something out of it for herself and her family)? Or, did she really just think she deserved what Dr. Shields had promised her family and that she'd suffered so much that she deserved to be compensated? I'm guessing it's probably the middle choice.
But, is there something I'm missing? What else could that last line mean? Tell me your thoughts in the comments!
Let's discuss! What did you think of An Anonymous Girl? And, how did you interpret the last line of the Epilogue?