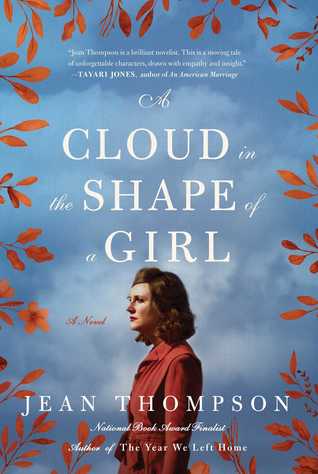 Fiction – Literary
Release Date: October 23, 2018
336 Pages
Bottom Line: Read it.
Affiliate Link: Buy from Amazon

Source: Publisher: (Simon & Schuster)
This post contains affiliate links (plus: here's your Amazon Smile-specific affiliate link), through which I make a small commission when you make a purchase (at no cost to you!).
Headline
Though not perfect, A Cloud in the Shape of a Girl is an astute observation of different generations of women's roles in marriage and motherhood and reminded me of a bleaker Anna Quindlen.
Plot Summary
The story of Evelyn, Laura, and Grace Wise, three generations of women living in a small, Midwestern town and trying to find their place in life.
Why I Read It
A Cloud in the Shape of a Girl was blurbed by Tayari Jones (author of An American Marriage
) and the premise of three generations of women appealed to me. However, it originally came to me unsolicited from the publisher and I hadn't heard much about it, so it was a bit of a risk!
Major Themes
Marriage, motherhood, women's roles, parenting, addiction, generational differences, small town life
What I Liked
I've been gravitating towards books about marriage, motherhood, and women's roles lately (as evidenced by my recent post: The "Women Who Get Women" Authors Club) and that's the crux of what this book is about.

Thompson beautifully unpacks the small, everyday trials of marriage and parenting: coddling your kids, bonding with your kids, different parenting styles within a marriage, different generational views on the roles of women, addiction, and mild alcoholism. So, don't expect fireworks from a plot perspective…just astute commentary about life, especially for women.

Thompson reminded me of a somewhat bleaker Anna Quindlen (if you like happy books, this one is not for you!) and 

A Cloud in the Shape of a Girl

reminded me of a less explosive 

The Wife

by Meg Wolitzer (my review).

I love the focus on women of three different generations and think Thompson painted an accurate picture of the different generational outlooks on the role of women in the home. Grandmother Evelyn is actually very modern for her time and was career focused before reluctantly giving up it up when she became a mother. Mother Laura is a stay-at-home mom who coddles her husband and son. Laura's husband, Gabe, is infuriated by Laura's coddling of their son, but fully expects the coddling to apply to himself. Grace is Laura's daughter who constantly barbs her mother for martyring herself in service to her husband and son and desperately wants to get out of her small town, but can't seem to find the energy to make it happen.

These characters are all flawed and every one will annoy you in some way. But, they're realistic and represent types of people I see often in daily life…the housewife who martyrs herself to serve her husband and kids, the husband who expects the service of his wife, the millennial who is used to his parents to doing everything for him, and the woman who "gave it all up" to care for her family and now feels stifled.

This would be an excellent book club selection!
What I Didn't Like
I absolutely hate the title and the cover. I still don't get the point of the title. It references a tiny, inconsequential scene in the book that I don't think carries any overarching message. And, the cover gives off a buttoned-up, historical fiction vibe, when this book is not that at all.

The first chapter could have been cut entirely. It's about a woman in the process of dying and it doesn't use any names. Who is this chapter about? One of the characters we meet later in the book? Someone else? A metaphor? I couldn't focus on what was happening because I kept trying to figure out who these people were. And, I still don't know the answer!

There's a bit of an annoying obsession with flowers that I didn't really see a purpose for. 
A Defining Quote
Conversation between Laura and Grace:

"Nobody said you have to give things up for us."

Oh but they did. The whole world did. It was beat into you so many different ways. In spite of a million women's magazine articles about good career moves, and claiming your own interests and hobbies, and your right to your own sphere. Just try and get away with putting yourself first. Maybe younger women no longer felt such pressures. Maybe they were now free to be selfish. […]

"Well, don't. Quit it."
Good for People Who Like…
Quiet books, astute life observations, dysfunctional families, small town stories, stories about marriage and motherhood
Other Books You May Like
Another book about a woman feeling trapped by her marriage:
The Wife by Meg Wolitzer (my review)
Another story about the breakdown of a family with astute writing about the woman's perspective:
Every Last One by Anna Quindlen (my review)