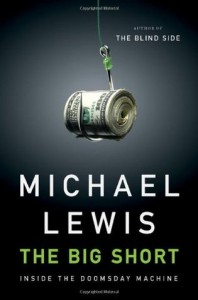 Nonfiction – Business
Released March, 2010
287 Pages
Bottom Line: Read it.
Link to this book on Amazon
Plot Summary of

The Big Short

: 
Lewis explains how and why the housing bubble and 2008 burst happened by focusing on the mentality of the few people (one of whom suffers from Asberger's Syndrome) who saw it coming and acted on their instincts.
My Thoughts on

The Big Short

: 
Lewis is the master of making complex financial concepts relatively understandable AND making them entertaining. The Big Short is the best book out there on the housing bubble and should be required reading for anyone interested in business.
But, Lewis even makes this a compelling story for those not interested in business through his focus on the personalities that saw it coming. The most interesting personality for me was Dr. Michael Burry, an ex-neurologist and sufferer of Asberger's Syndrome, who founds a hedge fund and correctly bets on the collapse of the housing market. 
The Big Short is on my Book Club Recommendations, Business Books, and Books for Guys lists.