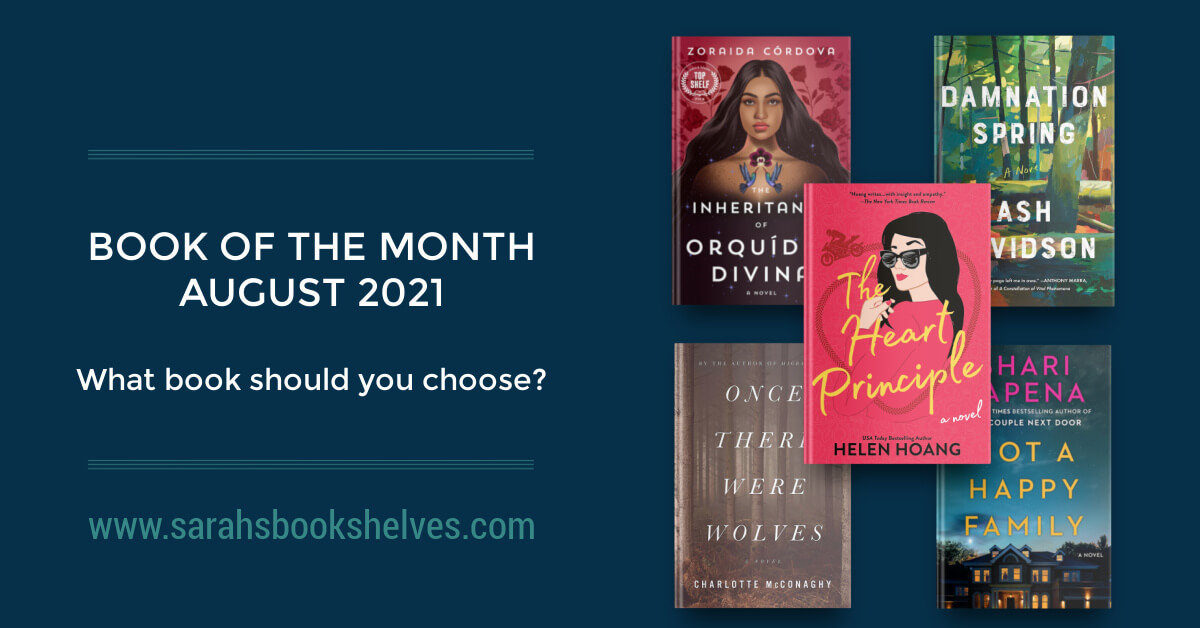 Welcome to my monthly feature "Book of the Month Selections: What Book Should You Choose?"! Every month, I provide commentary on the books that are chosen as that month's Book of the Month selections that will hopefully help you choose your pick, and tell you which book(s) I'm going to choose. 
I didn't love this month's picks…for my taste. But, August is traditionally a slow month in publishing. Also, multiple books with a nature / wildlife theme.
This post contains affiliate links and I will be compensated if you make a purchase after clicking on my links, but I'm also a paying customer.
Book of the Month August 2021 Selections
The Heart Principle
by Helen Hoang
Fiction – Romance (Release Date: August 31, 2021)
352 Pages
Average Goodreads Rating: 4.25 on 632 ratings
Recommended By: Katie Yee (Associate Editor, Lit Hub)
A woman struggling with burnout learns to embrace the unexpected—and the man she enlists to help her—in this heartfelt new romance by USA Today bestselling author Helen Hoang.

When violinist Anna Sun accidentally achieves career success with a viral YouTube video, she finds herself incapacitated and burned out from her attempts to replicate that moment. And when her longtime boyfriend announces he wants an open relationship before making a final commitment, a hurt and angry Anna decides that if he wants an open relationship, then she does, too. Translation: She's going to embark on a string of one-night stands. The more unacceptable the men, the better.

That's where tattooed, motorcycle-riding Quan Diep comes in. Their first attempt at a one-night stand fails, as does their second, and their third, because being with Quan is more than sex—he accepts Anna on an unconditional level that she has just started to understand herself. 
My Thoughts:
Hoang features neuro-diverse voices (she herself is neuro-diverse) in her romance novels. This is the third book in The Kiss Quotient universe (each book features a side character from the previous book). Goodreads reviewers called it raw, emotional, and deeply personal (as outlined in her Author's Note). They said it was more serious than the other books in this universe, that both protagonists are likable, and that it's about the weight of expectations, mental health, overbearing families, burnout, and perfectionism.  On the negative side, they said the ending felt a little rushed and there was too much focus on mental health at the expense of the romance (this would actually be a positive for me, but die-hard romance fans seemed to want more of the romance). Taylor Jenkins Reid called it "emotionally raw."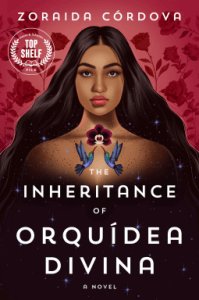 The Inheritance of Orquídea Divina by Zoraida Córdova
Fiction – Fantasy (Release Date: September 7, 2021)
336 Pages
Average Goodreads Rating: 4.54 on 127 ratings
Recommended By: V.E. Schwab (Author of The Invisible Life of Addie LaRue)

The Montoyas are used to a life without explanations. They know better than to ask why the pantry never seems to run low or empty, or why their matriarch won't ever leave their home in Four Rivers—even for graduations, weddings, or baptisms. But when Orquídea Divina invites them to her funeral and to collect their inheritance, they hope to learn the secrets that she has held onto so tightly their whole lives. Instead, Orquídea is transformed, leaving them with more questions than answers.

Seven years later, her gifts have manifested in different ways for Marimar, Rey, and Tatinelly's daughter, Rhiannon, granting them unexpected blessings. But soon, a hidden figure begins to tear through their family tree, picking them off one by one as it seeks to destroy Orquídea's line. Determined to save what's left of their family and uncover the truth behind their inheritance, the four descendants travel to Ecuador—to the place where Orquídea buried her secrets and broken promises and never looked backed.

Alternating between Orquídea's past and her descendants' present, The Inheritance of Orquídea Divina is an enchanting novel about what we knowingly and unknowingly inherit from our ancestors, the ties that bind, and reclaiming your power.
My Thoughts:
Cordova's first adult novel is a family drama (with a bit of magical realism) that's perfect for fans of Alice Hoffman, Isabel Allende, and Sarah Addison Allen according to the publisher. The story is told in dual timelines: Orquídea's past and her descendants' present. Goodreads reviewers called it dark, beautiful, sprawling (spans decades and continents), transporting, and more character-driven than plot-driven. They said the women characters are particularly nuanced and they loved Ecuador setting and culture. On the negative side, they said the plot ventured into the bizarre and that the writing was overly descriptive.

Damnation Spring by Ash Davidson
Fiction – Literary (Release Date: August 3, 2021)
464 Pages
Average Goodreads Rating: 4.29 on 113 ratings
Recommended By: Jamie Chung (Actress)
An epic, immersive debut, Damnation Spring is the deeply human story of a Pacific Northwest logging town wrenched in two by a mystery that threatens to derail its way of life.

For generations, Rich Gundersen's family has chopped a livelihood out of the redwood forest along California's rugged coast. Now Rich and his wife, Colleen, are raising their own young son near Damnation Grove, a swath of ancient redwoods on which Rich's employer, Sanderson Timber Co., plans to make a killing. In 1977, with most of the forest cleared or protected, a grove like Damnation—and beyond it 24-7 Ridge—is a logger's dream.

It's dangerous work. Rich has already lived decades longer than his father, killed on the job. Rich wants better for his son, Chub, so when the opportunity arises to buy 24-7 Ridge—costing them all the savings they've squirreled away for their growing family—he grabs it, unbeknownst to Colleen. Because the reality is their family isn't growing; Colleen has lost several pregnancies. And she isn't alone. As a midwife, Colleen has seen it with her own eyes.

For decades, the herbicides the logging company uses were considered harmless. But Colleen is no longer so sure. What if these miscarriages aren't isolated strokes of bad luck? As mudslides take out clear-cut hillsides and salmon vanish from creeks, her search for answers threatens to unravel not just Rich's plans for the 24-7, but their marriage too, dividing a town that lives and dies on timber along the way.
My Thoughts:
This debut novel is told from the perspectives of Rich, Colleen, and Chub. The premise of this one is giving me Erin Brockovich vibes…with shades of Megan Abbott's The Fever (minus the high school girls). Goodreads reviewers mentioned its short chapters, gorgeous writing, the focus on the working class (loggers in the 1970's), and the rich setting. They also mentioned that it gets the heart of humanity. On the negative side, reviewers mentioned the slow start, that they got bogged down by logging details and jargon (especially prevalent in Rich's chapters) and the ownership structure of the land, and the overly large and confusing cast of side characters (many of them dislikable).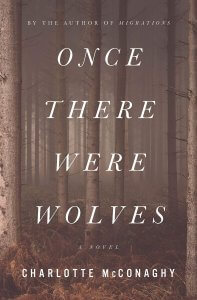 Once There Were Wolves by Charlotte McConaghy
Fiction – Literary Thriller (Release Date: August 3, 2021)
272 Pages
Average Goodreads Rating: 4.47 on 272 ratings
Recommended By: Alexandra Chang (Author of Days of Distraction)
From the author of the beloved national bestseller Migrations, a pulse-pounding new novel set in the wild Scottish Highlands.

Inti Flynn arrives in Scotland with her twin sister, Aggie, to lead a team of biologists tasked with reintroducing fourteen gray wolves into the remote Highlands. She hopes to heal not only the dying landscape, but Aggie, too, unmade by the terrible secrets that drove the sisters out of Alaska.

Inti is not the woman she once was, either, changed by the harm she's witnessed—inflicted by humans on both the wild and each other. Yet as the wolves surprise everyone by thriving, Inti begins to let her guard down, even opening herself up to the possibility of love. But when a farmer is found dead, Inti knows where the town will lay blame. Unable to accept her wolves could be responsible, Inti makes a reckless decision to protect them. But if the wolves didn't make the kill, then who did? And what will Inti do when the man she is falling for seems to be the prime suspect?
My Thoughts:
The author of this climate / nature fiction ("cli-fi") is Australian. Goodreads reviewers mentioned the beautiful writing, the similarities between the behavior of wolves and humans, the impact of people on animals and nature, the family abuse / trauma, and the violence. They said the main character has mirror touch synesthesia (can feel other people's feelings). They also said the story is told in dual timelines, it's suspenseful, and it has a bit of romance. On the negative side, they said the plot is overly complicated, the love story didn't work well and wasn't necessary, and the mystery took more of a backseat. Elizabeth Barnhill (@wacoreads and recent podcast guest) loved this one.
Not a Happy Family by Shari Lapena
Fiction – Thriller (Release Date: July 27, 2021)
352 Pages
Average Goodreads Rating: 4.03 on 201 ratings
Recommended By: Ashley Audrain (Author of The Push)
The new domestic suspense novel from the New York Times bestselling author of The Couple Next Door and Someone We Know who has sold more than 7 million copies of her books worldwide.

In this family, everyone is keeping secrets–especially the dead. Brecken Hill in upstate New York is an expensive place to live. You have to be rich to have a house there. And they don't come much richer than Fred and Sheila Mercer. But even all their money can't protect them when a killer comes to call. The Mercers are brutally murdered the night after an Easter Dinner with their three adult kids. Who, of course, are devastated.

Or are they? They each stand to inherit millions. They were never a happy family, thanks to their capricious father and neglectful mother, but perhaps one of them is more disturbed than anyone knew. Did one of them snap after that dreadful evening? Or was it someone else that night who crept in with the worst of intentions? It must be. After all, if one of your siblings was a psychopath, you'd know.

Wouldn't you?
My Thoughts:
This is your obligatory psychological thriller of the month. Goodreads reviewers called it fast-paced and unputdownable. They mentioned the irritating / dislikable characters, said everyone seems to have "done it" at some point, and said it's reminiscent of the movie Knives Out (I've never heard of this!) On the negative side, reviewers called it predictable, forgettable,  and said they would've liked more out of the ending. Side note: I have such a hard time writing my commentary on the psychological thriller every month…the descriptive words I find are the exact same for almost every thriller. I could probably just copy and paste this paragraph each month. 
What Book of the Month August 2021 selection(s) will I choose?
I'm skipping this month. 
Make your Book of the Month selections by Friday, August 6th.
What book will you choose this month?
How to Join Book of the Month…
Book of the Month is a subscription service for people who like to try new books from a curated selection and like to read in hardcover format. Through Book of the Month, you can get a hardcover book for generally significantly less than you'd pay in a bookstore or through Amazon. And, you get to try something new that has been vetted by one of Book of the Month's well-read judges!
Sign up for any of the subscription plans below and you get to choose one of five books selected by Book of the Month's panel of judges (including a surprise guest judge). Book of the Month will then mail your chosen book to your house with a cute note. You also have the option to purchase additional books for $9.99 each and to skip a month if you want.
Sign up for a Book of the Month membership (NEW pricing below)!
New members will sign up for a membership that renews monthly:
A book of your choice for $14.99 / month
Add extra books to your shipment for $9.99 each
Skip any month you want
Free shipping, always
Pin this post…