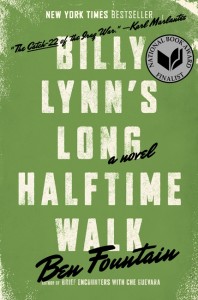 Billy Lynn's Long Halftime Walk: A Novel

by Ben Fountain, Fiction (Released May, 2012)
Bottom Line: Read it.
Summary: Billy Lynn and his fellow members of Bravo Company return from Iraq as heros for their performance in the battle of Al-Ansakar Canal – and are taken on a "victory tour" culminating in a VIP visit to a Dallas Cowboys game at Texas Stadium.
My Thoughts: This book was a finalist for the National Book Award and a New York Times Notable Book of 2012, so I had high expectations going in. I was annoyed with the beginning, but the book eventually grew on me. Initially, Billy and his Company come across as petulant, crass, and incredibly immature and Fountain's writing style bothered me (very stream of consciousness). But, once Fountain starts interspersing memories of the battle in Iraq and the Company's family visits with their experiences at the Cowboys game, I saw a broader purpose in the things that had annoyed me. The Company showed outward disdain for shallow people doing shallow jobs back in the States (i.e. almost everyone they met), but it hit me that it must truly seem that way to someone who was yanked from an intense war experience and plopped down at an NFL football game full of glamour, sparkles, and shallow conversations with strangers who pretend to understand what the Company went through. While I don't think this book warranted its National Book Award nomination and it does lack a true plot (rather, it is a portrayal of an experience), it is an eye-opening read that makes you think and is going on my Books for Guys List.