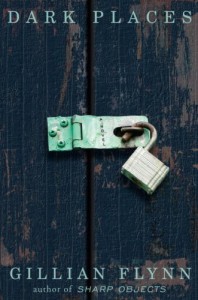 Dark Places: A Novel

by Gillian Flynn, Fiction (Released May, 2009)
Bottom Line: Skip it.
Summary: Libby Day, the sole innocent survivor of the "The Satan Sacrifice of Kinnakee, Kansas" in which her brother, Ben, is convicted of murdering her mother and two sisters, teams up with members of a Kill Club to try to figure out what really happened that night.
My Thoughts: After reading and loving Gone Girl, I was excited to read more Gillian Flynn. I chose Dark Places because it was a NY Times Bestseller, so I figured it would be decent. Wrong! The characters in Gone Girl were smart and witty, and even likable at times. The main characters in Dark Places are depressing and definitely not witty – there is actually not a single likable character in the book – I wanted to shake all of them. As I read, I was picturing bleak scene after bleak scene – if there is ever a movie made of this book, I think it would be in black and white. There is also a focus on devil worship and some pretty graphic scenes that were a bit much for me. I do have to give Flynn some credit for dreaming up the perfect title; I just should have paid more attention to it.