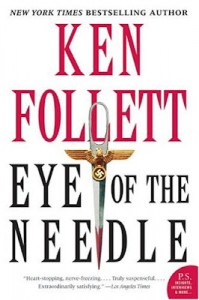 Eye Of The Needle

by Ken Follett, Historical Fiction (Released 1978)
Bottom Line: Read it.
Summary: A German spy ("The Needle") who discovers a key Allied secret during World War II is being hunted by MI5 and collides with a woman living on a desolate island off the coast of Aberdeen.
My Thoughts: Before The Pillars of the Earth and The Century Trilogy (Fall of Giants, Winter of the World), Follett was best known for his historical fiction thrillers. Since I love his historical epics so much and I love thrillers, I figured I should try one of the types of books that originally made him famous. Eye of the Needle was originally published in 1978 under the title Storm Island and was Follett's first truly successful novel, so I figured it was a good place to start. After being disappointed by the last WWII thriller I read (Simon Tolkien's Orders from Berlin), Eye of the Needle was what I'd been looking for! The plot centers around a fictional (but relatively probable) "what-if" scenario involving the lead-up to the Normandy invasion, which gave the book its historical depth. It's also a fantastic page turner – with spies, MI5, murder, police work, and a side love story as well. My one small criticism is that I thought the Epilogue was contrived and unnecessary to the story – but you can just stop reading when the regular book ends, so it doesn't end up doing much harm. This one is going on my Books for Guys and Page Turners lists.
Have you read Eye of the Needle? Tell us what you thought (without spoilers!) in the comments section.