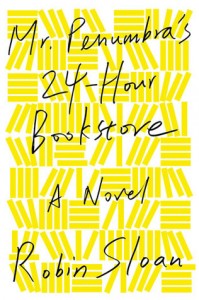 Mr. Penumbra's 24-Hour Bookstore: A Novel

by Robin Sloan, Fiction (Released October, 2012)
Bottom Line: Read it.
Summary: Clay Jannon's new job at a bookstore with a mysterious collection of books and clientele leads him to try to solve the mystery of a centuries old secret society.
My Thoughts: This book is about much more than a bookstore – it touches on code breaking, Google (the company), computer capabilities, ancient books and fonts, and incredibly odd people. I am not really interested in any of those things, but loved this book. I think a writer is special if he/she is able to make me love a book about something I'm not interested in (i.e. Michael Lewis' Moneyball – I couldn't care less about baseball) and Sloan does that here. This book is wonderfully quirky with a weird concoction of ancient and futuristic mixed in with hints of Dan Brown. And, the writing style is catchy and modern. I have no clue how Sloan ever came up with a plot like this and made it remotely believable, but my hats off to him. This one is going on my Book Club Recommendations and Page Turners lists.