A big thank you to TLC Book Tours for providing me with a copy of this book and for inviting me to be a host on this tour.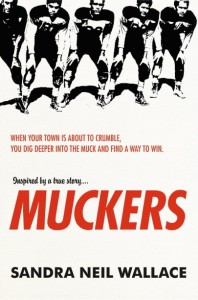 Fiction (Released October, 2013)
Bottom Line: Read it.
Link to this book on Amazon
Plot Summary:
Based on a true story, quarterback Red O'Sullivan and his underdog Hatley High School football team attempt to bring hope to their failing mining town by winning the 1950 Arizona state championships.
My Thoughts:
My first thought when I started reading Muckers was that the team and the setting were a bit like the East Dillon Lions in "Friday Night Lights" (the TV show version), which made my day, as I think "FNL" was the best show that's ever been on TV in my lifetime.
Though Muckers is technically fiction, it's based on the true story of the "Muckers" football team in Jerome, Arizona, a once prosperous copper mining town that essentially became a ghost town when the mine closed. Many of the characters are based on real people and many details in the story are true.
Muckers is a heartwarming story of David vs. Goliath and the football team is the one bright spot in an otherwise depressing existence for the residents of Hatley. But, the story is about much more than football. It deals with class, race, poverty, Communism, and the effects of war on the home front (WWII and the Korean War, in this case). For what is being called a Young Adult book, these are extremely hefty topics. But, they give the sports angle depth and make Muckers appealing to adults and "young adults" alike.
The characters, particularly Red and Cruz (Red's best friend and star receiver) are typical boys who rib each other constantly, talk about girls, etc, but are trying to overcome massive odds both in life and on the field. They show heart, determination, loyalty, leadership, and, yes, attitude. Most importantly, they will do anything to win – even push Hatley High's school bus around for tackling drills since the school didn't have dummies (a true detail pulled from the real "Muckers" team).
Muckers is an inspiring story of the underdog, but also a unique look at a one industry town in the 1950's. It's going on my Sports and Books for Guys lists.
You May Also Like:
The Miracle of St. Anthony by Adrian Wojnarowski