This post is a part of fellow book blogger, Beth Fish Reads', weekly meme (a "community" blog post, for all those non-bloggers out there) called Weekend Cooking.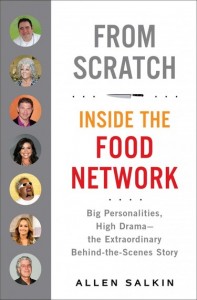 Nonfiction – Cooking / Food
Released October, 2013
Pages: 448
Bottom Line: Read it.
Link to this book on Amazon
Plot Summary of

From Scratch

:

The behind the scenes story of the Food Network from inception in the early 1990's through present day – including details about its stars (Emeril Lagasse, Bobby Flay, Mario Batali, Racheal Ray, Paula Deen, etc).
My Thoughts on

From Scratch

:

I love to cook (and eat!) and have been watching the Food Network since its early days in the mid-90's. So, I was familiar with most of Food Network's shows and personalities prior to reading the book. This obviously made From Scratch particularly interesting to me, but it may not hold the same excitement for someone who is not a Food Network fan.
From Scratch is a business book, as well as a somewhat gossipy behind the scenes look at Food Network and its personalities. In this way, From Scratch reminded me a lot of These Guys Have All the Fun, the oral history of the ESPN Network. I loved the story of a fast-paced, tenuously held together, and fairly campy start-up that was not only creating a product, but inventing an entire market. Who thought people would want a 24-7 sports or food channel before these things actually entered people's lives? 
From Scratch does underscore the notion that Food Network's goal is business and entertainment first, not allegiance to the "foodie" culture, which dims the magic of watching its' TV shows just a bit. But, I thought the focus on and explanation of this point was part of what made the book interesting and was where much of the new information came from.
From Scratch covers the nuts and bolts of how certain TV shows are made (i.e. Giada and Ina Garten were so uncomfortable on camera that their shows were shot by doing multiple takes of each step of the cooking process), how many of the network stars came from tumultuous backgrounds (Alton Brown's father committed suicide when he was 11, Paula Deen lost both her parents in their forties and barely left her house for years, and Bobby Flay hung with gangs on the Lower East Side of NYC), and the creation of the "chef as rock star" phenomenon (this was a purposeful effort led by an L.A. talent agent).
Salkin also covers the ongoing branding challenges the network faces – does it want to appeal to "foodies" or to the general masses? The tides shift one way, then the other, then back again throughout the book…and Food Network is still grappling with this challenge.
While there was enough gossip and drama included to make From Scratch fun, it was the focus on the building of a business that really made it compelling for me. It's far more than just a cooking / food book and is going on my Cooking / Food and Business Books lists.
You May Also Like:
Kitchen Confidential by Anthony Bourdain
These Guys Have All the Fun by James A. Miller and Tom Shales