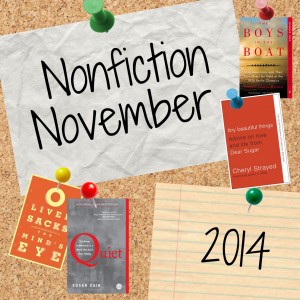 This post is part of Nonfiction November hosted by Katie at Doing Dewey, Kim at Sophisticated Dorkiness, Becca at I'm Lost in Books, and Leslie at Regular Rumination.
Nonfiction – Sports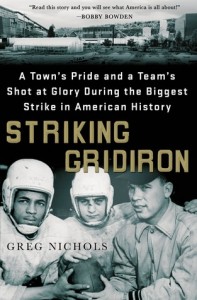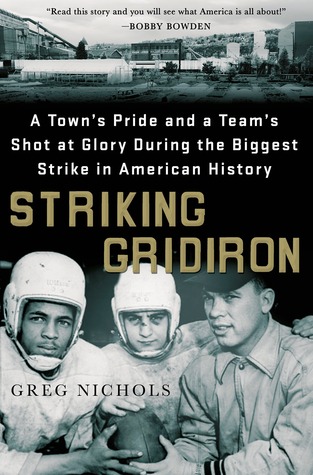 Released September, 2014
289 Pages
Bottom Line: Read it.
Affiliate Link: Buy from Amazon

Source: eGalley provided by the publisher via NetGalley
Plot Summary of

Striking Gridiron

:
The story of a Pennsylvania steel town's (Braddock) high school football team's amazing 1959 season during the longest labor strike in U.S. history.
My Thoughts on

Striking Gridiron

:
My husband and I are big football fans and harbor soft spots for goose bump-inducing high school football stories. So, Striking Gridiron was right up my alley. The big question was if Nichols would be able to give me goose bumps in a situation where I already knew the ending…but, he succeeded!
That being said, this is a book for football fans. Though I did learn a fair amount about the 1959 steel workers' strike, that historic event serves as a backdrop for the football drama…not vice versa. There are a fair amount of football X's and O's in Striking Gridiron, but Nichols did such a great job developing the characters so that I truly cared about those X's and O's. The one mistake in this area was including a Prologue with a lot of play-by-play before readers get to meet any of the characters. But, once I got past that, I was all in.
Now, let's get to the real reason I loved this book. My favorite TV show of all time is "Friday Night Lights" (there is also a book and a movie, but this is a rare instance where the TV series is my favorite version) and Striking Gridiron reminded me of it in multiple ways. And, it gave me an excuse to go down the "Friday Night Lights" Youtube rabbit hole looking for clips to use in this post!
The atmosphere and imagery of Braddock reminded me of Dillon, Texas…
FNL's Dillon, Texas and Striking Gridiron's Braddock, PA are both small, essentially single industry towns (the steel mill for Braddock and the oil rigs for Dillon) that have fallen on hard times. Both towns are in big time high football country and, despite their economic woes, have thriving high school football teams. The juxtaposition of failing industry and tremendous success on the football field is powerful and residents of both towns cling to the football teams as one of the few bright spots in their otherwise tough lives. 
The imagery of massive pre-game pep rallies at the high schools and caravans of cars following the team buses to games shows the towns' unfathomable level of devotion to these football teams.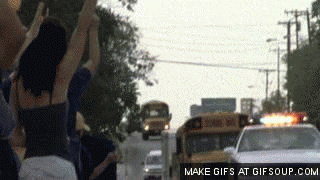 Braddock has an Eric Taylor-style tough, but kind-hearted coach in Chuck Klausing…
At the beginning of Striking Gridiron, Coach Klausing reminded me of a nicer Bear Bryant. He shipped his players off to a two week hell camp before the season started (reminiscent of Bear Bryant's Junction camp), but, unlike Bryant, allowed his players water breaks in the August heat. But, by the end of the book, Klausing was screaming Eric Taylor (the revered coach in FNL) to me. He was much more than just a coach to his players and lived by this motto:
We don't coach football. We coach boys.
And, what coach can succeed without an equally revered Mrs. Coach? Joann Klausing fills Tami Taylor's very large shoes in this respect, faithfully shepherding their five children to their Dad's games.
Finally, what football town is a true football town without the "hangers-on" reminiscent of Buddy Garrity and the Dillon Panthers' Boosters?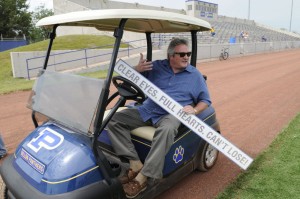 All Striking Gridiron was missing was a Riggins/Lyla/Street/Tyra love square…
To make a book like this successful, the author has to capture the excitement and nervousness and goose-bumpiness of big time high school football under the lights and Nichols absolutely did that. Striking Gridiron is a great pick for football fans or people who love feel good sports stories and is going on my Sports Books and Books for Guys lists.
You May Also Like:
Muckers by Sandra Neil Wallace
The Junction Boys by Jim Dent