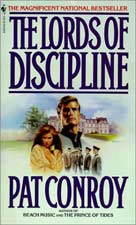 Fiction
Released 1980
500 Pages
Bottom Line: Read it.
Link to this book on Amazon
Plot Summary of

The Lords of Discipline

:
Granting the wish of his dying father, Will McLean attends Carolina Military Institute (i.e."The Institute") in Charleston amid serious doubts about the military and must confront a secret organization that is rumored to exist on campus.
My Thoughts on The Lords of Discipline:
Pat Conroy is one of my favorite authors and I would love reading his description of paint drying. I read most of his books when I was in high school and remember loving them, but now don't remember enough detail to write about them on the blog. So, I'm now trying to re-read as many of his older novels as I can – lucky me! A few months ago, I posted my review of The Great Santini after a re-read.
Like The Great Santini, The Lords of Discipline is somewhat autobiographical (it's based on Conroy's experience as a cadet at The Citadel, South Carolina's military college) and deals with his love/hate (but, mostly hate) relationship with the military. This book is a study in contrasts between Conroy's love affair with the city of Charleston and his hatred of its military college, The Citadel.
This book showcases Conroy's signature writing style (absolutely perfect, in my opinion) with his gorgeous and sometimes hilarious descriptions of military life and of Charleston and its people (particularly the South of Broad "social elite"):
"[…] they do possess a municipal character that has a lot to do with two centuries of scriptural belief that they are simply superior to other people of the earth. […] The descendants of planters often found themselves with the bank accounts of sewing machine salesmen. But a modest income alone never denied access to those haughty parlors; and wealth alone could never insure it. If you were crass, lowborn, or socially offensive, it would have made no difference to the proud inhabitants South of Broad that you owned France; they would not invite you to their homes."
Will McLean's witty personality and status as an outsider to the Charleston South of Broad crowd and to "The Institute" (due to his decidedly lackluster enthusiasm for "The Institute's" culture and traditions, particularly its treatment of freshman "knobs") makes him a sarcastic  and entertaining narrator.
Usually Conroy's novels are character rather than plot driven, but this one achieves both. And, that's what makes The Lords of Discipline unique for Conroy and one of my favorite of books. The plot driven part of the book is the fascinating mystery of Will McLean's pursuit of "The Ten", a secret organization focused on ensuring that cadets "not fit to represent The Institute" get weeded out before graduation, which kept me on the edge of my seat in the second half of the book.
The mystery and drama of whether "The Ten" actually exists and is playing a role in "The Institute's" extreme hazing of certain knobs adds an otherworldly element similar to The Illuminati's in Angels & Demons. I obviously wondered if "The Ten" exists at the real life Citadel, but could not find anything on the Internet to suggest that it does. But, just the fact that it could possibly exist in real life make's Will McLean's interest in "The Ten" that much more exciting reading.
Finally, the fact that this is a story about boys in a military college during wartime (Vietnam) who have the sobering knowledge that most of them will be sent overseas shortly after graduation adds a certain poignancy.  
The Lords of Discipline is going on my Books for Guys List and is the first book I've added to my All-Time Favorites List since starting this blog.
You May Also Like:
My Losing Season by Pat Conroy
The Death of Santini by Pat Conroy
The Great Santini by Pat Conroy